Commentary
Q&A: 'Lombardi' star Dan Lauria
Updated:
April 30, 2011, 8:23 PM ET
By
Dave Wilson
| Page 2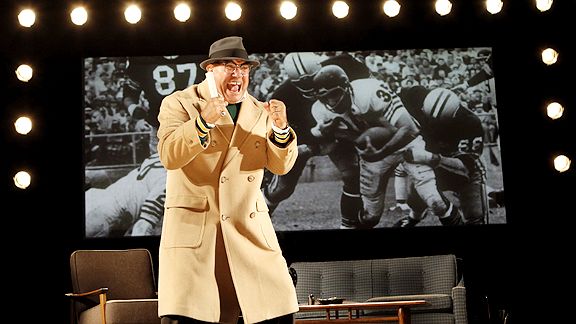 The Friends of Lombardi in Association with The National Football LeagueDan Lauria stars as legendary Packers coach Vince Lombardi in "Lombardi" on Broadway.
NEW YORK -- The NFL draft went retro on Saturday, as a familiar face stood at the podium announcing the Green Bay Packers' sixth-round selection.
Vince Lombardi.
Well, the guy that plays him on Broadway, anyway. Dan Lauria, who also played Jack Arnold in "The Wonder Years," was a spitting image of the legendary coach, wearing the iconic horn-rimmed glasses, fedora and trenchcoat that he wears in the show, aptly named "Lombardi."
Page 2 talked to Lombardi Lauria at Radio City Music Hall right after he left the draft stage, before he headed back to Broadway.
Why has "Lombardi" been so successful?
Well, because it's a universal theme. Most people just think it's going to be about football. If we do our job right, the audience should leave each night wanting to be better at whatever their endeavor in life is. It's not really about football. It's about pursuing that excellence.
Who have you been the most surprised to see at the show?
We've had all the great football players. Most of the old Packers. Matter of fact, Jim Taylor is going to be there [Saturday night]. But I think the biggest surprise for me -- and we didn't know they were there until the show was over -- Frank Robinson and Hank Aaron came. And Hank Aaron was like a little kid. I didn't realize this but he used to work out in the winter with the Packers, because he was with Milwaukee. I asked him, "Did Coach ever try to get you in a football uniform?" He said, "Oh yeah, he was always teasing me. Let me see you run. Let me see you run." [Lombardi] always thought Hank Aaron could be a great running back.
How long did you have to study Vince Lombardi for this role?
This is one of the easier characters to research, because the NFL made everything available, plus I knew a lot about him from playing ball. Look, I played [Jimmy] Hoffa two years ago. Nobody wanted to talk about anything. Coach Lombardi, everybody had a story, everybody wanted to talk about him. Most of the players get very emotional about him. The first five minutes, it's always something funny. Then they all tear up, every one of them.
You've done your homework. Do you think Cam Newton could play for Lombardi?
Well, from what I've seen about his work ethic, I think he would've loved to play for Lombardi. Jim Brown is a good friend of mine, and I asked him once, "Do you think you could've played for Coach Lombardi?" Jim still has that stare. He gave me that look and said, "Coach Lombardi would've loved me, and I would've loved him. I practiced the way I played."
And Vince Ferragamo, he came to rehearsal one time, and I asked him, "Would you have liked to have played for Coach Lombardi?" And he held up his hand and said, "Do you see a ring? I would've given anything to play for him."
Dave Wilson is an editor for Page 2.