Commentary
Supermom's foul ball photo catches on
Originally Published:
May 19, 2011
By
Dave Wilson
| Page 2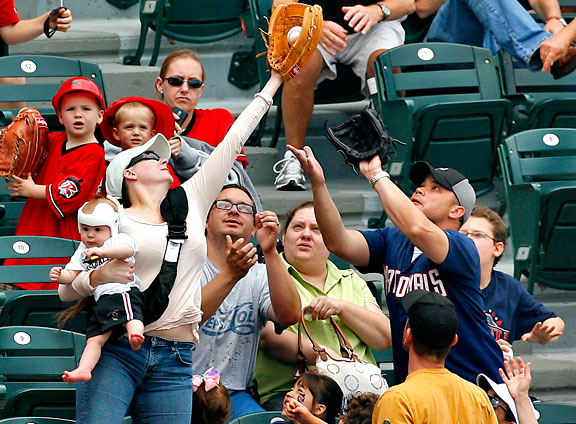 Mark Gormus/Richmond Times-Dispatch Tiffany Goodwin snags a foul ball away from her husband, Allen, while holding her 8-month-old son.
Tiffany Goodwin says it was all motherly instinct.
Goodwin is a sudden Internet sensation for the photo of her snagging a foul ball while holding her 8-month-old son, Jerry, during a minor league game on Sunday in Richmond, Va.
But to her husband, Allen, she's just a ball hog.
"On Friday, I caught a line-drive foul ball while holding my son," said Tiffany Goodwin, whose family has season tickets with the Double-A Richmond Flying Squirrels. "On the way to [Sunday's] game, he was talking about how he's been waiting 38 years to catch one, and then I caught another one."
Right above Allen.
In the photo, which quickly went viral, her husband is the one with the black glove just below Tiffany's. She had little Jerry in her lap, holding his biter biscuit in one hand, wearing a cranial osteo helmet that helps infants form the shape of the skull correctly. Katherine, her 3-year-old, was attached to her left leg while 7-year-old Elizabeth sat in the seat next to Dad.
So Allen, who is in the Air Force and works at the Pentagon, would've had to have overcome more than just the ball's trajectory. He would've had to fight off a mom's protective instinct.
"I jumped up, and I was able to catch it," Tiffany said. "I was afraid at what angle it was coming, if it was going to hit the kids or not."
This is not a new drill for the family, which has third-row seats behind the third-base dugout. "I always bring a glove to protect the kids in case the ball comes in our direction," Tiffany said. She said the girls are trained to duck, and if they can't duck in time, for Elizabeth to throw her glove up to shield herself and Katherine.
The glovework isn't new to Tiffany, however. She and her husband are baseball veterans. She played in women's leagues for years before the kids were born. Her husband still plays in leagues occasionally, and they also played together in co-ed leagues. Allen was the second baseman, while Tiffany played first base.
Besides Flying Squirrels games, the Goodwins often frequent Washington Nationals, Potomac Nationals and Southern Maryland Blue Crabs games.
Richmond Times-Dispatch photographer Mark Gormus, who captured the image, immediately knew he had something.
"She has a gold glove, that's for sure," Gormus said. "It was impressive. I love shooting baseball, but it's one of the most difficult sports, I think, to get a really nice photograph of a different moment. It's not like most sports that are constantly moving. In baseball, you might have one moment to get that visually interesting moment of the game. For years, I've always followed the ball into the stands. People's reactions when there's a foul ball, from complete horror, to indifference, to people reaching for the ball, are always a nice little slice of life."
Gormus said he's heard reaction from far and wide after the photo moved on The Associated Press wire.
"I've gotten some really nice emails from people around the country and some phone calls. That's awesome," he said. "It's nice that a photograph can make people feel good and smile."
As it turns out, Tiffany had no idea what a celebrity she'd become. Her phone and Internet service has been down the past few days due to storms coming through the Fredericksburg, Va., area, where she lives.
"Who would've ever thought a picture at a minor league game would go that far?" she said.
Like the reaction around the Internet, Gormus wasn't surprised. "The catch she made was awesome. Full extension, holding tight to the baby."
Tiffany did let on that she knows it was a pretty good snag, proudly adding that little Jerry didn't fuss about the interruption to his teething biscuit.
"You know it was a great catch, because the players give you the nod. You get the nod, you know you did good," she said. "I got the nod."
What about Allen?
"He kept saying, 'I called you off. I've been waiting 38 years,'" she laughed. "It was just our little joke. I told him I'd let him have the next one."
Dave Wilson is an editor for Page 2.