Commentary
Mavericks' Ali Dee a Texas woman
Originally Published:
June 9, 2011
By
Dave Wilson
| Page 2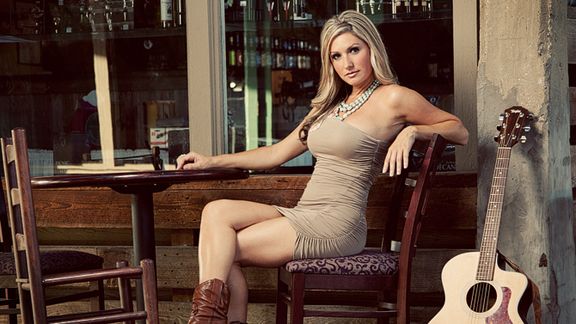 Courtesy of Ali DeeAli Dee, who now works for the Dallas Mavericks, will appear in "Texas Women" on CMT.
For a transplant, Ali Dee sure has out-Texaned the Texans.
Dee, who works for the Dallas Mavericks, is known affectionately as "The First Lady of the Mavs." She's also an aspiring country singer who lives with her boyfriend, professional bull rider Cory Melton, on a ranch in a town with a population of about 500 people southwest of Fort Worth.
Sports. Country music. Life on the ranch. She's got every old stereotype covered. Not bad for a girl who grew up near Miami.
"I love Texas," Dee said. "I had visited several times before moving here, and it always felt like a perfect fit -- the people, the atmosphere, the food. Everything about it, I just fell in love with it."
Dee was previously a member of the Seattle SuperSonics' dance team, but decided to move as the team was exploring its own move. She landed in Dallas, where she's thrived. She hosts Mavericks pregame parties in front of American Airlines Center and entertains fans in the arena during games, doing interviews or contests in the stands during timeouts. She also hosts a weekly Mavericks magazine show on Fox Sports Southwest, becoming a very public persona for the team and leading to the "First Lady" moniker.
"I wear that title proudly," she said.
Dee, a huge NBA fan, calls working for the Mavericks her "therapy," particularly this season.
"Let me just tell you, when I showed up to the arena yesterday, and there's those huge Finals banners, it's just a whole 'nother feeling," Dee said Tuesday. "This is my first experience in the NBA as part of a Finals team, and it's a whole other ballgame."
She hopes to one day bridge her music aspirations with her NBA experience.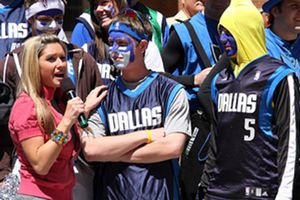 Courtesy of Ali DeeAli Dee talks with Mavericks fans at a pregame party at American Airlines Center.
"It'd be nice to put a little more country music in the NBA," Dee said. "It's dominated by hip hop and there's room for a little more country music in there."
Her budding music career will be showcased in a new reality series on CMT beginning July 14. The show, with the working title "Texas Women," will follow Dee and three other women involved in country music and rodeo. It's not exactly the "Real Housewives."
"This show is going to blow all those other shows out of the water," Dee said. "Because the women aren't just running around shopping and wearing the best clothes. We work!"
On Wednesday, she was thrown from her horse during the last day of taping for the show, hurt her ankle and was unable to work the Mavericks' Game 4 win over the Miami Heat. But she says she won't be denied a chance to be at Game 5, even on crutches.
"No chance in hell I'm missing Thursday," she said. "I'll be crutching it around the arena."
Dee said the show, which debuted a trailer this week, will follow the less-glamorous side of a career in music. She recalled a taping when she was loading her own equipment in the rain for a gig.
"We've got a lot going on in our lives," she said. "We don't depend on men. We have our own goals, and that's what makes this show so different. It's just going to blow up."
Coinciding with the launch of the show, Dee is currently finishing her first album, an EP due in early July.
"I like to make edgy country music, something that is contemporary, but with a traditional feel to it. I love women like Loretta Lynn and Dolly Parton because they sang about things that were tough subjects, like 'You ain't woman enough to take my man.' What an amazing line. They're really cheeky, not afraid to tell it like it is -- strong, honest women."
Dee says she's in the right place to take her shot.
"I feel like a true-blue Texan. I have totally just fallen in love with everything about this state. I consider it my home 100 percent," Dee said. "This is where I want to be, this is where I want to stay. If Nashville comes a-knockin' I'll definitely answer the door. But Texas is my home."
Dave Wilson is an editor for Page 2.