Commentary
Saying good-bye to my boy Roy
Originally Published:
July 24, 2009
By
Gary Wise
| Special to Page 2
I feel like a small-town parent sending his kid off to a big-city school, knowing his child will never come home.
[+] Enlarge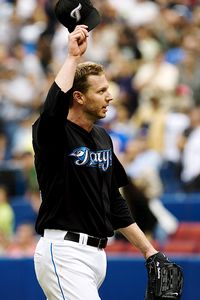 AP Photo/The Canadian Press, Darren CalabreseRoy Halladay tips his cap to the Toronto fans, in what might have been one of his last starts as a Blue Jay.
I'm a Blue Jays fan. For a long time now, I've watched and nurtured and basked in the glory of all that is Roy Halladay. And I've been watching with excruciating anticipation as the will-he/won't-he trade drama for his services has played out. Next week, some contender will probably end up getting the ballplayer and the man. But I've found some small comfort in knowing they can't have the symbol he has become to the Jays fans and Canadians who are still cheering.
To understand my relationship as a Jays fan to our boy Roy, you need to understand what it is to be a Canadian in a largely American sports world.
"Living next to you is in some ways like sleeping with an elephant. No matter how friendly and even-tempered is the beast, if I can call it that, one is affected by every twitch and grunt."
-- Former Canadian Prime Minister Pierre Trudeau
Thing is, I know Americans. I like Americans. I work side by side with them, smiling politely as Canadians usually do when a joke about the exchange rate or the cold or our single-canoe navy gets thrown into the conversation. A courteous grin, and a jaw-clenched, teeth-gritted, vein-pulsing smile is all I can really respond with when faced with the fact that the U.S. has 10 times the population of Canada, is a "world power" to our "world buddy," and could kick sand in our collective Canadian faces a thousand times over if ever there was a need to do so.
In sports, it's generally more of the same. Sure, we kick your butts at hockey. But in games that the majority of your population cares about, we don't have much of a chance. Yes, the occasional Canadian like Steve Nash or Justin Morneau or George St. Pierre slips through the cracks, but they're deviations from the norm. And while those guys are happy to perform in the U.S., there are so many free agents who spurn us for the comforts of home -- so many Vince Carters who have bolted a great town (by most accounts) to head back to America. It doesn't leave Jays fans much to root for while on cruise-control to another fourth-place finish in the AL East. That's why the Roy Halladays of the world are such a big deal when they come along.
While so many Americans have tried to escape Canada, Halladay has embraced Toronto as his home, the ultimate compliment. After the struggles of his baseball youth, when he blossomed into a Cy Young winner, Roy chose to stay. He understood that he was part of a franchise that needed assistance from its parts for the betterment of the whole. After a 2005 campaign that saw the Jays go 80-82 (despite a 12-4, 2.41 ERA performance from Halladay), he watched as Jays GM J.P. Ricciardi doled out two of the biggest free-agent contracts of the winter to two vastly inferior pitchers: A.J. Burnett (five years, $55 million) and B.J. Ryan (five years, $47 million). That's when Roy Halladay did something remarkable. With the Jays flashing their billfolds, with the baseball economy the healthiest it had ever been, Halladay opted to sign a short, under-market, three-year, $40 million extension in March 2006 that would force him to stay in Canada until 2010 … in the frozen tundra of Toronto. With the Eskimos.
It showed us that he loved us, the same way we loved him. The U.S. media wouldn't have us, but at least we had each other. Like an attention-starved child, Jays fans constantly long for our guys to get their deserved recognition from American news outlets. We've watched countless times as our Jays get passed up for awards and All-Star selections and magazine covers for what we saw as inferior players plying their trade in major American media towns. When he won the Cy Young back in 2003, Halladay forced the American media spotlight on us for the first time in over a half-decade.
Maybe he re-signed in part because he could identify with his adopted country's inferiority complex -- after arm troubles in '04, and a broken leg from a line drive in '05, some labeled him "injury prone." We knew that was a joke, but us knowing wasn't enough. Part of our adoration, though, stemmed from Roy not needing the recognition. He just wanted to win for us.
Winning is all he's done. Since he signed that extension, he's gone 63-26 with a mediocre offense behind him, and he's done it the right way. In an era of flash and branding and Q-ratings, he's kept quiet. He's never complained, never run to the press with a problem -- he's just played the game the way it was meant to be played. Every five days, he has walked to that mound and instilled in the fans the belief that on that day, we can beat anyone. When Roy Halladay is on the mound, we are a championship-caliber team. It's like Canada getting a glimpse of world power status. For a team and a fan base that hasn't sniffed the playoffs in 15 years, that feeling is just about all there is left.
The attention Roy is getting now makes so much sense. He's finally set to go to a U.S. team, making him all the easier to cover in a U.S. market. You're hearing now about the legendary workout regimen we've known about for years, the transformational effect he's had and will continue to have on the pitchers he'll dutifully work with, the charity work, and everything else you get with the package. You're only hearing about it now because the man knows the only way to the winner's circle happens to be the way out of town. Jays fans can't blame him for wanting to win. We know the feeling too well.
It's remarkable how this lone American has empowered Canadian baseball fans -- empowered me. And to do anything but wish him the best as he moves forward to the next phase of his career and his life would be doing a disservice to him and to our relationship. With a heavy heart -- because I love my boy Roy -- I have to set him free.
The small-town parent in me knows that it's the best thing for him in every way. He'll have a chance now to explore new avenues; a chance to win; a chance to secure the financial futures of his great-grandkids when he hits free agency in 2010 (or when he gets a new contract after being traded). Wanting my team to win as badly as I do, it sucks to know we're losing the guy who makes that happen, but I can't help but pull for him.
Do us proud, Roy. I have no doubt you will.
Gary Wise usually writes about poker for the ESPN Poker Club. You could say Roy Halladay inspired him.
Gary Wise has contributed to ESPN.com since 2007. He is well-studied in the history of poker and presents a unique tableside view of the goings-on in the poker community.
Google author profile