The worst individual seasons in sports history
You may not know what the numbers mean, even with the names attached: 1-16, 29.3, and -153, but that's OK. That's why we have a list like this. With 2007 complete, we can add Morgan Shepherd's 0-for-21 to the club. Athletes talk about playing in a zone -- Shepherd was in the furthest thing from it. His performance was the opposite of Tom Brady's. We can put his name atop our dirty dozen, a list of the worst individual seasons in sports history, as picked by a committee of ESPN Research and ESPN.com staff members.
1. Morgan Shepherd, Busch Series, 2007

Shepherd had an auto racing season for the ages, one that would have made the likes of Zippy Chippy (the 0-for-100 racehorse) and Charlie Brown proud. Shepherd entered 21 races. He failed to finish EVERY one. Shepherd didn't always place last (his best effort was a 38th-place showing), but it's hard to imagine any other driver who couldn't even complete 10 percent of the laps run in a season.
Morgan Shepherd, 2007 Busch Series
Races
21
DNF
21
Best finish
38th (of 43)
Avg. finish
40.6
Pct. of laps completed
9.7
2. Ian Baker-Finch, PGA Tour, 1995
Four years removed from winning the British Open, Baker-Finch entered 18 PGA Tour events and didn't make it to Sunday in any of them. He missed the cut 14 times, withdrew three times and was disqualified once. One comparable season that missed our cut: David Duval, a 13-time winner on the PGA Tour (including the 2001 British Open), who entered 20 Tour events in 2005 and missed the cut in all but one of them. His total earnings that year: $7,630.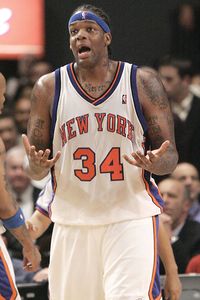 AP Photo/Seth Wenig
Don't expect Eddy Curry to be doing Allstate commercials anytime soon.
3. Eddy Curry, New York Knicks, 2006-07
One of our resident experts in mediocrity, Rob Tracy, tried to determine who had the worst hands in NBA history. Very simply, he looked at a player's turnover total, as compared to his combined tally of blocked shots, assists and steals, and made an astonishing discovery. Curry is the official bad hands champion. With 295 turnovers, as compared to 68 assists, 34 steals and 40 blocks, Curry scored a minus-153. That is more than double the second worst score, held by … Eddy Curry, who posted a minus-76 in 2005-06. And you wonder why the Knicks are such a disaster.
4. Vince Spadea, ATP Tour, 2000
In 2000, Spadea was as bad a tennis player as he was a rapper ("I'm Vince Spadea, down with the lady-uh!"). Spadea started the season with 17 consecutive losses, giving him a 21-match losing streak -- -- the longest losing streak in the Open Era (since 1968) -- stretching back to 1999.
5. Michel Belhumeur, Washington Capitals, 1974-75
Belhumeur's performance in the Capitals' inaugural season was a punishing one. In 35 appearances, he was 0-24-3 with a 5.36 goals-against average, which might explain why defenseman Bill Mikkelson was minus-82. Belhumeur followed that up with an 0-5-1 mark the following season, before assuming permanent residency in the minor leagues -- playing for the Tulsa Oilers and Utica Mohawks, among others.
6. Mike Parrott, Seattle Mariners, 1980
Parrott set the bar for the likes of Anthony Young and 21-game loser Mike Maroth, two much-debated, but not utilized nominations. An Opening Day win made for the highlight on his 1981 Topps baseball card. Parrott lost his last 16 decisions that season, and in those games, opponents batted .356 against him (turning the average hitter into Shoeless Joe Jackson). He finished 1-16 with a 7.28 ERA. But, as the saying goes, those who can't do teach; Parrott has served as a minor league pitching instructor in multiple organizations.
7. John Gochnauer, Cleveland Naps, 1903
No list can be complete without including a baseball legend from the turn of the 20th century. Gochnauer, a shortstop, hit .185 in both 1902 and 1903, admittedly a different era, but what made his 1903 season extraordinarily atrocious was his fielding. Gochnauer made 98 errors in 134 games, and his fielding percentage of .869 was 44 points below the league average. Gochnauer edged out legendary Padres shorstop Enzo Hernandez, who managed a pathetically meager 12 RBIs in 549 at-bats in his rookie season of 1971.
8. Ryan Leaf, San Diego Chargers, 1998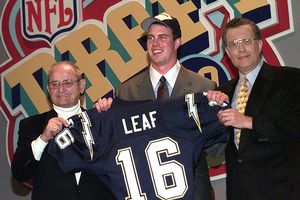 AP Photo/Mark Lennihan
April 18, 1998 was the dawn of an inglorious era in San Diego.
Leaf went 3-6 as a starter in his rookie season, but it's hard to figure out how he won at all. In 10 games, Leaf completed just 45.3 percent of his passes, while throwing two touchdowns and 15 interceptions. His passer rating was a frighteningly bad 39.0. Leaf's issues with the media boosted his stock in landing on this list, pushing him ahead of Vinny Testaverde's second year with Tampa Bay in 1988 (13 touchdowns, 35 interceptions) and former Wichita State quarterback John Eckman, who set the NCAA record by having 34 passes picked off in 1966.
9. Nikoloz Tskitishvili, Denver Nuggets, 2002-2003
The best word to describe the 19-year-old Tskitishvili's debut in the NBA world? How about "skeetish." Tskitishvili played in 81 games and shot 29.3 percent from the field, the worst performance in the shot clock era for anyone who played at least 75 games.
10. Lee Bouggess, Philadelphia Eagles, 1970
In 1970, the Eagles drafted Lee Bouggess out of Louisville with the 59th overall pick, in the third round. That year, Bouggess rushed 159 times for 401 yards -- a paltry 2.52 yards per carry -- the lowest rushing average (minimum 150 carries) in NFL history. All other Eagles ball carriers averaged 3.91 yards per carry that season. Not surprisingly, Bouggess only played two more seasons (112 carries, 296 yards, 2.64 ypc) and didn't fare much better.
11. Jason Collins, New Jersey Nets, 2006-07
Across the river from Curry, Collins had a season that merited acknowledgement. Collins started 78 games for a playoff team and averaged more fouls per game (3.4) than points (2.1). But there is precedent for the Nets specialization in players of a hideous statistical nature. The late Yinka Dare played 58 games and 626 minutes for the 1995-96 Nets without recording a single assist (his bad hands score was a reasonably terrible minus-24).
12. Aaron Lucas, University of South Carolina, 1999-2000

This one has a feel-good ending, from an on-court perspective. Lucas developed into a team leader and 1,000-point scorer by his senior season, but his freshman campaign was one for the anti-record books. Starting 18 games for the Gamecocks, he averaged 5.7 points on 27.9 percent shooting from the field. Lucas tallied 2.1 rebounds and 2.4 assists per game, shooting 23-for-100 from 3-point range and 52.9 percent on his free throw attempts. A defensive wizard he was not, with 25 steals and three blocked shots. Lucas has the worst field goal percentage in the last 12 seasons for any player from the six major conferences (ACC, Big East, Big Ten, Big 12, Pac-10 and SEC) who played 700 minutes in a season, in which they had a negative assist-to-turnover ratio, and averaged fewer than four assists and rebounds per game.
Russell Baxter, Scott Beaman, Jeff Bennett, Lisa Brooks, Joe DeMartino, Keith Hawkins, Rick Kelly, Matt Ketaineck, Paul Kinney, Jon Kramer, Nick Loucks, Jason McCallum, Ryan McCrystal, Adam Reisinger, Mark Simon, Jason Sobel, Craig Wachs, Matt Willis, and John Zoni contributed to this list.
GREATEST INDIVIDUAL SEASONS
What are the greatest individual single-season accomplishments in sports? Let the debate begin here, with the all-time list of the top 25 seasons, a writers debate, top-10 lists from each sport, a listranker and a photo gallery.
Greatest individual seasons
•
Top 25 greatest individual seasons
•
Page 2 writers debate the top-25 list
Sport by sport
•
Top 10 NBA seasons
•
Amber: Top 10 NHL seasons
•
Ashenfelter: Top 10 NASCAR seasons
•
Chadiha: Top 10 NFL seasons
•
Hawkins: Top 10 tennis seasons
•
Katz: Top 10 college basketball seasons
•
Low: Top 10 college football seasons
•
Neyer: Top 10 MLB seasons
•
Sobel: Top 10 golf seasons
•
Top 10 fantasy seasons
Worst seasons
•
Dirty dozen: the worst individual seasons
Photos
•
Zoom photo gallery
SportsNation
•
Listranker: Create your own top-25 list
•
List researchers chat wrap

•
Conversation: Join the debate/discussion!
ESPN Top Headlines