Commentary
Page 2 Q&A: Duke guard Kyrie Irving
Originally Published:
June 21, 2011
By
Dave Wilson
| Page 2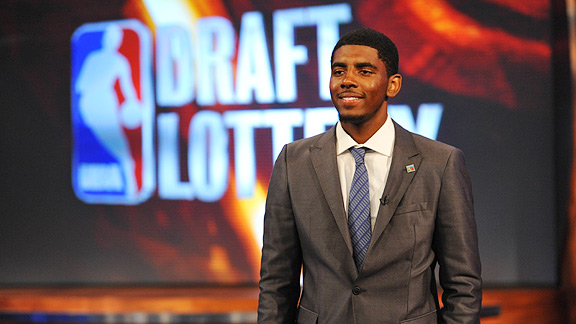 Jesse D. Garrabrant/NBAE/Getty ImagesKyrie Irving attended the NBA draft lottery, where Cleveland may have won the right to draft him.
Kyrie Irving is the presumed top pick in Thursday's NBA draft, a 6-foot-2, 180-pound fleet-footed point guard who played one season at Duke and made an immediate impact despite playing in only 11 games.
Irving is just 19 but has plenty of insight into professional basketball. His father, Drederick, is the second-leading scorer in Boston University history and played professionally in Australia, where Kyrie was born. Kyrie's godfather (who he refers to as his uncle) is former NBA star Rod Strickland, who grew up with Drederick in the Bronx and has been a sounding board throughout Kyrie's rise to prominence.
With draft day approaching, Kyrie spoke to Page 2 during a visit to ESPN this week about the draft process, his rumored singing ability, and what it's like to see himself in a video game for the first time.
You don't know officially where you'll be living in two weeks. How much have you thought about how everything's going to change?
It's something that I give thought about countless hours of the day. You know, I don't like to bring my age up, but it's something I have to, just considering I think about the world and how many 19-year-olds are going to be living alone and making millions of dollars at such a young age. It's absurd to think about. But it's a situation that I'm ready to tackle. It's just an opportunity of a lifetime. It's really special for me, because everything's going to come at me at once. You have to just take everything in and experience it.
This has been a great run for point guards, and a lot of people say the NBA is a point guard's league now. Do you agree?
I definitely agree. A lot of people say I'm going to be the fifth or sixth point guard drafted, if I do go No. 1. The sixth point guard in the last 35 years. [Ed. note: Point guards selected No. 1 overall in that span: John Lucas, Magic Johnson, Allen Iverson, Derrick Rose, John Wall.] Those point guards right there, being in that company, is special. The point guards in the league now, it's a different level. A different level of athleticism, a different level of quickness.
We've been hearing a lot about your musical ability lately. Your teammate Nolan Smith said you could be on "American Idol" if there was a lockout.
I've been musically inclined since I picked up an instrument in the fourth grade. I just really appreciate music. I love to listen to it, I love to sing. I wouldn't consider myself like a natural singer. I just developed it over time, honestly, just listening. I'm a great listener to music.
[+] Enlarge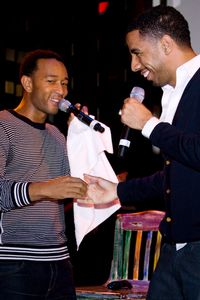 AP Photo/Charles SykesJohn Legend, left, and Ryan Leslie are Kyrie Irving's favorite singers.
You're a point guard, used to collaborating. If you could collaborate with anybody on a song, who would it be?
John Legend and Ryan Leslie, solely based on watching their progression, how they make their beats, how they can play numerous instruments. Just to have that talent ... it just separates them. They don't get as much publicity as other singers but they're great. They'd bring out the best in me, the direction I need to go, becoming better, and just learning so much from them. It would be second to none. There are great singers, but the preparation, the amount of time they actually put into it, just their ability is God-given. It'd be special to learn from them.
That's how I know you're serious because most people would say Beyoncé, because of the option of hanging out with Beyoncé.
I mean Beyoncé's a great singer also. A great performer too.
You were born in Australia; you have dual citizenship. That's been discussed about your future, playing for the national teams. Where are you on that issue?
I'm definitely keeping both options open, honestly. I'm not going to close one door until I'm ready. But having the opportunity to play for the USA or play for Australia is special. Just being able to play on the same floor, and be in the Olympics, whatever team I play for. I really think I'll have a better chance of playing for Australia than the USA just because I'm going to be a young player in the league. Just to be able to play for Australia, for my country, it just would be a great opportunity.
How often have you been back there?
I haven't been back there. It's a long flight, 17 hours. Whew. That's a long flight.
I was taken back a bit by you saying it's your country.
When it applies to the Olympics, and making a decision, I have to claim Australia as my country. I'm happy for the USA. I played for the USA under-18 team, won a gold medal. I have no problem with that either.
I'm sure you don't remember much. You were 2 when you left. Have you heard family stories about living there?
I've never asked my father. He told me he really enjoyed it, being a professional. He had a lot of fans there, that's what he told me about it. Just that he really enjoyed himself over there, when he was there with my mother, my older sister.
You got a year under your belt at Duke. What were the best and worst things about playing for Coach K?
There were no worst things. Best thing is just actually being able to get knowledge from him every single day. That was the best thing for me. There was no worst thing. The yelling I could take. And all the stuff that came with being a Duke player. But other than that, the best was getting knowledge every single day -- you learn something new as a man, as a player.
Fans have created the 2011 draft class online for video games already. Have you checked out your video-game version?
I've played [NBA] 2K11 a couple of times.
Have you downloaded the draft class?
I've downloaded the draft class. I'm pretty solid in there. [Laughs] I'm pretty solid.
How surreal is that, to see yourself show up in a video game?
It's pretty surreal, honestly. First of all, someone's taking the time out of their day to create me, and create my player. It's just special to think about. I'm gonna be in a video game. I tell my college teammates and all my close friends that, and they always tell me it's really surreal for them too. I was just playing at Duke last year, and at St. Pat's. I came [to New York] last year for the Jordan Brand Classic. That was only a year ago. And it's crazy to think I'm getting ready for the draft instead of me looking at John Wall and DeMarcus Cousins and Eric Bledsoe getting drafted, just watching them. Now I'm in the NBA draft.
You've said all the right things, but you're happy to go wherever you go?
Absolutely.
You get asked a lot about LeBron James and Cleveland ...
It's definitely inevitable, especially with Cleveland having the first pick. I can't really do anything about it, just answer the questions as best I can.
How much of the NBA did you get to watch during the season?
When I was younger, I watched a lot more. Once I started to incorporate different things that I love from the NBA, I didn't have the time to really watch it that much. Either I was out, at an AAU tournament, in college playing games, or at practice or too tired to watch it. In college, I really just watched a lot of videos on YouTube. I'm an avid YouTube watcher, just based on watching videos of new guys doing workouts and always like to look at the progression of people and their journeys. Like Chris Paul, when he first came into the league ... he's still the same person, but his game has risen to a whole new level as he got older. And that's how I kind of want it. I want to emulate those journeys. I'm a 19-year-old kid, but once I grow into my body -- kind of like Derrick Rose did. He was a little bigger than me, but now he's like a grown man in the league, and he's doing really well. That's the kind of progression I want to emulate.
Speaking of YouTube, you've got plenty of highlights on there. What's more satisfying for you, as a point guard: Is it an assist, a dunk, or a move on a defender?
I like making a nice move and getting an assist. Or making a nice move and just getting in there and getting an and-one. Getting a dunk, it's fairly fulfilling. But unless it's like a pivotal moment in a game, then I'm like, yeah, I'm jacked up, or I catch a highlight alley-oop, I'll be jacked up. But making a nice move and getting an assist really fires me up, and fires my teammates up too.
A lot of guards study other players, like Tim Hardaway or Allen Iverson, who are similar and try to emulate their moves. Did you have players that you grew up wanting to emulate?
All the guys you just named, honestly, and a lot of my uncle Rod, too -- Rod Strickland. The way they changed pace. I'm a really big change of pace guy, just getting the defense off balance. I learned from all of them, just how fast they go, their moves and the motion. It's an art.
Rod Strickland had a great career. What did he tell you about the NBA?
Just to stay positive and enjoy this process. I only get drafted once. Just get ready for the big boy's league. It's a step up from college, a whole different level.
What other hidden talents have people dragged out of you during this draft interview process?
With me, the way I kind of describe my life, is just the common kid theory. I was never that top guy coming into high school. I wasn't ranked higher or anything, I really worked my way up to the top and where I am now. And just the amount of work I have to put in now to be successful at the next level is something I'm looking forward to. I love the gym, I love basketball. I'm really passionate about it. And now, looking back, I was that common kid. I was like 5-8 as a freshman that just blended in, that had talent but never really stuck out that much. As I got older and stronger and faster, I kind of separated myself.
Dave Wilson is an editor for Page 2.