Detroit 34, St. Louis 17
No 'Madden' curse in Week 1 for Megatron, Lions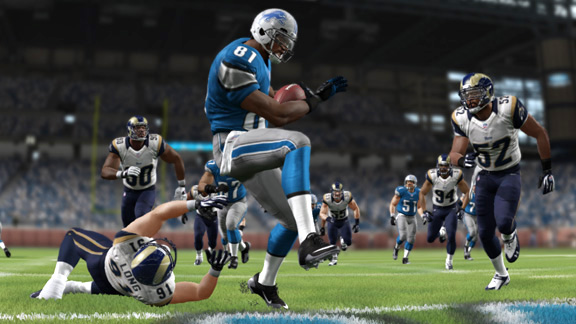 EA Sports
Player of the Game: Calvin Johnson
Calvin Johnson spits in the face of the Madden Curse, catching nine passes for 129 yards and two touchdowns to help the Lions take down the Rams 34-17.
Matthew Stafford came up huge in this one, throwing for 338 yards and four touchdowns to lead the high-octane Detroit offense, a unit that was relentless against the lowly Rams, padding the stats of fantasy owners worldwide.
Speaking of fantasy, look out for Danny Amendola of the Rams. He should be Sam Bradford's favorite receiver this season. Amendola had a 40-yard touchdown in this game to prove it.