New Orleans 30, Washington 20
Saints shake off drama, Redskins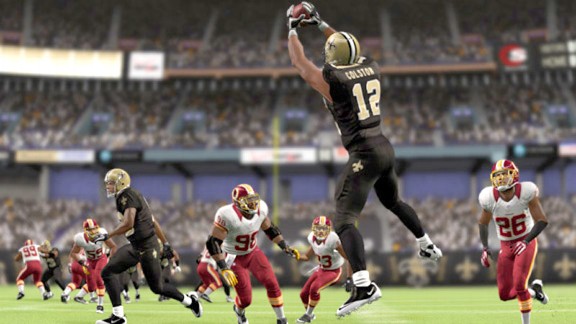 EA Sports
Player of the Game: Drew Brees
RG3 is mesmerizing with the ball in his hands, whether it's real life or "Madden." In this simulation, he proved his worth almost immediately, rushing for the Redskins' first touchdown of the season. He followed that up by completing 24 of 38 passes for 264 yards and one score through the air to complete an amazing opening game.
Then again, when it comes to football, this is a team game, and the Saints were just too much for one player to handle by himself, especially when you have a quarterback like Drew Brees throwing for 346 yards and Pierre Thomas destroying the Washington defense up the middle, rushing for 81 yards and one score.
Tight end Jimmy Graham added six receptions for 86 yards, including a 22-yard touchdown in the win.