Thursday, Eric Fisher of Central Michigan became the third first-round NFL draft pick in recent years from below the testosterone-pumped level of the BCS conferences, joining David Carr of Fresno State in 2002 and Alex Smith of Utah in 2005. Fisher, who grew up in Michigan, went to Central Michigan because neither of the state's big-deal football programs, the University of Michigan and Michigan State, wanted him. So take that, Wolverines and Spartans!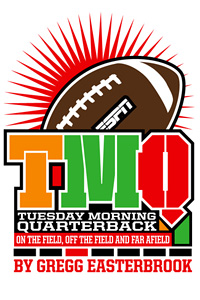 But there's something more about Fisher that is endearing. Coming out of high school, ratings services said he was no good. Fisher is the classic Everyman, making it entirely on his own.
When Fisher was a high school senior, ESPN Recruiting Nation graded him as "not rated," which means scouts thought he was inconsequential. Rivals gave Fisher two stars, in a system where five is hot stuff and two is generic, given to mid-major prospects.
I looked up who was lauded by ESPN Recruiting Nation and Rivals in Fisher's senior year -- who got a 90 or higher from Recruiting Nation, or five stars from Rivals. Several went on to become college stars or high draft selections, including Patrick Peterson, A.J. Green, Julio Jones, Tyron Smith and Arthur Brown. Roughly half those lauded in Fisher's senior year by either recruiting service so far have either done very well in football or were sidelined by severe injuries, meaning we'll ever know.
But almost as many were busts, got in trouble with the law or didn't start for their own college. Dee Finley, Stephen Good, Tyler Love, Enrique Davis, Simi Kuli, Raven Gray, Ray Ray Armstrong, Craig Loston, Jermie Calhoun -- these and others received top billing from recruiting services, and were subjects of recruiting wars by big-college programs, at the same time Fisher was being ignored in his own backyard.
Of course all professions have examples of those who were overrated, or flamed out, or squandered potential by acting irresponsibly. If there were recruiting websites for the most promising high school seniors aiming for med school, years later half the names would have vanished while some total unknowns came on strong. The fact that prospect ratings services often err isn't a surprise -- the draft itself often errs.
The small message of this is that young athletes should not let early praise go to their heads. Far too many with seemingly unlimited promise botch their chances and, by their mid-20s, have nothing.
The big message is that the unknown Everyman can still come out on top. Don't let anyone else define you -- all that matters is how you define yourself. The Experts said Eric Fisher wasn't good. How delightful that The Experts can once again be proven wrong.
In other football news, bartender, zone reads for everyone! The college-derived zone-read offense got the Seahawks and Redskins into the playoffs, and got San Francisco within fourth-and-goal of winning the Super Bowl. Going into the coming season, many teams will run the zone-read and many will brace to stop it.
The top of the draft told that story. The sole quarterback taken in Round 1, EJ Manuel, seems a long shot for the NFL, but was the well-known quarterback most familiar with zone-read tactics. Three of the first six players chosen -- Dion Jordan by Miami, Ezekiel Ansah by Detroit and Barkevious Mingo by Cleveland -- are lean, rangy edge rushers. None would be much use against the kind of power-rush offense used by the Cowboys of the 1990s, but all have the speed and reflexes to catch Kaepernick or RG III when they keep the ball and veer outside.
And the preponderance of offensive linemen in Round 1, coupled to the absence of running backs, is in its way an indicator of the fad. Watch a quick-paced zone-read attack -- the Skins of 2012 or the Oregon Ducks' blur offense. These tactics depend on fabulous blocking: the left tackle is more important than the tailback. Blocking matters in any kind of football. But the zone read just can't work if someone gets off his block right at the snap. Small wonder five of the first 10 selected were offensive linemen, while the first runner wasn't chosen 'til pick 37.
Fads comes and go. The Wildcat seemed unstoppable for a while. Once nobody could stop the run-and-shoot; now nobody even uses it. Mike Tomlin had a point when he described the zone read as the "flavor of the month." Sometimes the flavor of the month is really good, but year in and year out, vanilla, chocolate and strawberry dominate sales. By the end of the 2013 season, zone-read attacks may be stalled, while classic pocket passers shred college-flavored defenses. A few years down the road, Matt Barkley is more likely to be in the Pro Bowl than EJ Manuel.
Here's the Tuesday Morning Quarterback draft analysis:
Arizona: With the seventh choice, the Cardinals made Jonathan Cooper the highest-drafted guard since Chris Naeole, at 10 in 1998; a short time later, Chance Warmack went to the Titans at 10, matching Naeole. Guards everywhere should enjoy this, as their moments in the sun are few.
Atlanta: It's easy to forget that this team finished 14-4 and came within a few snaps of the Super Bowl. In the draft, the Falcons restocked at corner and added a 6-foot-8 tight end to one of the league's best passing offenses.
Baltimore: The defending champions used a fourth-round choice on fullback Kyle Juszczyk of Harvard; Green Bay used a fourth on J.C. Tretter of Cornell, and Mike Capatano of Princeton went to Kansas City in the seventh round. In 2012, there were nine Ivy Leaguers on NFL rosters -- that's less than 1 percent of the league, but then, less than 1 percent of undergraduates attend Ivy institutions.
Oh for the days of 1969, when Marty Domres of Columbia and Calvin Hill of Yale were No. 1 selections. Juszczyk and Tretter are the highest Ivy League picks since Jeff Hatch of Penn, taken in the third round by the Giants in 2003.
Buffalo: The Bills used a third-round pick on Marquise Goodwin, fastest man at the combine -- he ran a 4.3, excuse me, a 4.27. That's fast. Complication: Goodwin was never a full-time starter in college, recording just 26 receptions as a senior. So he's a track star but his own college coaches thought he couldn't play. Why will that change in the pros? In 1992, the Jets used a first-round choice on tight end Johnny Mitchell, who was incredibly fast but did not start in college. You fill in the rest.
The Bills' new head coach, Doug Marrone, is coming from NCAA football to the NFL. He had a college-style draft -- using his picks on a quarterback, two wide receivers, a speed linebacker, two defensive backs, a tight end. Marrone didn't draft any linemen on either side of the ball, using all ammo for flashy guys. At a time when speed dominates Division I football, a head coach coming over from a football factory may obsess about getting flashy guys, while taking the line for granted. Taking the line for granted is a fatal error in the NFL.
Carolina: Can you name anyone who plays defensive line for the Panthers? Neither can most others who follow football. The Cats paid a huge amount last season to defensive end Charles Johnson, but he played for sack stats and was often burned by draws and screens. Carolina used its first- and second-round choices on defensive linemen. If the Carolina offense continues to perform as it did during a late-season surge, adding a decent defensive front could make the Cats a 2013 contender.
Chicago: Clear the decks -- prepare to dive -- new head coach Marc Trestman says he will switch Devin Hester from being a wide receiver back to being a kick returner. In other news, Saudi Arabia announced that it was dropping the rap music experiment and would switch to emphasizing oil production.
Cincinnati. No running back chosen in the first round for the first time since the old NFL and AFL drafts merged. Who was the first running back selected in 2013? The answer is Giovani Bernard, tabbed by the Bengals ahead of much better-known Eddie Lacy, Montee Ball and Le'Veon Bell. Bernard is 5-8 -- "5-8 3/8s" -- showing that a normal-sized human being can be a good football player.
Cleveland: The Browns used their first choice on Barkevious Mingo, whose front-seven mates will include Ahtyba Rubin and Ishmaa'ily Kitchen. Cleveland's long-term strategy involves locking up the league's most interesting names.
Dallas: The Cowboys traded down, then used their first-round choice on a guy who draft guru Mike Mayock saw as a third-round fellow. Of course draft gurus are often wrong -- last year Mayock did not have Russell Wilson in his top 100.
NFL scouting departments are often way off base, too, but since they don't post mocks or big boards, their errors become public only via the draft itself. Check, for instance, the quarterback selections of 2007. The Raiders and Browns scouting departments made major errors, while the Eagles, Bills, Dolphins and Cowboys scouting departments didn't exactly cover themselves with glory. NFL professionals sometimes complain about Mayock, Mel Kiper and Todd McShay spouting off regarding draft picks, since draftnik opinions are so often wrong. If NFL scouts released as much detail about their opinions as do Kiper, McShay and Mayock, they'd be shown constantly wrong, too.
Denver: The Broncos seemed poised for the Super Bowl until their secondary went on strike late in what seemed like a sure playoff win over the Ravens. Yet Denver didn't choose a defensive back 'til the third round. And don't look now, but the Broncs offense sputtered in the postseason, averaging just 4.6 yards gained per play, well below the NFL all-teams season average of 5.4.
Detroit: Defensive end Ezekiel Ansah, fifth overall choice of the draft, came to the United States hoping to play basketball, and did not put on pads for the first time until 2010. He became a starter for BYU in 2012 and played well, but was hardly overpowering -- 4.5 sacks, 35 solo tackles. There's a huge risk here of a one-year wonder. Does the name Aaron Maybin ring a bell?
Green Bay: The Packers kept trading down to stockpile mid- and late-round choices. Netting deals with San Francisco, Miami and Denver, Green Bay turned choices 55 and 88 into choices 61, 109, 216 and 224. Check the quantity that resulted.
Quality or quantity? It's an endless debate. In the NFL football draft, considering the track record of predicting who will be good, perhaps quantity is best. In the last decade or so, Green Bay and New England consistently have traded down to stockpile mid- and late-round choices. Since 2002, the Patriots are 136-41, the Packers are 111-67. Teams that trade up in the draft can only envy those records.
Houston: The Texans win games but lack a certain je ne sais pas. That means I don't know what they lack -- and neither, it seems, does Houston management. Super Bowl teams establish a personality: rooting for Houston is like dating some guy who's good-looking and polite but you can't remember his name.
In the sixth round the Moo Cows snagged offensive tackle David Quessenberry, whom TMQ will root for. Quessenberry wasn't recruited by anyone, and walked on at San Jose State.
Indianapolis: The Colts used their top pick on defensive end Bjoern Werner of Florida State. Five of the draft's first 42 picks were from Florida State. How did the Seminoles ever lose a game last season, let alone two?
Johnny Football Should Be In Class: Johnny Manziel was at Radio City Music Hall in New York, giving interviews and receiving admiration. Isn't Manziel supposed to be a college student? Texas A&M is in session, yet a "student" at the university is flying around the country discussing football. "I have another year of college football left, that's my main focus," Manziel said on ESPN. Shouldn't Manziel at least pretend to be a student?
Since Manziel is likely to become wealthy, his absence from class may not harm his future. But most of his teammates at Texas A&M will never earn a dime in the NFL. For them the classroom matters far more than the gridiron. Manziel -- surely abetted by his coach and the Aggies' athletic director -- sets the wrong example for the overwhelming majority of NCAA scholarship holders who will never have sports income.
Jacksonville: The Jaguars drafted Denard Robinson, who was terrific at Michigan as a jitterbug-style running quarterback, in hopes of making him a wide receiver. Carolina tried to do the same three drafts ago with jitterbug quarterback Armanti Edwards, who has five receptions in three seasons. For that matter, Jacksonville once spent a first-round choice on college quarterback Matt Jones, planning to make him a wide receiver: Jones was a bust. On the plus side, Jaguars practices now have a soundtrack.
Jersey/A: The Jets took quarterback Geno Smith, the Giants took quarterback Ryan Nassib. How long until they square off against each other on the joint Jets-Giants field? In college, Nassib was 3-0 versus Smith.
Super-Advanced Space Aliens Still Don't Get It: In "Oblivion," the latest Tom Cruise ego vehicle, once again super-advanced aliens have invaded Earth in order to steal our water. Super-advanced aliens attacking Earth for our water was the plot of the big-budget flick "Battle: Los Angeles" and the big-budget TV serial "V," among other sci-fi cinema and television.
As TMQ has pointed out, including two years ago, "Water is among the most common substances in the cosmos. The Oort Cloud on the boundary of our solar system contains hundreds of times more water than Earth's oceans. To get water, sinister aliens wouldn't need to stage invasions, much less don uncomfortable latex costumes. They could take all they wanted from the Oort Cloud -- which is already up in space. No need to blast your way onto Earth, then lift the water off the surface of a planet, then accelerate the water out of a star's gravity well."
Scriptwriters live in the Hollywood hills; the mythology of Los Angeles involves conflict over water. But up in space, water is plentiful. There are more alien-invasion summer movies on the way. Maybe in them, aliens will attack Earth to steal our plot clichés.
Jersey/B: Netting the Buccaneers deal and draft-day decisions, the Jets traded Darrelle Revis, one of the league's best players and in his prime, for the No. 13 overall pick (which the Jets used to select defensive tackle Sheldon Richardson) and a conditional mid-round 2014 pick. Richardson is a speculative choice who was only at the big-college level for two years, and there was once suspended. He and a conditional future pick are better than one of the league's top players in his prime? In 2003, the Jets used the fourth pick of the draft on Dewayne Robertson, who like Richardson had great potential but hadn't done much: Robertson became a bust. Unless Richardson becomes a star, the Revis trade will rank as among the NFL's worst ever.
Last season, the Jets' brain trust ensured organizational dysfunction by creating the Mark Sanchez-Tim Tebow mess. Now that organizational dysfunction for the coming season is ensured by the Sanchez-Geno Smith mess, Jersey/B has waived Tebow. He wanted to entertain the crowd and win games -- get that bum outta here! Perhaps Tebow can join the Los Angeles Lakers.
Kansas City: The Chiefs used a high choice to bring in Alex Smith as quarterback; he joins Joe Montana, Elvis Grbac and Steve DeBerg as players who have moved from starting quarterback of the Forty Niners to starting quarterback of Kansas City. No quarterback has ever gone from starter at Kansas City to starter at San Francisco.
Brad Childress, still reeling from the Randy Moss fiasco when he was head coach at Minnesota, joins the Chiefs as a "spread game analyst", whatever that means.
Wacky Food of the Week: TMQ purchased a 6-ounce container of DiGiorno shredded cheese. A bold banner proclaims "20% More Cheese!" Then in tiny type, "than 5-ounce packages."
Miami: The Genetically Engineered Surimi traded first- and second-round choices to move up to select Dion Jordan, a pass-rush specialist who played fewer than 50 percent of defensive snaps at Oregon. (Coach's decision, not owing to injuries.) Such an investment in a part-time player is hard to fathom. The Dolphins entered the draft with extra mid-round choices; it was as if the extra choices were burning a hole in general manager Jeff Ireland's pocket, he just had to get rid of them.
The Dolphins got Jordan by trading up to the third selection; presumably they were trying to get ahead of Philadelphia, picking fourth and now run by Chip Kelly, Jordan's coach with the Ducks. But if Jordan is so great, why didn't Kelly have him on the field more often? It seems unlikely Kelly would have kicked off his first NFL draft by picking a guy that he himself kept on the bench half the time.
Minnesota: The draft's big splash was three first-round choices by the Vikings. Only one team has ever had four first-round choices, the 2000 Jets. For the next decade, Jersey/B made the playoffs six times, going 6-6 in the postseason. Even half that outcome would make the Vikes happy about their three first-rounders.
Minnesota snagged the sole punter chosen in the draft, Jeff Locke of UCLA, in the fifth round. It makes sense to use a draft choice on a punter only if a team expects to punt a lot. Last season, the Vikings were 18th in first downs. Perhaps they expect to punt a lot.
Who Looks This Stuff Up? The Cowboys 2009 disaster draft had "the highest number of players from a single draft class to have been cut within four seasons by any team, since at least the 1999 draft, according to Stats LLC."
New England: In the team's big free agency move, the Flying Elvii preferred Danny Amendola to Wes Welker. Even though both Welker and Amendola are undrafted free agents from Texas Tech, expect the football gods to wax wroth.
Welker's 672 receptions in just six seasons at New England is not only the franchise's all-time best -- that number of catches would represent the all-time career record for 14 of the league's 32 teams: Atlanta, Baltimore, Chicago, City of Tampa, Cleveland, Detroit, Jersey/A, Jersey/B, Miami, New England, New Orleans, Philadelphia, San Diego and Tennessee. Welker's 7,459 yards receiving at New England would be the record for three NFL teams: Baltimore, Chicago and City of Tampa. And his 37 touchdown receptions would be the career record for the Buccaneers.
Amendola is younger -- in a few years he may still be playing, while Welker is not. Still, to tell one of a team's all-time most productive players to hit the road is vexing. TMQ perceives the sinister hidden hand of Bill Belichick, who may think that in his offense, anybody playing slot receiver role will catch 100 passes. Belichick may tell himself, "Last season I paid this guy $9 million to do nothing but run short curls, and he thanked me by whining to the media. No matter who I plug into the slot role, the result will be the same."
New Orleans: The Saints used their first selection on Kenny Vaccaro, a safety from Texas. Vaccaro was the leader of a Longhorns defense that finished 67th in Division I, allowing 404 yards per contest and surrendering 49 offensive touchdowns. Eight LSU defenders drafted made sense -- LSU finished sixth in defense. Texas, on the other hand: in consecutive weeks in 2012, the Texas defense allowed a total of 111 points. So how can a Longhorns defender be one of the top players in the draft? Then again, the Saints had the NFL's worst defense in 2012. Vaccaro is a perfect fit for the New Orleans program!
Former Saints linebacker Scott Fujita signed a symbolic one-day contract so he could retire as a member of the Saints. Fujita put ink to paper at the top of a rise in Machu Picchu.
Frequent Flyer Pick of the Draft : Choice No. 176 -- Texans from Titans through Vikings, Cardinals and Raiders.
Oakland: The Raiders traded first- and second-round draft choices for Carson Palmer, employed him for less than two seasons, then traded him to Arizona for a 2014 seventh-round choice. At least they got their damage deposit back!
To sum the Raiders' many recent quarterback moves involving Palmer, Jason Campbell, Matt Flynn and Terrelle Pryor: Oakland invested first-, second-, fourth- and fifth-round draft selections, plus about $30 million, and has to show for this Pryor (one career NFL start), Matt Flynn (two starts in five seasons) and a seventh-round draft pick.
In addition to these canny deals, new Oakland general manager Reggie McKenzie has waived Rolando McClain, on whom the Raiders spent the eighth choice of the 2010 draft, Darrius Heyward-Bey, on whom the Raiders spent the seventh selection of the 2009 draft, and several recent mid-round draft selections. The housecleaning helps McKenzie position himself in career terms -- he can say, "Previous management was so awful it threw draft picks out the window, so don't expect Oakland to win in 2013." But what about new management? McKenzie just gave Flynn $6 million guaranteed for the coming season, or $69,000 for each of the 87 passes he has completed in his NFL career.
They're All Above Average: Mark Maske of the Washington Post devoted an entire newspaper page to grading the draft. Twenty-eight of the 32 teams received As or Bs -- that is, 88 percent were above average. There were no Ds or E/Fs, meaning no one was below average. Based on the standard conversion table, the NFL gets an overall 3.2 GPA. No one was below average in Mel Kiper's draft grades either.
Philadelphia: New Eagles offensive tackle Lane Johnson, fourth selection of the draft, in college first was a quarterback, then a tight end, then a defensive end. He played offensive line for the initial time in 2011, and now he's the fourth choice of the 2013 as an offensive linemen. If all goes well he will team with Eagles Pro Bowl tackle Jason Peters, who played offensive line for the initial time as an NFL rookie.
So is Matt Barkley the next Todd Marinovich or the next Tom Brady? Barkley dropped from lottery pick, which he would have been in 2012, to fourth round mainly because USC had an off year. Football is a team sport -- Barkley didn't play as well as the previous season but was surrounded by people who weren't playing as well. If EJ Manuel flames out and Geno Smith falls victim to the Jets' organizational dysfunction, Barkley could end up the star quarterback of the 2013 draft. Though he is a traditional pocket passer; where will Barkley fit if Chip Kelly implements a zany Oregon-style blur offense?
Pittsburgh: Since coming within a few plays of defeating the Packers in the Super Bowl, the Steelers have been shaky; they enter 2013 on a 8-9 streak. Their 2013 high picks were used to replace players lost in free agency. Two years ago, who would have believed Landry Jones would last 'til the fourth round and be chosen after a player from William & Mary? Jones is big and strong like Ben Roethlisberger. At Oklahoma, he stood calmly in a clean pocket. With the Steelers, he'll have to get used to being hit as he throws, if not as the snap arrives.
San Diego: The Bolts staged a trade to get Manti Te'o, and will ask him to fill the cleats of his idol, Junior Seau. Southern California surfers and bikini-beach sun worshippers will be happy about this move. But it may put an extra level of pressure and scrutiny on a guy who might be better off to just blend in with the crowd for a while.
San Francisco: Niners fourth-round pick Quinton Patton of Louisiana Tech, a wide receiver, had 2,594 yards receiving in the last two seasons. Patton had more receiving yards in the last two years than Tavon Austin, DeAndre Hopkins or Cordarrelle Patterson, the receivers chosen in the first round, and twice the receiving yardage of Justin Hunter, first receiver chosen in the second round.
Seattle: The Bluish Men Group spent its first-round choice to acquire wide receiver Percy Harvin, who has never had a thousand-yard receiving season, whose yards per catch has declined steadily and who complains nonstop. Last season, Cecil Shorts of Division III Mount Union was a better player than Harvin has ever been. For several years, touts have expected Harvin to bust out as a star. It hasn't happened.
St. Louis: The Rams selected Tavon Austin and Stedman Bailey, both the West Virginia wide receivers. Maybe the team will make the new guys feel at home by hosting caving trips or a ramp festival.
ESPN Curse Joins Sports Illustrated Curse: All day on the first day of the draft, the main graphic of the ESPN.com NFL page showed Geno Smith and Matt Barkley. Neither was chosen.
Tampa: Darrelle Revis, Mark Barron, Dashon Goldson plus this year's second-round draft selection -- the Buccaneers are now loaded at defensive back. Or are they? Revis has injury issues, Goldson performed poorly in the Super Bowl and Barron is a helmet-to-helmet suspension looking for a place to happen.
The Bucs finished 2012 on a 1-5 run with the sole win a season-finale affair versus a Falcons team that had locked its best seed and was resting starters. City of Tampa had an overall losing record despite a very soft sked that included only four dates versus teams that made the playoffs that season: three, discounting for the finale against Atlanta. TMQ is not sold on this team or its bad-sport coach.
Tennessee: If the NFL Network view was to be believed, the Titans had 14 people in their draft room. If the NFL is really that overstaffed, why do taxpayers keep paying subsidies for stadiums? Tennessee gave San Francisco a 2014 third-round selection to move up just six places in the second round and select a University of Tennessee star. That may be good marketing; at this time next year, the Flaming Thumbtacks may wish they had the third-rounder back.
Why Ziggy Went Higher Than Geno: Only hardcore football enthusiasts pay attention to the Senior Bowl, which happens after the college season has concluded. This year, Geno Smith skipped the Senior Bowl and dropped to the second round, while EJ Manuel played and ended up the sole quarterback of the first round. As recently as early January, before Senior Bowl week, there could not have been one NFL scout in 100 who would have wagered on Manuel going before Smith.
Eric Fisher, first overall selection, rose based on his Senior Bowl performance, as did fifth selection Ziggy Ansah. Pro scouts got to watch these gentlemen in a pro-like environment where there were no campus distractions, just football preparation the day long. Whether any one of the players whose stock rose based on an all-star game will turn out to deserve their lofty selection remains to be seen. But the Senior Bowl effect was so distinctive in this draft, next year fewer players will consider themselves too important to skip the event.
Elsewhere, this column zings Johnny Manziel for barely going through the motions of being a college student. This logic doesn't apply to the Senior Bowl, which occurs after second semester begins at universities. Most participants have already either graduated or have left college because they're not going to graduate.
Washington: The Redskins also had a college-recruiting draft -- defensive backs, running backs, receivers, a linebacker. Washington did not draft a lineman, on either side of the ball. Skins coaches must have seen something in 2012 line play that was not immediately obvious to other observers.
Reader Animadversion: Nathan Sass of Waukesha, Wis., notes of a column from last winter, "In an item about political corruption, you stated, 'one of Wisconsin Gov. Scott Walker's close aides is a thief.' While the statement was factually accurate, it is important to point out that he was caught as a thief as a result of an investigation that Walker asked the Milwaukee County DA to initiate. Typical political behavior would have been to hide the misdeeds, not call for an investigation, since the governor ran the risk that he could have implicated himself in the process."
Next Week: Next week comes in August, when the NFL artificial universe resumes.