JESSE JAMES SYLVIA
AGE:
26
RESIDES:
LAS VEGAS
CHIP COUNT:
43,875,000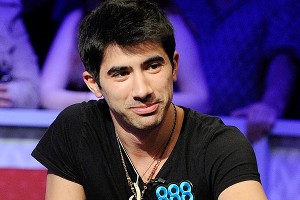 The pro from Martha's Vineyard has traveled by air, land and sea to put himself on the map as a poker great. Sylvia enters the final table with a dominating chip lead thanks primarily to two hands: a flip with Rob Salaburu and a 44 million-chip pot

against Scott Abrams. Everything went Sylvia's way on Day 7 and he's hoping that the good vibes will continue on Oct. 29 and 30. Sylvia isn't afraid to put his chips in the pot, even with a marginal advantage and that could either lead to a monstrous chip lead or a short stack pretty quickly.
Sylvia's roots, like so many others at the final table, comes from the pre-Black Friday online cash games. The thing that separates Sylvia from the rest of the online generation is that when Black Friday hit, he didn't follow the flocks and leave the country to play behind a computer. Sylvia turned to the live game and that live experience has helped him navigate his way to WSOP success. He now has three WSOP cashes and has worked with Vanessa Selbst to fine-tune his game before the final table.