ESPN Sport Science is a groundbreaking television franchise that brings viewers amazing insights into athletic performance from a scientific viewpoint. Currently in its seventh year of production, ESPN Sport Sciences innovative approach has made it one of the networks most decorated properties in recent years, garnering a total of six Emmys.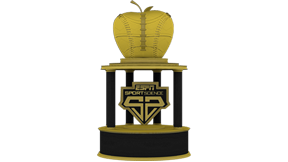 Building on this success, ESPN is presenting the second annual "ESPN Sport Science Newton Awards" airing Sunday, Feb. 15. Named in honor of science's first MVP, Sir Isaac Newton, the ESPN Sport Science Newton Awards will honor athletic achievements in categories including "Best Catch," "Best Flight," "Outstanding Agility," "Outstanding Reaction" and "Outstanding New Limit."
While most awards shows are based on a voting process, the Newtons are judged based on unprecedented scientific analysis of thousands of athletic performances from the world of sports during 2014. The unique ESPN Sport Science metric accounts for numerous factors and variables in human performance, based on intensive video analysis and the huge database ESPN Sport Science has created through its years of testing in its sports lab.
The findings of the thorough process will result in winners who will receive a custom-made trophy. And the trophy itself is as amazing as the athletes who will be taking it home. Standing 15.5 inches tall, the Newton tips the scales at hefty 16 pounds, 9 ounces -- nearly twice the weight of an Oscar! Its focal point is an 24 karat gold-plated apple, evoking Newton's legendary "eureka" moment, when he first recognized the universal force of gravity. The intricate surface of the apple is infused with the textures from the balls of various sports such as football, baseball, basketball, and soccer. This fusion represents the show's unique blending of sports and science.