We like to challenge ourselves here at the Worldwide Leader in Sports. We like to tackle the tough ones. But this one … Wow!
Rank the 25 best single-game individual performances in a playoff game in any of our four major professional team sports? No way!
OK … way. We did it. Or, at least, we tried to do it. We looked at all the postseason games that have been played in Major League Baseball, the National Football League, the National Basketball Association and the National Hockey League, and picked out the best o' the best. Then we ranked 'em. For better or worse.
You might not won't agree with us. But that's the great thing about sports. They're tailor-made for this kind of debate.
We also prioritized the best playoff performances in each of those four sports, too. You can check those rankings out here: MLB | NFL | NBA | NHL.
So . . . here we go, the all-time best performances in the games that really count, starting with No. 25 and working our way to No. 1. And don't miss our Top 25 photo gallery!
25. David Freese, Cardinals: 2011 World Series, Game 6
Has anyone ever been as "clutch" as Freese was while the Cardinals were clinging to World Series life late in Game 6? One pitch away from elimination (the Rangers were up three games to two and led Game 6 by a 7-5 score with two outs and two strikes on Freese in the bottom of the ninth), he hit a two-run triple just beyond the reach of right fielder Nelson Cruz to send it to extra innings. Clutch. Then, in the bottom of the 11th with the score 9-9, he led off with a 428-foot home run to center. Clutch. See you in Game 7.
---
24. Wayne Gretzky, Kings: 1993 Campbell Conference finals, Game 7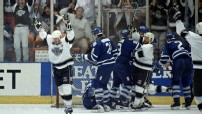 Most visiting players who grew up in Canada picked their games up a notch when they played in storied Maple Leaf Gardens. And none other than Wayne Gretzky -- who was from nearby Brantford, Ontario -- proved that repeatedly, particularly on May 29, 1993, when he scored a hat trick against Leafs in front of his dad, who had suffered a stroke earlier in the season, to lead the Kings to a 5-4 win in a key Game 7 to advance to the Cup finals. Gretzky had a record 10 playoff hat tricks, but this was his only one as a King. Now that's responding to pressure.
---
23. Lynn Swann, Steelers: Super Bowl X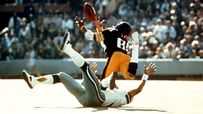 Swann suffered a concussion in the AFC title game and was questionable leading up to Super Bowl X against the Cowboys. Dallas safety Cliff Harris suggested Swann would play scared, but Swann got on the field and played a major role in the Steelers' 21-17 victory. Swann caught four passes for 161 yards, including a 64-yard touchdown late in the fourth quarter that provided the winning margin. Swann's 40.3 yards per reception is the second-highest average in Super Bowl history, and his juggling 53-yard reception while falling over a defender is one of the most memorable Super Bowl plays.
---
22. Frank Reich, Bills: 1992 wild-card game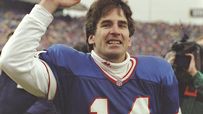 Reich engineered the biggest comeback in NFL history in Buffalo's 41-38 overtime win against Houston in the wild-card round following the 1992 season. The Bills trailed 35-3 early in the third quarter before a rushing touchdown closed the gap to 35-10. Then Reich went to work, throwing four touchdown passes (the final three to Andre Reed) to give Buffalo a 38-35 lead late in the fourth. Houston would tie the score in regulation, but an Oilers' turnover early in overtime led to a game-winning field goal for the Bills. Reich finished 21-of-34 for 289 yards and those four touchdowns.
---
21. Sandy Koufax, Dodgers: 1965 World Series, Game 7
He was pitching on just two days' rest, but then, so was his counterpart on the Twins, Jim Kaat. He'd already lost a game in this World Series, but then, so had Kaat, who matched up with him in Game 2 (a 5-1 Minnesota victory) and Game 5 (a 7-0 Dodgers win). But Koufax had one disadvantage in Game 7 that Kaat didn't have to work through: arthritis. In other games through his too-short (12 years) career, Koufax might have been more dominant, more effective, than he was in this one -- including a then-record 15-strikeout dazzler in Game 1 of the 1963 World Series against the Yankees. But this performance stands out as perhaps his most glorious moment, as he battled through the sore arm and the fatigue to keep the Twins scoreless in a complete-game, 10-strikeout, 2-0 shutout. He still had the remarkable fastball at the end, striking out Earl Battey and Bob Allison to end the game.
---
20. LeBron James, Cavaliers: 2007 Eastern Conference finals, Game 5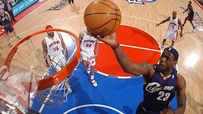 LeBron James scored 29 of the Cavaliers' final 30 points against the Pistons at The Palace of Auburn Hills to lift his team to within a game of the NBA Finals. In this double-overtime thriller, James attacked the rim time and time again, throwing down numerous thunderous dunks. James finished with 48 points on 18-of-33 shooting from the field. He also had nine rebounds, seven assists and two steals.
---
19. Kirby Puckett, Twins: 1991 World Series, Game 6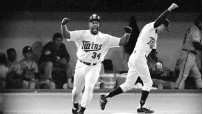 What didn't Puckett do that night in the Metrodome? Well, he didn't turn an unassisted triple play, skip the light fandango or sail across the ocean blue. But everything else? Yep. Did it. He won the game with a walk-off, 11th-inning home run against Charlie Leibrandt in Minnesota's 4-3 win over the Braves to force a Game 7. He tripled in a run and then scored himself in the first inning. His sacrifice fly put the Twins up 3-2 in the fifth. He stole a base. And he made a sensational catch on a Ron Gant drive to center in the third inning.
---
18. Albert Pujols, Cardinals: 2011 World Series, Game 3
Pujols didn't even need the whole game to make this list. He did it in four short innings. (Short, that is, unless you're a Rangers fan. If you follow Texas, those four innings must've seemed like forever.) From Inning No. 6 through Inning No. 9, Pujols hit three home runs good for six RBIs -- a three-run drive in the sixth, a two-run shot in the seventh and a solo home run in the ninth for good measure. But wait! There's more! Albert played the first five innings, too, during which he added a couple of singles to his collection. By the time he'd finished in the Cardinals' 16-7 rout, he'd set a World Series record with 14 total bases and tied another with five hits.
---
17. Michael Jordan, Bulls: 1998 NBA Finals, Game 6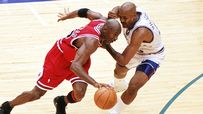 This game will be remembered for Michael Jordan's "push-off and pose" jumper that sent Utah Jazz defender Bryon Russell sliding toward the lane and the Chicago Bulls to their sixth championship of the MJ era. Jordan piled up 45 points on 15-of-35 shooting and, in typical Jordan fashion, was money down the stretch. As the final seconds ticked off the clock, Jordan scored on a drive, stole the ball from Karl Malone and then offered his iconic game-winning shot to earn the 1998 NBA championship.
---
16. Roy Halladay, Phillies: 2010 NLDS, Game 1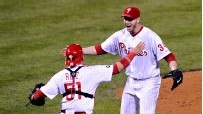 Halladay already was established as perhaps the game's best pitcher. He'd won the AL Cy Young Award in 2003 and was on his way to a unanimous selection for the 2010 NL award (partly on the strength of a late-May perfect game) when he took the mound to open the playoffs for the Phillies. But until that early-October Wednesday, he'd never pitched in the postseason. The team he matched up against in his playoff debut, the Reds, had led the league in batting average, runs scored and home runs during the regular season. But they never had a chance on this day. Halladay faced 28 Cincinnati hitters (he walked Jay Bruce with two outs in the fifth inning) and threw 25 first-pitch strikes in the 4-0 win, only the second postseason no-hitter in MLB history.
---
15. Maurice "Rocket" Richard, Canadiens: 1944 Stanley Cup semifinals, Game 2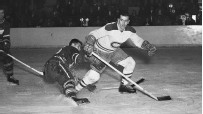 Maurice "Rocket" Richard's performance against the hated Leafs on March 23, 1944, stands out among almost all other postseason NHL performances. With his team down 1-0 in the series, Richard scored a hat trick in the second period and two more goals in the third before he was rested, with the game well in hand, by coach Dick Irvin. Richard was awarded all three stars after the game. The Habs swept the rest of the series and the finals against the Blackhawks, giving credibility to the theory that Richard's performance helped propel his team to a dominant Cup victory.
---
14. James Worthy, Lakers: 1988 NBA Finals, Game 7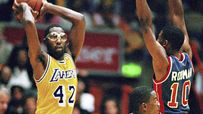 It doesn't get any bigger than Game 7 of the NBA Finals, so "Big Game" James really earned his nickname in this one. Playing for the title at home against the Detroit Pistons, Worthy had 36 points, 16 rebounds and 10 assists. Worthy's first triple-double was good enough to lead the Lakers to back-to-back championships and earn him the 1988 NBA Finals MVP award.
---
13. Kellen Winslow, Chargers: 1982 divisional game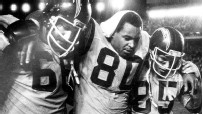 Winslow left it all on the field in San Diego's 41-38 overtime win against the Dolphins in the divisional round after the 1981 season. His 13 catches for 166 yards were a postseason record at the time, and his 25-yard touchdown catch put the Chargers ahead early in the second half. Winslow also preserved a 38-all tie by blocking Miami's potential game-winning field goal as time expired in regulation. Winslow's departure from the field after the game is one of the enduring images in playoff history.
---
12. Jerry Rice, 49ers: Super Bowl XXIII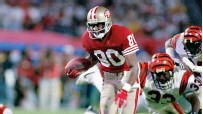 Super Bowl XXIII is widely remembered for John Taylor's game-winning touchdown catch with 34 seconds remaining, but the 49ers' 20-16 win wouldn't have been possible without Rice's MVP performance. Rice set Super Bowl records with 11 catches and 215 receiving yards. He also caught three passes on San Francisco's game-winning drive, including a 27-yard reception down the middle just two plays before Taylor's game winner.
---
11. Michael Jordan, Bulls: 1986 Eastern Conference first round, Game 2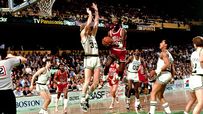 "That was God disguised as Michael Jordan." Larry Bird said that after Jordan put up 63 points on the Celtics in a double-overtime, first-round playoff game at the Boston Garden in 1986. Jordan had been out almost the entire year with a broken foot but returned late in the season to get the Bulls into the playoffs. The series went the minimum, as the eventual champs swept Chicago, but Jordan's spectacular performance set a playoff scoring record that still stands.
---
10. Marcus Allen, Raiders: Super Bowl XVIII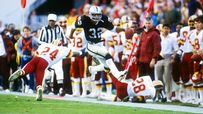 Allen set a Super Bowl record with his 191-yard performance in a 38-9 rout of the defending champion Redskins in Super Bowl XVIII. He needed only 20 carries to set the record, including a zigzagging, 74-yard touchdown run in the third quarter that remains one of the most memorable plays in Super Bowl history. Allen's showing is even more impressive given that Washington led the NFL in rushing defense during the regular season, allowing only 80.6 yards per game.
---
9. Bob Gibson, Cardinals: 1968 World Series, Game 1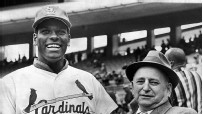 Strong at the start? Sure. It was the first game in the World Series. All that adrenaline, all that excitement, all that hoopla over a matchup with 31-game winner Denny McLain. Gibson used 17 pitches to get through the first inning and his first two strikeouts. But just as strong at the end? That's a little tougher. After all, he'd thrown 144 pitches by the time it was over. (Try to imagine that happening today!) You figure maybe he'd have slowed down a little. Hah! The last three batters he faced were Al Kaline, Norm Cash and Willie Horton, and he struck out all three. When Gibson was done, he had 17 strikeouts, breaking Sandy Koufax's World Series record, and a 4-0 win.
---
8. Joe Montana, 49ers: Super Bowl XXIV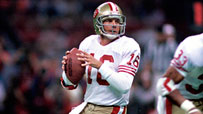 Montana dissected the Broncos on the way to a 55-10 win in Super Bowl XXIV, throwing a then-record five touchdown passes. He finished 22-of-29 for 297 yards, helping the 49ers set Super Bowl records for most points and biggest margin of victory. Montana completed passes to nine receivers, including seven (three TDs) to Jerry Rice, on the way to the fourth Super Bowl victory of his career.
---
7. Steve Young, 49ers: Super Bowl XXIX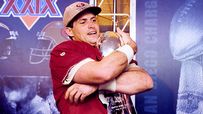 Young fully emerged from Joe Montana's shadow with a virtuoso performance in a 49-26 win over the Chargers in Super Bowl XXIX. The first of Young's Super Bowl-record six touchdown passes came on the third play of the game, and he completed 24 of 36 attempts for 325 yards and those six scores (three to Jerry Rice). Young was also the leading rusher in the game with 49 yards on five carries.
---
6. Mark Messier, Rangers: 1994 Eastern Conference finals, Game 6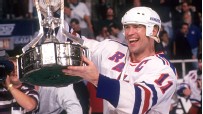 Mark Messier, love him or don't, is one of the most confident and accomplished captains in NHL history. He solved the Stanley Cup trick five times with the Oilers, but it is his performance in the conference finals against the cross-river-rival Devils that earns him the accolades here. All he did was pull a Joe Namath and guarantee, with his team down 3-2 in the series and heading to New Jersey, that his team would beat the Devils. "We're going to go in and win Game 6," he told reporters. And then, all he did to back that up was score a hat trick to lead his Rangers to a 4-2 win. The Rangers then dusted the Devils in double OT in Game 7 and went on to beat the Canucks in seven games in the finals -- on Messier's Game 7 winner -- to claim their first Stanley Cup in 54 years. When you make that kind of a statement in that kind of a situation in that kind of a pressure cooker and refuse to lose, you deserve the top ranking. After all, it's not bragging if you've done it, right?
---
5. Jack Morris, Twins: 1991 World Series, Game 7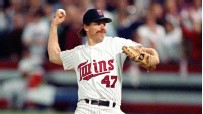 Morris versus John Smoltz, mano a mano through scoreless inning after scoreless inning in the game to decide the world championship. Who was going to flinch? Smoltz finally left in the bottom of the eighth after giving up no runs on only six hits. But Morris pitched on, turning away several suggestions from Twins manager Tom Kelly to the effect that, seeing as how this was his third start in the Series, maybe it was time to take a seat and let the bullpen finish it up. Morris insisted on pitching the 10th inning, too, and retired Jeff Blauser, Lonnie Smith and Terry Pendleton in order. Finally, little-used Gene Larkin singled in the winning run in the bottom of the 10th to make a winner of Morris in one of the best World Series games ever played.
---
4. Reggie Jackson, Yankees: 1977 World Series, Game 6
A tour de force for Mr. October (the nickname that was cemented by his performance in this game). Jackson hit three straight pitches thrown by three different Dodgers pitchers (Burt Hooton, Elias Sosa and Charlie Hough) out of the park in the Yankees' series-clinching 8-4 win in Yankee Stadium. In his first at-bat in the second inning, he walked on four straight pitches. In his next plate appearance (against Hooton in the fourth inning), he hit a low line drive into the right-field stands for a two-run homer on his first swing. In the fifth, this time against Sosa, he smacked the first pitch to roughly the same place. And in the eighth inning, he walloped Hough's first knuckleball some 475 feet deep over the center-field fence. Worth noting: In his last plate appearance in Game 5, he homered off Don Sutton. So over two games, Mr. October hit home runs on four straight swings. Simply remarkable.
---
3. Michael Jordan, Bulls: 1997 NBA Finals, Game 5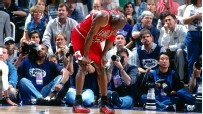 This is Michael Jordan's legendary "Flu Game" against the Utah Jazz from the 1997 NBA Finals. Jordan was clearly ill when he came to work the night of Game 5. He got off to a very slow start and the Jazz built a double-digit first-half lead. But as the game wore on, Jordan started to stack up points, despite obvious health issues, and led the Bulls back into contention. The Bulls edged out the Jazz in Game 5 and ended up winning the series in six games.
---
2. Magic Johnson, Lakers: 1980 NBA Finals, Game 6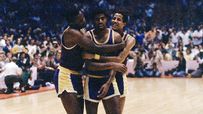 With MVP center Kareem Abdul-Jabbar out of the lineup with an ankle injury, things didn't look great for the Lakers heading to Philadelphia for Game 6 of the 1980 NBA Finals. That's when Earvin "Magic" Johnson uttered his famous line, "Never fear ... E.J. is here." The Lakers' rookie point guard started at center in Game 6 and drove L.A. to the series-clinching victory over the Sixers. Johnson stuffed the stat sheet with 42 points, 15 rebounds, 7 assists, 1 block and 3 steals.
---
1. Don Larsen, Yankees: 1956 World Series, Game 5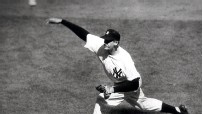 How do you top perfection? You can't. And you don't -- not on this list. There have been only 22 perfect games thrown in the history of Major League Baseball, so when one happens in the World Series? End of discussion. Larsen, who'd been … well, something less than impressive (four runs, four walks in 1 2/3 innings) in his Game 2 start earlier in the 1956 World Series, set down 27 straight Brooklyn Dodgers the afternoon of Monday, Oct. 8, in Yankee Stadium. Dale Mitchell, pinch hitting for Sal Maglie with two outs in the ninth, struck out on a 1-and-2 count for the last one. (So what if Dodgers fans still insist plate umpire Babe Pinelli's called strike three was high, or outside?)