Lionel Messi's Speed and Agility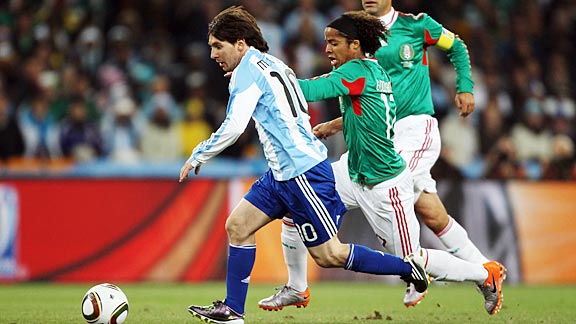 WORKOUT 1 - LINEAR SPEED
Movement Preparation
PILLAR BRIDGE - FRONT
Trunk, shoulders
Starting position: On stomach with forearms on floor under chest
Push forearms away from chest and hold for 30 seconds.
Let shoulder blades come together and then push away.
Repeat for two sets of 30 seconds each.
KNEE HUG LUNGE
Glutes, hamstrings, hip flexor
Begin in a standing position.
Lift right knee to chest and grab below knee with hands.
Pull right knee to chest while contracting left glute.
Step forward into lunge with right foot and repeat stretch on other side.
Complete 1 set of 4 repetitions .
INVERTED HAMSTRING STRETCH
Hamstrings
Starting position: Stand on one leg with arms raised to 90 degrees
Bend over at waist and kick opposite heel to sky.
When stretch is felt, stand and step back with other foot and repeat.
Keep back flat, maintaining a straight line from ear through hip, knee and ankle.
Complete 1 set of 4 repetitions.
PILLAR SKIP - LINEAR
Entire body
Begin in a standing position.
Maintaining perfect posture, lift knee and foot with opposite arm.
Drive foot down to ground generating a double foot contact as opposite foot and knee lift.
Alternate and repeat moving forward.
Complete 1 set of 15 yards.
RAPID RESPONSE TWO-FOOT LINEAR BASE
Hips, knees, ankles
Begin by standing in athletic base position.
Jump forward two inches over a line and back as fast as possible
Complete 2 sets of 5 seconds each.