April, 15, 2010
04/15/10
6:41
PM ET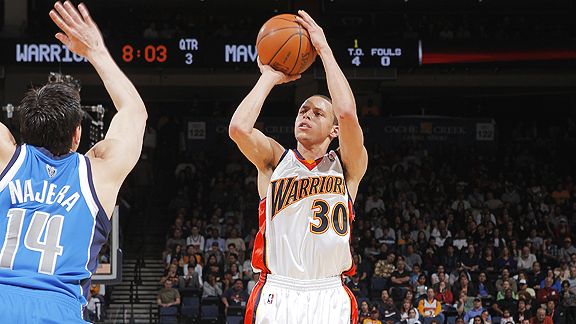 Rocky Widner/NBAE/Getty ImagesStephen Curry is a deadly shooter in real life and in "Call of Duty".
Want to know what sharpshooter Stephen Curry does before he goes to sleep?
"I usually play 'Call of Duty' with my teammates," Curry tells me with a laugh. "I have video game systems set up in both my living room and my bedroom, so I can play in either spot. I usually play right before I go to sleep, or if I have a party going on, we can play in my living room, too. I play against a bunch of my teammates almost every night."
And if you thought Curry was deadly from behind the arc in real life, you should see him pull that trigger in "Call of Duty: Modern Warfare 2".
"The feeling you get after chasing somebody down in that game and making a sweet kill is unbelievable," he says. "It gives you a little rush."
Curry, who calls himself a "PlayStation guy" only owns a PS3, but he still remembers the good old days of playing as his dad Dell (legendary sharpshooter in his own right) in games like "NBA Jam" and "NBA Live 95". "He didn't miss," Curry says with a grin.
As for how the Rookie of the Year candidate was portrayed in "NBA 2K10" and "NBA Live 10", Curry has few complaints (especially after I tell him how I once hit 14 straight shots with him in "2K10").
"The rookie ratings are usually pretty low across the board, but it looks pretty realistic, and I think it moves like me, shoots somewhat like me," he explains, breaking down his on-screen doppelganger.
But when it comes to gaming, there's one sport that trumps even hoops in Curry's world. "I'm big into golf," he says. "I was playing 'Tiger' and I shot 22-under par one time. Got a birdie on every hole and then hit an eagle on a Par 5.
"I was on fire."
ESPN ARCADE
The sequel to our most popular game is here. How's your return?

Run timed routes, beat DB's to the end zone and score.

Hit your receivers, dodge defenders and rack up TDs.