April, 15, 2010
04/15/10
6:50
PM ET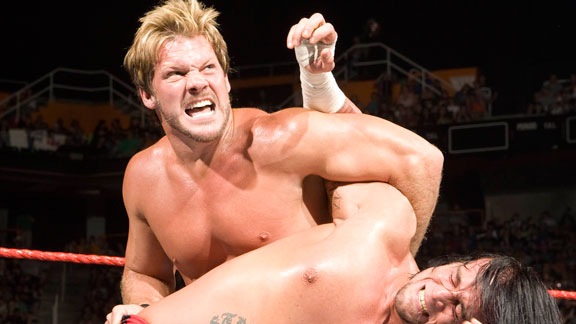 WWEChris Jericho locks in the submission.
Edge and Chris Jericho were traveling together between shows back around 2000 when they stumbled upon a video game arcade. Looking for something to do, they wandered inside looking for an old-school "Pac-Man" or "Street Fighter" distraction when they saw a couple of kids knocking the virtual slobber off one another in the classic "WWF Royal Rumble" arcade machine. As Jericho approached, he noticed that one of the gamers was actually playing as the virtual Y2J, so he calmly walked up behind the young boy and asked, "Who's winning?" Of course, the kid nearly stroked out when he turned around and saw who just asked him the question, and before he could even realize what was happening, Jericho pulled out some quarters to challenge the winner.
"I like to do that sometimes, like if I'm driving around an arena and fans are walking in and if someone has a Chris Jericho sign, I'll roll down the window and shout, "Nice sign!" Then I'll drive away and see their reactions in the rearview mirror," Jericho says with a laugh as I get him on the phone to talk wrestling and video games.
ESPN ARCADE
The sequel to our most popular game is here. How's your return?

Run timed routes, beat DB's to the end zone and score.

Hit your receivers, dodge defenders and rack up TDs.