April, 23, 2010
04/23/10
10:42
AM ET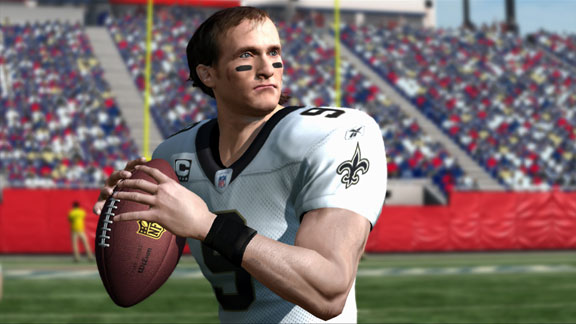 EA SportsBrees shows off his virtual mug thanks to a head scan he took for EA Sports.
What's the best thing about being a video game quarterback as opposed to playing the position in real life?
Nobody better to ask than "Madden NFL 11" cover boy and Super Bowl MVP Drew Brees.
"No pain," Brees says with a laugh. "I'm not worried about getting hit in 'Madden.' It's a little different when you're out there for real and you have to be aware of who is trying to knock your head off. If I get hit in the game, all that happens is my controller shakes."
But there are some things Brees loves about the real NFL that he thinks can never be captured in virtual form.
"I think the atmosphere of a game, where you step out on the field and you hear the crowd noise, is really special," Brees says. "Then when you throw a touchdown and run into that end zone and jump on a teammate ... that interaction and that atmosphere is obviously something where you have to be there to feel.
"But to me, being in 'Madden' is just another way to connect with the fans. It helps educates the fans about the plays, the players, the teams. I have a Wii, and when my son gets older, it's going to be fun to be able to play the game together. I have a feeling he's going to be a gamer pretty soon."
I had the chance to sit down with Brees just hours after his "Madden NFL 11" cover was officially unveiled in New York's Times Square to talk about the game, the Saints, and of course, that dreaded Madden Curse. Here's what EA's newest spokesman had to say.
Jon Robinson: Does it mean more to be on the cover of "Madden" this year because the fans voted for you as opposed to some suit just giving you a check to pose for a picture?
Drew Brees: Absolutely. This game is driven by the fans, so it means so much more to me and to all the Saints players because we understand the bond we've had with our fans and with our city. Certainly when the fans have spoken, that means so much. I think it's a great way to continue to highlight New Orleans and the Saints organization and what we've been able to accomplish and the direction we're still headed.
Jon Robinson: It was only a few years ago where you were coming off of an injury and searching for a team to give you a shot. Now you're the Super Bowl MVP and the "Madden" cover guy. What has that ride been like?
Drew Brees: It's crazy how it all played out, it really is. I just can't tell you how excited I am about what we've been able to accomplish in New Orleans. When I was going through free agency, it came down to New Orleans and Miami, but New Orleans just instilled so much confidence in me. I remember how they told me that I could not only lead them to a championship, but I could help rebuild this city and be a part of this community. That meant the world to me knowing that they had as much confidence in me as I had in myself.
ESPN ARCADE
The sequel to our most popular game is here. How's your return?

Run timed routes, beat DB's to the end zone and score.

Hit your receivers, dodge defenders and rack up TDs.