April, 28, 2010
04/28/10
5:05
PM ET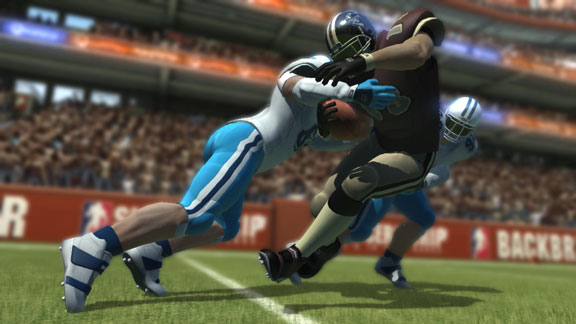 505 Games"Backbreaker" promises hits like you've never seen before.
Depending who you ask, "Backbreaker" is either a "Madden" killer or just another unlicensed football video game destined to be crushed by the EA juggernaut. And while the truth probably lies somewhere in between, there's no denying the fact that "Backbreakers" groundbreaking physics engine showcases tackles that will leave gamers as breathless as the poor polygonal ball carrier who was just crushed on screen.
I recently had the chance to catch up with "Backbreaker's" associate producer, Rob Donald, to get his thoughts on the upcoming game, the impending battle against "Madden," and why he's introducing relegation to American football.
Jon Robinson: What differentiates "Backbreaker" from a game like "Madden?"
Rob Donald: We're really confident in saying that we're doing everything different. Not just from a structural point of view, like our different league setups and customization which I will get into later on, but just the fact that we've managed to produce a game that is completely live and completely emergent and is built fundamentally from not just any other football game, but any other sports game before. It's our Euphoria engine that is powering all of these live moments. Every tackle that you see is going to be completely different. You're not going to see the same tackle because it's totally random and every tackle is based on bone structure, the muscle structure, and the intelligence of the players who are performing those actions. It really goes a lot deeper than that, but Euphoria gives all of our players a level of awareness that is simply not there in any other sports title. The fact that you see players lifting their arms if they feel a threat coming in from the side so they can cushion blows, it really means that when you're running around the corner and defenders are rushing towards you, your player will start animating himself to deal with the threat. This just gives you the feeling of not only being in total control, but being right there and completely involved in the moment.
ESPN ARCADE
The sequel to our most popular game is here. How's your return?

Run timed routes, beat DB's to the end zone and score.

Hit your receivers, dodge defenders and rack up TDs.