April, 29, 2010
04/29/10
5:50
PM ET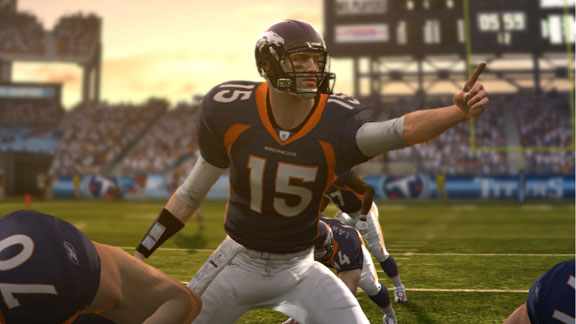 EA Sports
When I tell Tim Tebow he's going to have the highest trucking ability of any quarterback in "Madden NFL 11," he smiles so wide it's like I'm about to hand him another Heisman.
"When I first heard that, I was so excited because that means my 'Madden' character will play like me," Tebow told me as we scarfed down sliders at the EA Sports Draft Premiere party in New York. In other words, forget sliding feet first with Tebow in "Madden," the Broncos new quarterback wants to lower his polygonal shoulder and run fools over.
"No matter what my overall rating will be, at least I know I can put myself in the game and run the ball," Tebow said. "I can't wait."
While at the party, Tebow challenged his brother Robby to a game of "NCAA Football 11" and was getting the better of his older sibling before being called away from the controllers to do more interviews. "I was playing as Virginia Tech and picked off two passes in the first quarter. I ran one back for a touchdown," Tim said while Robby stood next to him shaking his head. "7-0, about to be 14-0," he added, rubbing it in a little bit to his brother. "I love how they incorporated the acceleration into the game this year. I was running around with Tyrod Taylor. It was awesome."
ESPN ARCADE
The sequel to our most popular game is here. How's your return?

Run timed routes, beat DB's to the end zone and score.

Hit your receivers, dodge defenders and rack up TDs.