May, 18, 2010
05/18/10
4:33
PM ET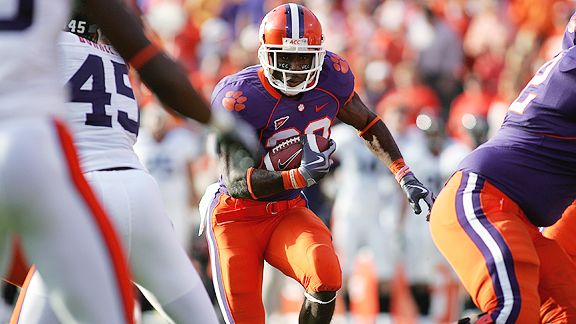 Brian Schneider/US PresswireC.J. Spiller hopes to see his speed translate to "Madden NFL 11."
When Bills rookie speed demon C.J. Spiller thinks about what his "Madden NFL 11" skill ratings should be, one number comes to mind.
"I don't want to see anything less than 97," he tells me with a confident grin. "Ninety-seven speed, 97 acceleration, 97 catching, 97 vision."
But when I tell him how EA Sports usually drops the rookies way down from what they're used to seeing in the "NCAA Football" franchise, all Spiller can do is laugh.
"I know I'll probably be disappointed," he says, "but I just wanted to throw those numbers out there. Gives me something to shoot for this year. If I have a big year, they have to make me better in the game."

And thanks to the "Madden" team updating the player ratings during the season, depending on performance, Spiller's flashy ability to finish any run with a touchdown could see his numbers skyrocket as the season progresses.
"It's funny, because when 'NCAA 10' came out last year, I heard a lot of people on campus telling me they bought the game just to play as me, so that was cool," Spiller says, "but it will be even cooler to see myself in 'Madden' because it will look like me; they'll actually say my name. As a kid, I was just playing games like 'Mario Kart' and 'Madden' and staying up late with my friends. We all did it for fun. I never thought that one day I'd actually be in 'Madden.'
"Me and my friends still do the same thing. We don't stay up as late as we used to, but we're still playing these games."
But now, Spiller also has learned how to use some of the more advanced games to his advantage, using EA Sports' artificial intelligence to help scout future opponents. "I liked to play 'NCAA [Football 10]' last year. Every week I'd play against the opposing team and see what they liked to do," he says. "You get a good idea of what teams like to run on defense, what they might try to run on offense by playing the game."
As for his "Madden" skills, Spiller is a fan of playing as another speedy back.
"I played as Chris Johnson a lot," he says. "He was the fastest out there, so I played a lot as him and Peyton Manning. You need a great quarterback in 'Madden.'"
Funny thing is, Spiller never drafted himself into "Madden" or even created himself to play alongside Johnson or Manning.
"I never created myself in the football games, but I always create myself in basketball games," he says. "In football, I just let it be what it is. But 'NBA 2K10,' I'm the man at that. I'm a big Lakers fan and I practice that game until I'm perfect."
And maybe one day, he'll have that perfect 100 speed rating in "Madden" to match ... or at least a 97.
UPDATE: EA Sports just hit me up with Spiller's official "Madden NFL 11" ratings. Looks like he will make a huge impact in this year's game with that kind of speed and acceleration.
Speed: 95
Acceleration: 97
Vision: 73
Catching: 74
ESPN ARCADE
The sequel to our most popular game is here. How's your return?

Run timed routes, beat DB's to the end zone and score.

Hit your receivers, dodge defenders and rack up TDs.