May, 12, 2010
05/12/10
5:45
PM ET
When flipping through the "Guinness World Records 2010: Gamer's Edition," one feat in particular jumps out at me. It's the mark for largest winning margin in "Madden NFL 09" for the Wii. According to the book, a former professional wrestler named Patrick Scott Patterson (who also holds over 370 additional video game records, including marks in "Super Mario Bros." and "Lode Runner"), beat the computer 192-0 on Pro difficulty playing 5 minute quarters (that's 48 points every 5 minutes!). Patrick was playing as the "Madden" juggernaut Cowboys and decided to take his frustrations out on the polygonal pushovers known as the Kansas City Chiefs.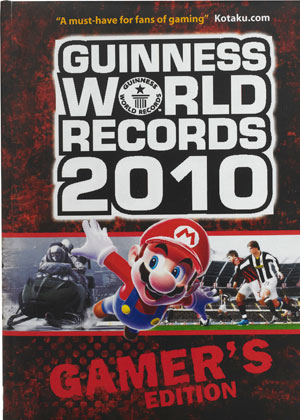 Brady GamesBeat Patrick Scott Patterson's insane score and you can end up in the next edition.
His strategy? "Just play incredibly aggressive," Patterson explains after I track the video game guru down over the phone. "You need to pressure the quarterback, cover the receivers, and the biggest trick is creating turnovers. The biggest obstacle I was finding in trying to push the score up that high was the fact that I couldn't let the computer have the ball for any amount of time. I had to shut them down, intercept it, or force a fumble, then score again immediately. That's really the biggest trick, clock management and turnovers.
"The quarterback and the offensive line get worn down in the game pretty good in the game if you constantly blitz, so if you hit the quarterback right as he releases the ball, he'll end up fumbling it instead. I also spent a lot of time learning the patterns of what kind of routes the computer would always run in certain situations so I'd be in position to make the interception."
And while I remember flipping through the old Guinness Book and wondering if I could ever grow my finger nails into a curl, Patterson saw it as a way to show off his true talent (not that letting your finger nails reach 28 feet isn't talent).
"I was always fascinated by video games my whole life, and I remember reading the Guinness Book of World Records back in the 80s and wanting to be a part of that," he says. "Then a few years ago, Twin Galaxies (a company that tracks and maintains video game records) started working with Guinness on the video game book and I knew I had to be in it. Ever since I played 'Madden' in the early 1990s, I've always beat the computer as bad as I could, so I set my sites on the 'Madden' records, and anyone who has been successful in knocking one of my records off, I've been pretty successful at turning around and getting it back."
In fact, another gamer managed to beat Patterson's "Madden" Wii record, which meant more time in the lab, practicing his game before finally scoring 192 on a live Web broadcast. A score few feel can be broken at this point.
But for Patterson, that 192 number really meant one thing: "In 'Madden 09,' that was a lot of bombs to Terrell Owens.
"I think part of my success playing as the Cowboys is being a die-hard fan. I know the ins and outs of that team better than any other team in the game and look at it from that perspective. To me, playing as the Cowboys, if they have a bad week on the field for real, at least I can always win as them in 'Madden.' It helps take the edge off."
ESPN ARCADE
The sequel to our most popular game is here. How's your return?

Run timed routes, beat DB's to the end zone and score.

Hit your receivers, dodge defenders and rack up TDs.