May, 26, 2010
05/26/10
12:34
PM ET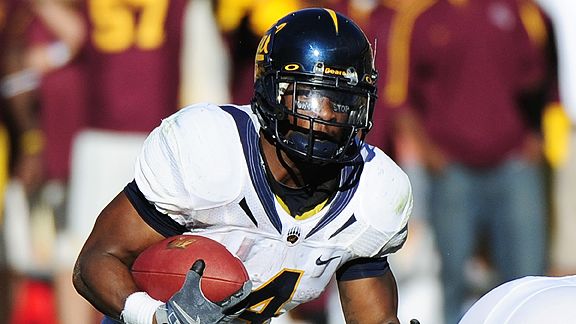 Nick Doan/Icon SMIJahvid Best's speed and acceleration make him the perfect back in "Madden NFL 11."
I've never seen anyone on a football field get launched into the air as high as Jahvid Best flew against Oregon State. For an instant, his touchdown catapult was the most electrifying moment of the Cal season. Then I saw him on the ground, arms stiffening, helmet popped off, and it instantly became one of the most frightening moments I can remember watching sports.
"I was just trying to get the ball in the end zone by any means necessary and I felt like jumping in the air was going to be the easiest way," Best explains when I ask about his journey from possible career ending injury to first-round pick of the Lions. "Unfortunately somebody undercut me and I lost my balance. I didn't have a sense of where the ground was and I just came down hard.
"I was blessed, though, because it looked a lot worse than it really was," the rookie runner tells me with a smile when I break down how the violence of the fall looked like something straight out of the old "NFL Blitz." He was carted off the field with a concussion, but it could have been much worse.
"Even though it looked really horrible, it really didn't do too much to my body, so I've been able to get back to training and I'm ready to play."
And now that Best has been drafted by Detroit, one of his first perks of playing pro ball is finally seeing himself in "Madden NFL 11."
"'NCAA Football 10' was pretty perfect the way they captured me, but it didn't have my name or face or anything like that," he said. "They had my speed, they had my agility, and catching ability and they did a good job. But in 'Madden,' now it's actually me. It's going to be my face, my name. It's actually me. It's going to be amazing to see."
But forget how his mug and muscles look in the replay, there's really only one thing Best wants from his character. "Speed," the lightning-quick back says with a laugh. "All I care about is my speed. That's the only number I care about. I'd love to have 99 speed, but I know I'm not going to get that. I'd say somewhere like 94-95 would be fair. And since I'm a rookie, I'm guessing my overall will be in the 70s somewhere, but I'll improve it through the season and get bumped up next year."
And while some players just hope for high ratings for bragging rights in the locker room, Best is actually a big-time gamer who will put his character to good use while running the Lions' virtual offense.
Until then, you can probably catch Best online playing "Call of Duty: Modern Warfare 2" just about any night of the week.
"I have a 360 and I'm always online," he says. "I have a group of about six friends and we get online and try to dominate in war games like 'Call of Duty.' I'm also big into games like 'Assassin's Creed' and 'Dante's Inferno.' It's funny, though, because when I was a kid, I had an older cousin who used to live upstairs from me in an apartment, so after school I'd to sneak up to his apartment and we'd play 'NBA Jam' on Sega. Then we'd bust out the Nintendo and play 'Paperboy' and 'Super C.' That's when video games got big for me. It's crazy to think that now I'm going to be in the game. I'm going to be in 'Madden.'
"My favorite play has always been to put the running back in motion and throwing him the ball. It's unbelievable that this year I'll actually be throwing it to myself."
UPDATE: EA Sports just hit me up with Best's official "Madden NFL 11" ratings. Looks like the virtual Lions are going to have a lot of success running the ball this season.
Speed: 95
Acceleration: 94
Vision: 92
Agility: 97
ESPN ARCADE
The sequel to our most popular game is here. How's your return?

Run timed routes, beat DB's to the end zone and score.

Hit your receivers, dodge defenders and rack up TDs.