May, 18, 2010
05/18/10
4:03
PM ET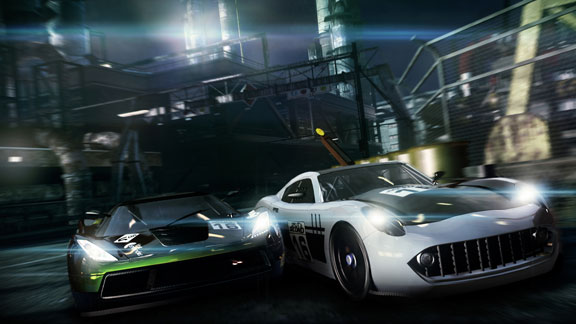 Disney InteractiveSplit/Second features some of the fiercest racing on any system.
It didn't take me long to get hooked on "Split/Second."
Maybe it's the fact that I love racing games where destruction is half the fun. Maybe it's the fact that the speed in the game is breathtaking. Or maybe it's the fact that I'm racing on an airport runway and a plane that looks to be on fire is trying to land directly in front of me as I'm sideswiped by an opponent. Next race, a construction helicopter carrying a dump truck swings the truck into a freeway overpass like a wrecking ball and as the overpass shatters, it knocks the three cars ahead of me out of the race. I barely make it through that catastrophe only to find an exploding 18-wheeler in my path and a flaming tire screaming toward my windshield. Then, because of the destruction to the overpass and the still burning truck, next lap I find the path of the track changed and I need to jump across a series of rooftops in order to win the race.
Talk about white-knuckle driving at its dirtiest (and finest).
Click on the link to check out a gallery of screens, then read what NASCAR hotshot Joey Logano had to say about the game and how it compares to the races he runs in real life.
Then head over to the ESPN Arcade to play a free version of the game.
ESPN ARCADE
The sequel to our most popular game is here. How's your return?

Run timed routes, beat DB's to the end zone and score.

Hit your receivers, dodge defenders and rack up TDs.