June, 10, 2010
06/10/10
4:01
PM ET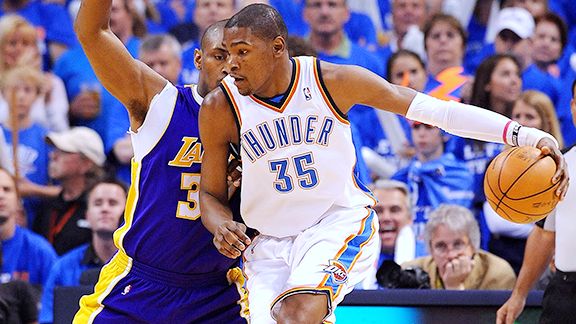 Noah Graham/NBAE/Getty ImagesWho will be on the cover of "NBA Elite 11?" Durant might be a good pick.
"NBA Live" is officially dead.
After years of disappointing basketball products, EA Sports has not only decided to completely gut the "Live" franchise from the inside out, they've changed the name of their once popular game to "NBA Elite 11."
Currently in development for the PlayStation 3 and Xbox 360 and scheduled to ship in October, "NBA Elite" features new "Hands-On Control" that, according to the press release, will allow "for one-to-one responsiveness of a player's movement and actions on the court, as opposed to traditional predetermined animations that require users to wait while a scenario played out before making the next move. Hands-on Control applies to everything within a player's offensive and defensive arsenal, including: dribble moves, dunks, drives to the basket, fadeaways, mid-air adjustments, blocks, steals and more."
In addition, the press release boasts about a new real-time physics engine that will enable each player on the court to move independently of one another, thus "removing the two-man interactions that have long taken the user control out of basketball simulation videogames."
Another new feature will be a skill-based shooting system that "requires accurate user input, based on a player's position on the court, versus the randomly generated dice rolls that have driven shooting in basketball videogames in the past."
"'NBA Elite 11' will give gamers the same skill set that a pro basketball player has at his disposal," said "NBA Elite 11's" creative director David Littman. "This is the first basketball simulation videogame where you are controlling every movement, dribble move, shot, dunk, lay-up, steal and block in real time with one-to-one control. You're no longer going to push a button and watch the computer generate a long animation sequence. It is like being on a basketball court with an amazing set of skills. This is going to change what people have come to expect from a basketball simulation videogame."
ESPN ARCADE
The sequel to our most popular game is here. How's your return?

Run timed routes, beat DB's to the end zone and score.

Hit your receivers, dodge defenders and rack up TDs.