June, 7, 2010
06/07/10
1:14
PM ET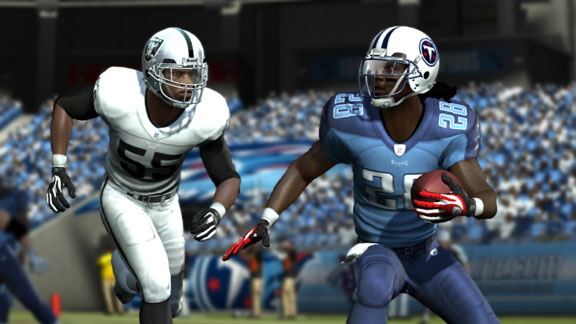 EA SportsThe Titans are rated 77 overall in "Madden NFL 11."
Do you believe in Matt Leinart? Neither do the producers of "Madden NFL 11" as the Arizona Cardinals overall team rating in the game has plummeted to just a 79 only one year removed from having one of the more dynamic offenses in the game (and being rated an 87). The quarterback unit of the Cardinals has also dropped to 30th in the league now that Kurt Warner has retired.
The plight of the Cardinals was revealed by "Madden NFL 11's" ratings czar Donny Moore in an interview with video game Web site Gamespot.com. Other numbers of note include the Super Bowl champion Saints as the top-rated team with a 92 overall, and the Vikings clocking in at 88 with a virtual Brett Favre under center. I wonder how much that number would fall if Favre retires.
As you ponder that (my guess is they'd drop to at least an 85), check out the ratings for the rest of the teams.
NFC East
Dallas Cowboys: 87
NY Giants: 81
Philadelphia Eagles: 80
Washington Redskins: 76

NFC North
Minnesota Vikings: 88
Green Bay Packers: 87
Chicago Bears: 77
Detroit Lions: 68

NFC South
New Orleans Saints: 92
Atlanta Falcons: 83
Carolina Panthers: 75
Tama Bay Buccaneers: 69

NFC West
Arizona Cardinals: 79
San Francisco 49ers: 79
Seattle Seahawks: 75
St. Louis Rams: 66

AFC East
NY Jets: 89
New England Patriots: 86
Miami Dolphins: 78
Buffalo Bills: 67

AFC North
Baltimore Ravens: 90
Cincinnati Bengals: 86
Pittsburgh Steelers: 84
Cleveland Browns: 70

AFC South
Indianapolis Colts: 91
Houston Texans: 78
Tennessee Titans: 77
Jacksonville Jaguars: 74

AFC West
San Diego Chargers: 85
Denver Broncos: 78
Kansas City Chiefs: 71
Oakland Raiders: 71
ESPN ARCADE
The sequel to our most popular game is here. How's your return?

Run timed routes, beat DB's to the end zone and score.

Hit your receivers, dodge defenders and rack up TDs.