June, 14, 2010
06/14/10
4:43
PM ET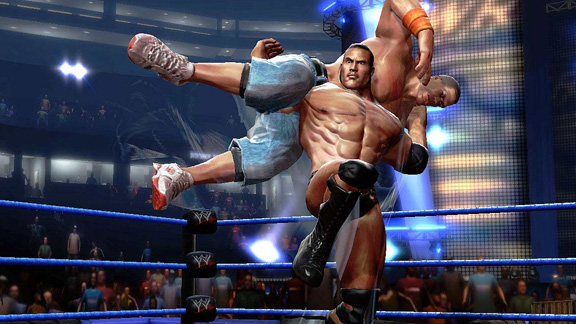 THQJohn Cena smells what The Rock is cooking.
You might not know the name Sal DiVita, but you know his games.
The video game veteran has helped create some of the classics throughout the years, working on franchises from "NBA Jam" to "NFL Blitz," not to mention playing the roles of Nightwolf, Cyrax, Smoke, and Sektor in the "Mortal Kombat" series.
But it was his work on fan favorite "WWF Wrestlemania: The Arcade Game" that provided one of his most memorable moments in the industry.
"That's when I asked Yokozuna to do a backflip," DiVita says with a laugh.
That's right, while doing video-capture for the game (these were the days before motion-capture), DiVita asked the 500-pound wrestler if he could perform a backflip.
"Shawn Michaels was just in a couple of days earlier, and he had done a backflip for us, so I was laughing and I asked Yoko if he could do one," DiVita explains. "So Yoko said, 'You do one first, then I will do one.' Then he asked me if I could do it, and I was like, 'Yeah, yeah, of course.' But I had never done one before in my life."
But DiVita, summoning his old Nightwolf courage, didn't let that stop him from trying.
"Shawn made it look so easy, so I decided to do it. Then I almost broke my neck, and of course, we have it all on video.
"But I was totally stunned," DiVita continues. "So then Mr. Fuji grabs me and starts stretching my neck out and decompressing my spine with this towel while Yoko was pulling my feet. This turned into like a half hour ordeal, but to make it up to me, they tell me that they're going to take me to dinner. So I go out to dinner with them, then Yoko challenged me to a drinking contest with tequila.
"Needless to say, that didn't go too well."
ESPN ARCADE
The sequel to our most popular game is here. How's your return?

Run timed routes, beat DB's to the end zone and score.

Hit your receivers, dodge defenders and rack up TDs.