June, 16, 2010
06/16/10
8:02
PM ET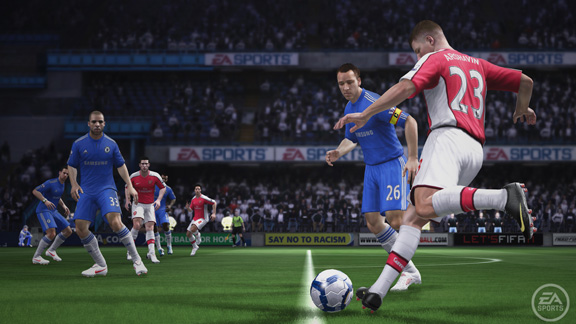 EA Sports"FIFA 11" is being shown this week at the E3 video game convention.
With World Cup fever sweeping the globe and the E3 video game convention taking place in Los Angeles, EA Sports decided to drop the first details on its upcoming soccer game, "FIFA 11."
From players that perform with more "personality" to improved goalie play and the elimination of pingpong passing, the design team has a lot planned to improve the award-winning franchise.
I caught up with Gary Paterson, creative director for "FIFA 11," to get all the details soccer fans have been waiting to hear about the upcoming game.
Jon Robinson: You always say that you're your own worst critic when it comes to designing games. What's something about "FIFA 10" that you couldn't wait to improve for "FIFA 11?"
Gary Paterson: The thing that we're working on for this year is making it a deeper game. I think we need to be careful that we don't put off people who play our game in a more casual fashion, but I think making the game deeper all the way through is something we've been striving to do. And while we're concerned about balance and how these casual gamers will find it, I think that making it deeper and making it more football authentic and contact sensitive is what we've been doing for the last four or five years and people have responded well to it. On that depth note, we've built a much stronger relationship with our community over the last couple of years, and we've built relationships with people from our forums, and we brought these guys down here to play an early build of the game and we've been listening to their feedback and the feedback they gave us about "FIFA 10."
One of the biggest things they wanted changed about "FIFA 10" was this thing they call pingpong passing. This is where a gamer could press pass-pass-pass and quickly get from one end of the field to the other and create a quick scoring opportunity, and once you mastered this passing system, you could do it so easily that it really reduced the amount of emotion and sense of achievement that went into scoring. That was one of the first things we wanted to address. We wanted to stop this pingpong passing because you can add so much more emotion into the game if you make the scoring chances slightly harder. If you have to work harder for that chance, you'll feel more of a sense of achievement when you succeed and score a goal. So we've been able to eliminate this pingpong passing in "FIFA 11" by adding more user skill into the passing system. You need to think more tactically about your passes and be a little more deliberate.
ESPN ARCADE
The sequel to our most popular game is here. How's your return?

Run timed routes, beat DB's to the end zone and score.

Hit your receivers, dodge defenders and rack up TDs.