June, 22, 2010
06/22/10
2:55
PM ET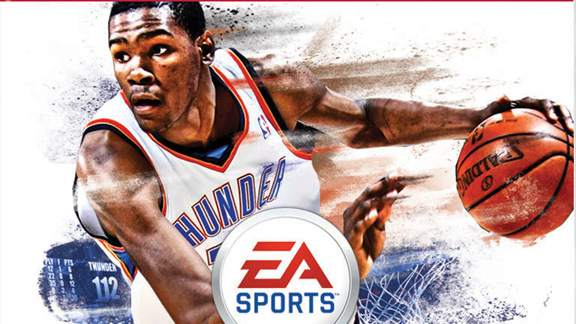 EA SportsCheck out the Kevin Durant cover art for "NBA Elite 11".
EA Sports announced today that Kevin Durant will be the cover athlete of their new basketball game, "NBA Elite 11".
This marks the second time in the past three years that EA Sports has signed Durant to cover a product as the Thunder superstar also appeared on the front of the box for "NCAA March Madness 08".
"Durant is a game changer," said Jordan Edelstein, VP Marketing, EA Sports via press release. "There has never been a player his size with his skill set, and there has never before been a basketball videogame like 'NBA Elite'. Just like we see Durant as the future of the NBA, 'NBA Elite 11' represents the future of basketball videogames by providing a gameplay experience you simply won't find anywhere else on the market."
The new gameplay experience Edelstein is talking about includes a real-time physics engine and an innovative control scheme that enables gamers to control their player's feet with the left analog stick while controlling all dribble moves, shots, dunks, steals, and blocks with the right stick.
But will it be enough to compete with Michael Jordan and "NBA 2K11"?
Expectations for "Elite" are high within EA Sports. Let's just hope they finally give us a product as electrifying as the cover athlete they're paying to pitch it.
ESPN ARCADE
The sequel to our most popular game is here. How's your return?

Run timed routes, beat DB's to the end zone and score.

Hit your receivers, dodge defenders and rack up TDs.