July, 14, 2010
07/14/10
3:35
PM ET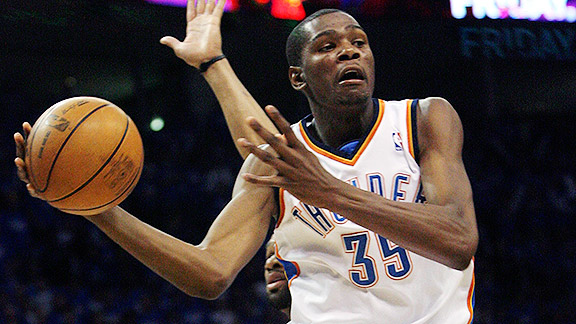 AP Photo/Sue OgrockiWhen he's not tearing up the league, you can find Kevin Durant online tearing it up in "Madden."
Kevin Durant is the first cover athlete for EA Sports' new video game franchise, "NBA Elite," but when I got him on the phone and asked whether he already considers himself an "Elite" player in the league, he surprisingly said no.
"I'm on the way. I'm not the player yet, but I'm trying to be," Durant said. "I need to get better at everything. I need to be a better leader, defender, shooter, passer … everything. I need to work until I'm the best in the league. That's all I'm worried about. You need to always be focused and always keep your priorities straight, and that's something I'm going to do. Basketball is what I do for a living, so basketball and family come first. It's all about keeping your priorities straight.
"To be on the cover of the 'Elite' video game is a blessing, it's a privilege and it shows that I've gotten better as my years have gone on in this league. It's something new, and I'm trying to be one of the new guys coming up. The game fits perfect with me."
This is Durant's second EA Sports cover in the past three years ("NCAA March Madness 08" is the other), and another reason that being a cover athlete fits perfectly with Durant is that, aside from basketball and family, video games might be third on his priority list.
"All I do is play video games. I play all the time," he told me with a laugh. "My mom used to tell me I play a little too much, but now that I'm on the cover, she's out there buying my games.
"I have a 360 and a PS3, but I really play my 360 more than anything. I got my red controller and my black controller, and I'm always on the red. I go online all the time. I'm big into 'Madden.' Last year, I used to just pick random teams, but this year it's all about the Washington Redskins in the game."
ESPN ARCADE
The sequel to our most popular game is here. How's your return?

Run timed routes, beat DB's to the end zone and score.

Hit your receivers, dodge defenders and rack up TDs.