June, 25, 2010
06/25/10
6:50
PM ET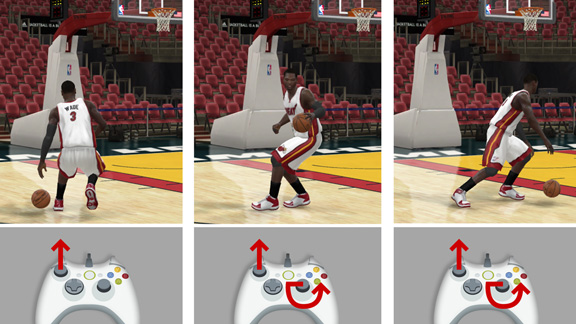 EA Sports"NBA Elite 11" looks to differentiate itself through a unique control scheme.
"NBA Live" is dead. EA Sports officially killed the franchise earlier this year, but one can argue that the series has been without a pulse since the consoles switched to the current generation.
Enter David Littman.
The genius gameplay designer who turned EA's "NHL" series from slush to the king of the ice is now the creative mind in control of EA's basketball future, "NBA Elite 11".
And his expectations aren't just to compete with the "NBA 2K" series in its first year. Littman expects to flip everything you know about playing basketball video games with the simple flick of a stick.
"This generation of basketball games have been disappointing because there really hasn't been any big gameplay enhancements," Littman says. "Sure, there are some cool things, and the games have gotten better, but when you look at 'FIFA' and 'NHL' and 'Fight Night' and 'MLB The Show', games like that are growing the category.
"That's why when we started this year, we addressed the two biggest problems people have with basketball games. Number one: losing control of your player. If you played the basketball games the past few years, you know that there are times when you get locked into these animations and you have no control over your player as these long animations play out."
With "NBA Elite 11", Littman and crew think they've solved that problem by separating the upper body from the lower body with the use of the two analog sticks.
"So while you're moving your player any direction with the left stick, your right stick are your hands," Littman explains. "We have one-to-one movement, and whatever you do with the right stick, that's what you'll see on screen."
ESPN ARCADE
The sequel to our most popular game is here. How's your return?

Run timed routes, beat DB's to the end zone and score.

Hit your receivers, dodge defenders and rack up TDs.