June, 25, 2010
06/25/10
6:50
PM ET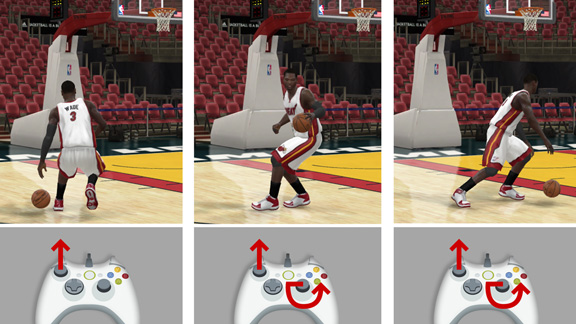 EA Sports"NBA Elite 11" looks to differentiate itself through a unique control scheme.
"NBA Live" is dead. EA Sports officially killed the franchise earlier this year, but one can argue that the series has been without a pulse since the consoles switched to the current generation.
Enter David Littman.
The genius gameplay designer who turned EA's "NHL" series from slush to the king of the ice is now the creative mind in control of EA's basketball future, "NBA Elite 11".
And his expectations aren't just to compete with the "NBA 2K" series in its first year. Littman expects to flip everything you know about playing basketball video games with the simple flick of a stick.
"This generation of basketball games have been disappointing because there really hasn't been any big gameplay enhancements," Littman says. "Sure, there are some cool things, and the games have gotten better, but when you look at 'FIFA' and 'NHL' and 'Fight Night' and 'MLB The Show', games like that are growing the category.
"That's why when we started this year, we addressed the two biggest problems people have with basketball games. Number one: losing control of your player. If you played the basketball games the past few years, you know that there are times when you get locked into these animations and you have no control over your player as these long animations play out."
With "NBA Elite 11", Littman and crew think they've solved that problem by separating the upper body from the lower body with the use of the two analog sticks.
"So while you're moving your player any direction with the left stick, your right stick are your hands," Littman explains. "We have one-to-one movement, and whatever you do with the right stick, that's what you'll see on screen."
Simply press back on the right stick and rotate to the right to dribble behind the back. Push forward to shoot. There are also right stick movements specific for everything you can think of, from spins to step-backs.
"You're always in control," he says. "Now when you back down your defender, you can step away at any point. You're no longer locked into these two-man animations of years past. I can push you forward, you can push me back. You are completely under control.
And he' right as I took control of a virtual LeBron James at E3 and within minutes, I was a slicing through the lane, performing hop steps, Euro Steps, runners, teardrops, jumpers, and jams all with simple manipulations of the two sticks.
Sure, I was performing this on an empty court with only one defender (and the characters seemed to float a bit too far with each move), but in trying the controls for the first time, I started to think that the gameplay evolution and innovation Littman was talking about might finally arrive with "Elite". Then again, I had so much fun playing one-on-one, it also made me think that if I play as a quick guard, I can see these moves being over-used to the point that I might never pass the ball again.
Shooting the rock also took some time to get used to, as to hit a jumper, it's simply pressing up and releasing the stick at the top of your jump. But if your right stick sways either to the right or left as you jump, or if you don't time the release correctly, your shot will be off, and I found myself in the middle of moves, shooting the ball before I was ready because I meant to do a fancy dribble, but instead hoisted an ill-advised jumper by accidently pressing up.
As for dunking the ball, simply run towards the rim while pressing up on the right stick to make LeBron fly. "We still have a few months of development, but we're hoping to have it where you can choose which dunk you're going to perform once you're in the air," he explains. "Then once you're in the air, if a defender is trying to block your dunk, you can press the right stick to the left and make an adjustment in the air, switching your dunk into a left-handed layup."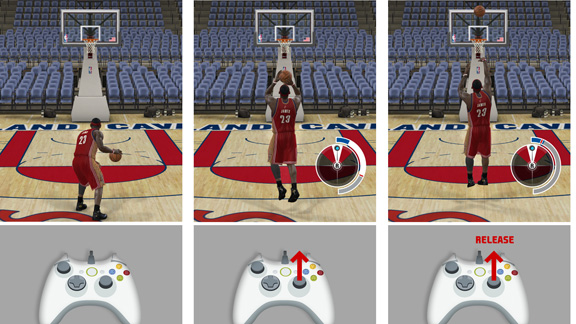 EA SportsThe right stick controls everything from your dribbles to your shots.
But don't think all of these adjustments in "Elite" are only for the offensive-minded. "On defense, the left stick moves your body, and again, the right stick are your hands," Littman says. "You can reach out to steal the ball, or you can press up to try and block the shot.
"I mentioned earlier the two biggest problems people have with basketball games, and the second one is defense. The defense is never as powerful as the offense in these game. But now I can even chase the dribbler down and do a LeBron-like block of his dunk or layup from behind. There's a lot of gameplay going on here on both sides of the ball and you're controlling everything as it plays out with the sticks. This is basketball like you've never played before."
And I have to admit, at this early stage, the gameplay was far more advanced than I anticipated. But will it be enough to sway people away from the juggernaut that is "NBA 2K11"?
"We think once gamers get their hands on these new controls," adds Littman, "they're never going to want to go back to playing the same old games."
ESPN ARCADE
The sequel to our most popular game is here. How's your return?

Run timed routes, beat DB's to the end zone and score.

Hit your receivers, dodge defenders and rack up TDs.