June, 29, 2010
06/29/10
5:43
PM ET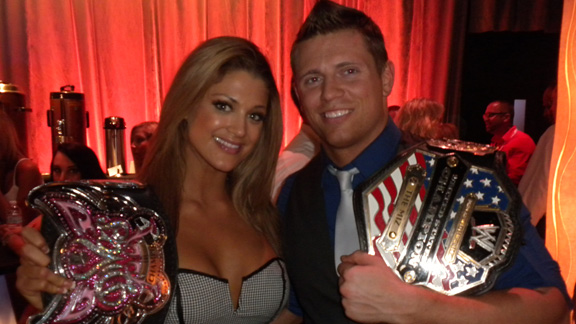 Jon RobinsonEve and The Miz check out the E3 video game convention.
When WWE Diva Eve Torres strutted into the Los Angeles Convention Center to attend the E3 video game convention a few weeks back, she was strolling into familiar territory.
"When I was in college, I actually worked at E3 for Nintendo," she tells me before being interrupted by her partner in video game crime for the afternoon, Raw's top-talking heel, The Miz.
"Admit it, you were a booth babe," he teases as she darts him a playful dirty look.
"Hey, I went from working for Nintendo at E3 to actually being in a video game. Not bad," she snaps back with a laugh.
"This show is crazy," The Miz adds, "it's almost like we're at Comic-Con with all the robots and Stormtroopers walking around. I came to E3 a couple of years ago and it was just a couple of rooms. Now it's almost like an amusement park as you walk around. It's incredible and a little insane. Right now I'm staring at a guy who is dressed like some kind of robot and is about nine-feet tall. I really don't know what to make of it. I'm just waiting for Darth Vader to stop by and say hi."
And while I never did see Darth stop by to give Miz a pound, I did get the chance to sit down with Eve and Miz for a few minutes to get their thoughts on "WWE Smackdown vs. Raw 2011", their characters in the game, and life on the road. Here's what they had to say.
Jon Robinson: So Miz, last year with "WWE Smackdown vs. Raw 2010", you actually had the same overall rating as a few of the Divas. You just saw "Smackdown vs. Raw 2011", did they upgrade your character at all?
The Miz: How dare you bring up my 78 rating last year. I think Beth Phoenix and Gail Kim were both stronger than me in the game last year and people used to tell me all the time, "Miz, I don't like playing as your character because you have to be the best player in the world in order to win." Basically, I was like Santino Marella if you will. Divas could beat me. I wasn't too happy about it. I complained. I made a statement to the "WWE Smackdown vs. Raw 2011" crew and I made sure things got done this year.
So now, not only will you see me in my tights and my everyday gear that I currently wear, not the classic Miz, it's the new-school Miz, and not only will you see that, but you will also see me as a stronger, more valuable asset to the "Smackdown vs. Raw 2011" brand.
Jon Robinson: Looking at your character, it looks like they tried to make it up to you by adding a bunch of muscles.
The Miz: After the last game I told them, "Look, I'm a little more jacked than that. I'm a little bit more cut. I'm a little bit more defined." This year, they did a really good job of making me look more like the real me.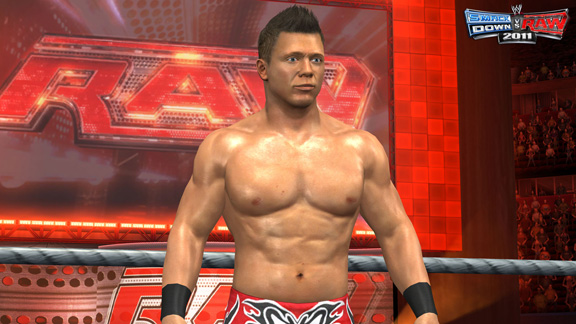 THQTHQ decided to make The Miz a lot more cut in "WWE Smackdown vs. Raw 2011".
Jon Robinson: How about you Eve, what are you hoping to see from your character this year?
Eve: Being in a video game has to be the coolest thing you could ever imagine as a kid. Being in this game, having an action figure, these things make you feel larger than life. I've been developing a lot in WWE, so I know I'll be developing in the game as well this year, hopefully with my new gear and some of the new moves I've been working on. I'm a lot faster and stronger in the ring than I was last year, and I think you'll see that out of my character in the game.
Jon Robinson: One of the new features in the game this year is the expansion of the TLC (tables, ladders, and chairs) matches. What does it feel like to get hit with a steel chair or a ladder inside the ring?
The Miz: I'll tell you something, this game shows you just how amazing the TLC matches really are, but when you play the game, you're lucky you don't have to feel the pain I have to go through when I go through these types of matches. Granted, they are the most entertaining types of matches out there, but no one likes doing them because they hurt. What's it like getting hit with a steel chair? I want to tell you in a way that would show you, but we like to say, "Don't try this at home," so you're lucky I can't show you. But it's painful. It hurts. There's a shockwave going through your entire body. It doesn't just hurt where the chair hits you. That's not the only spot where you feel it. It hurts throughout your entire body. It also depends on who is hitting you. If I'm hitting you with it, you're going to feel it throughout your entire body. If John Cena is hitting you, you might not even feel it. Just kidding.
Jon Robinson: Do people underestimate the amount of pain you guys go through on a day to day basis?
The Miz: All the time. If you look at it, we work 5-6-7 days a week. I'm usually working Friday, Saturday, Sunday, which are our live events and usually aren't televised. So that means I fly from L.A. to somewhere like Greensboro, North Carolina. Then we drive to Charlotte, then we drive to another place before heading to Raw on Monday. Tuesday is Smackdown or NXT, so I do that, then I fly all the way back to L.A. where I get to sleep all day on Wednesday. I do my laundry on Thursday and Friday I'm back at it again. I love my life. It's amazing. This is my dream job. But is it tiring? You better believe it. We get so bored in our cars sometimes that we'll compete at just about anything on the road. We'll see who can chug a glass of water faster. We'll see who can eat a cheeseburger faster. That's how bored we get.
Eve: Yeah, it's not just the physical part that takes a toll on your body. I think it's the travel that people forget about.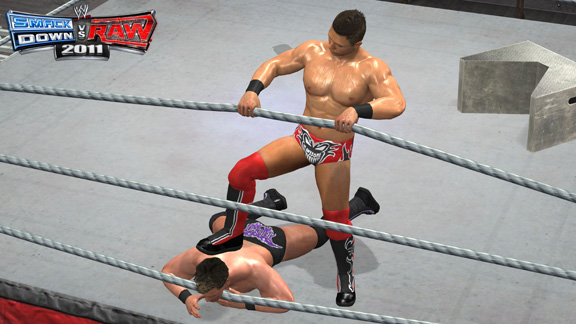 THQThe Miz roughs up Chris Jericho in "WWE Smackdown vs. Raw 2011".
Jon Robinson: Miz, you mentioned NXT a little earlier, what do you think of the whole invasion angle?
The Miz: It's insane. You have to watch because you never know what they're going to do. And I will take credit for this, by the way. I was the one on NXT always berating them, always telling them to give me the "wow" factor. Give me something that no one has ever done before. Then what do they do the first time they come on Raw? They did something that nobody has ever done before. I don't know if it was me, it might not have been me, but I will take credit for it.
Jon Robinson: Your guy in particular, Daniel Bryan made a splash but then disappeared. What happened?
The Miz: He was fired. He deserved to be fired.
Jon Robinson: So he really got fired? This isn't some kind of work?
The Miz: I don't see him on Raw, do you? I don't see him on Smackdown, I don't see him on NXT. He's goner. Go back to the independents where you belong.
Jon Robinson: I guess that settles that.
The Miz: There you go.
Jon Robinson: Getting back to the video games, THQ is also showing "WWE All Stars" for the first time at the show where you can fight legends like The Rock against current stars like John Cena. What legends would you like to see in the game?
The Miz: I actually asked THQ, "What part am I? Am I a legend or am I a superstar?" Some people would consider me a legend. You don't have to be old to be a legend. You can become a legend in a matter of seconds. "Oh, that was legendary!" Things that I've done have been legendary, so I can be considered a legend in WWE. But if I had to go up against anyone, it would be The Rock. I think people want to see me beating up The Rock.
But the cool thing about "All Stars" is you get to pair up people you normally wouldn't get to see, like you can put Ted DiBiase against his dad. You can put Dusty Rhodes against Cody Rhodes. That's cool to me. They haven't release the rosters yet, but I imagine I will in the game, and I imagine I will be a legend. The game looks really cool, though.
Jon Robinson: If you guys look at your careers moving forward, where do you each see yourselves by the time Wrestlemania rolls around next year?
Eve: I would love to be featured in Wrestlemania next year, either in a tag match or some kind of champion versus champion match between the top Divas. Every year, Wrestlemania means more and more to me and every year I get more excited for it.
The Miz: I hope to be in the main event of Wrestlemania and wrestling for either the WWE or World Heavyweight Championship. That's where I see myself. Will it happen? I don't know, but that's where I see myself, absolutely. I set goals, and I think it's better that I want to be, not only the champion, I want to be the poster child. When you come to E3, I don't want you to see The Undertaker or The Rock or John Cena, I want you to see my face out there in the games. Sorry guys, but I'm taking your spot. That's just the way I am.
ESPN ARCADE
The sequel to our most popular game is here. How's your return?

Run timed routes, beat DB's to the end zone and score.

Hit your receivers, dodge defenders and rack up TDs.