August, 10, 2010
08/10/10
3:49
PM ET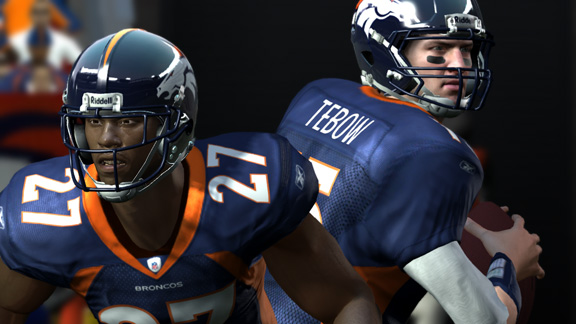 EA SportsDon't worry, Tim, if you throw a pick there's always the Hit Stick.
Day three of ESPN's exclusive "Madden NFL 11" player ratings reveal brings us to one of the biggest rivalries of the AFC West, the Broncos and the Raiders.

Ratings: Denver Broncos »

Ratings: Oakland Raiders »


And when you talk Broncos right now, you can't go anywhere without hearing the name Tim Tebow. The rookie quarterback has one of the most unique stat lines in all of "Madden" as he is the highest-rated quarterback in the game when it comes to trucking, carrying and jumping, he's the second-highest-rated quarterback in terms of strength and toughness, but he's only 58th when it comes to throwing accuracy. Don't worry if one of his passes ends up in the wrong hands, though, as Tebow also has the highest tackle ability in the game out of any signal caller, so when he throws a pick in "Madden," it might be time to bust out the quarterback Hit Stick.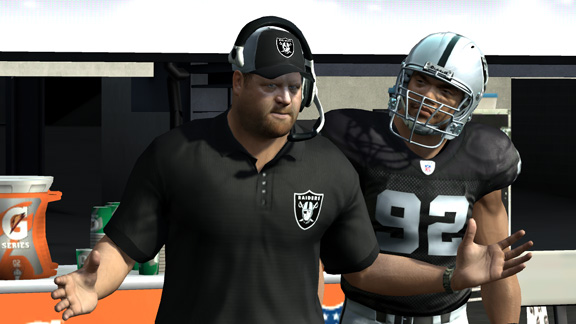 EA Sports"Make another bad call, coach. C'mon, I dare you."
As for the Raiders, Darren McFadden's 94 speed and 95 acceleration make him a threat to score anytime he touches the ball, while Nnamdi Asomugha's 98 overall makes him the second-best corner in the game. Oakland also features the most boom-or-bust player in the entire game this year, Darrius Heyward-Bey. With 97 speed and 98 acceleration, he can beat anyone down the sidelines. It's that 65 catch rating that will leave people throwing the controller out of frustration.
Check back tomorrow as we release the rosters and ratings for the Chargers and Chiefs. And in case you missed it earlier in the week, here are the ratings for the entire AFC East:

Ratings: New England Patriots »

Ratings: Buffalo Bills »


ESPN ARCADE
The sequel to our most popular game is here. How's your return?

Run timed routes, beat DB's to the end zone and score.

Hit your receivers, dodge defenders and rack up TDs.