July, 9, 2010
07/09/10
7:53
PM ET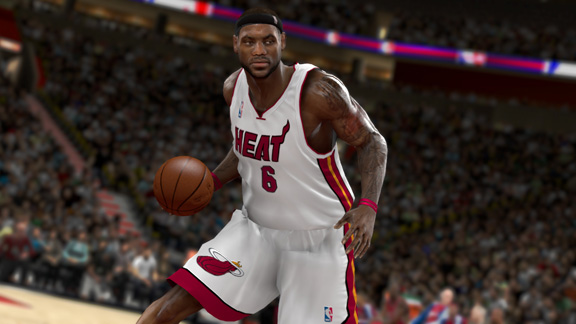 2K Sports"NBA 2K11" shows off LeBron's new look.
Forget real life for a second. Will LeBron James, Dwyane Wade, and Chris Bosh combine to make the best video game basketball team of all time? Will it even be fair to play as them in a game like "NBA 2K11" or will they be outlawed among friends as a cheat like Bo Jackson from "Tecmo Bowl"?
Chris Snyder, director of marketing for 2K Sports, says he needs to see how the rest of the roster fills out before declaring them "best ever video game team", but admits the Heat are well on their way.
"It's a little too early to tell, but that certainly is a powerful threesome," he says. "I don't think there are a higher rated three individuals playing together on any other team. Maybe if you go back to the older teams like the Lakers or Bulls, you'd find those high ranking players all on one team, but in the current NBA, you have three of the top tier guys all on one team."
As for the Cavs, expect a serious decline in both their overall team rating and online popularity.
"I think they're definitely going to take a hit, but the free agency period isn't over and trades are still going to be made. The summer of the NBA is still going on and it will be interesting to see their reaction to losing "The King". From reading the owner's open letter to the fans, he sounds pretty motivated to get some people in there to make them competitive.
"But my prediction is the Heat will now become the most played team online. We were looking at some of the data and the Cavs were the most played team online, and to me, that just says that when LeBron goes to Miami, the Heat are now going to be the number one team played online for "NBA 2K11". I think there are definitely going to be some Laker fans and Orlando Magic fans and Celtic fans that are going to want to take them on to prove that their team is just as good, but as far as the amount of people playing ranked games online, I wouldn't be surprised if the Heat jump up from their spot that was already in the top ten and rise to number one."
ESPN ARCADE
The sequel to our most popular game is here. How's your return?

Run timed routes, beat DB's to the end zone and score.

Hit your receivers, dodge defenders and rack up TDs.