July, 14, 2010
07/14/10
12:16
AM ET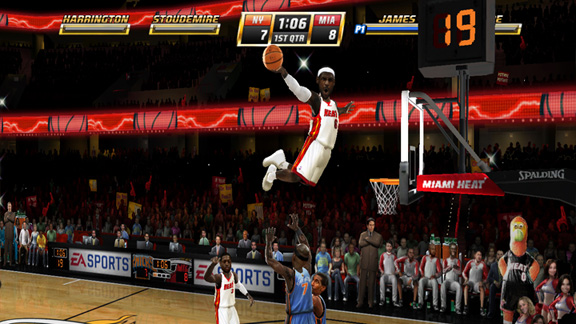 EA SportsLook for everyone to play as LeBron and crew in "NBA Jam." But with three stars, who do you bench?
"NBA Jam: Tournament Edition" was my addiction back in the day. Fed the machine so many quarters, I probably could've bought my own arcade cabinet.
Derrick Coleman and Kenny Anderson were my unbeatable team. Never lost a money game with that squad. There were other teams I loved throughout the years of "Jam" as well. John Starks and Patrick Ewing. Gary Payton and Shawn Kemp. John Stockton and Karl Malone. But for some reason, Coleman and Anderson probably won me more games (and cash) than any other team I played as (and Coleman has to be considered one of the best "Jam" characters in franchise history for his ability to hit three-pointers, rebound, block shots, and push opponents to the ground).
Then again, that was before the days of LeBron James. As EA Sports readies its remake of the classic "NBA Jam" for the Wii (shipping Oct. 5), the title was just flipped upside down by the signings of the Miami Heat. So it started me thinking -- could any of those classic teams beat a team of LeBron and Dwyane Wade, LeBron and Chris Bosh, or Bosh and Wade?
I've always been a fan of the "Jam" teams composed of one big guy and one small guy, as you need the blocked shots and shoving ability of your force down low to complement the high-flying and 3-point threat of your shooter.
But think about that for a second. If I pick Bosh because of his size (I'm talking height for blocked shots and rebounds, not LeBron's thickness), that means I leave either LeBron or D-Wade on the bench. Crazy.
ESPN ARCADE
The sequel to our most popular game is here. How's your return?

Run timed routes, beat DB's to the end zone and score.

Hit your receivers, dodge defenders and rack up TDs.