July, 30, 2010
07/30/10
6:13
PM ET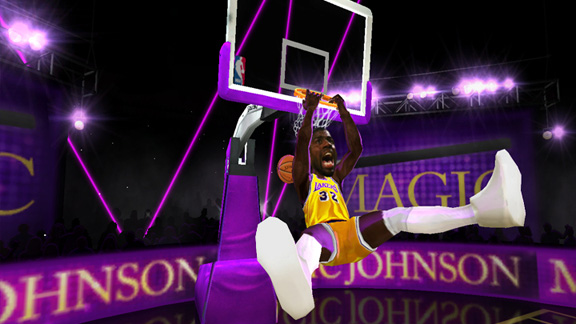 EA SportsMagic Johnson joins the "NBA Jam" roster.
"NBA Jam" boss battles?
For "Jam" purists, EA Sports' new version of the classic 2-on-2 arcade game has all the boomshakalaka you could ask for, but they've also decided to put their own unique twist on the genre.
When Wii gamers aren't battling friends, going all "Is it the shoes?" on LeBron's head, they can test their skills in the cool new Remix Tour mode.
Here, gamers will encounter not only the biggest stars of the NBA today, but legends like Magic Johnson and Dennis Rodman, as the greats of basketball past defend their home courts in a series of boss battles the likes have never been seen in a hoops game.
I caught up with "NBA Jam" creative director Trey Smith to get the latest on the Remix, the legends and how, in "Jam" at least, the word Magic is more than just a nickname.
Jon Robinson: How many boss battles will gamers encounter in "Jam"?
Trey Smith: We have 10 boss battles. Some legends, some current superstars, and really for us, it was about identifying the biggest personas. We identified what these guys do really great then took it to superhuman-like levels. Every boss has an intro, and we really play it up. We're not taking ourselves too seriously. The original "Jam" didn't take itself too seriously, and this is where we get to play around a little bit. We have the classic mode in there for all the gamers who think a power-up ruins the game, but Remix Tour is where we really play around with the genre. We learned a thing or two about making arcade sports titles over the last 17 years, and we're here to stretch that experience.
ESPN ARCADE
The sequel to our most popular game is here. How's your return?

Run timed routes, beat DB's to the end zone and score.

Hit your receivers, dodge defenders and rack up TDs.