August, 18, 2010
08/18/10
8:14
PM ET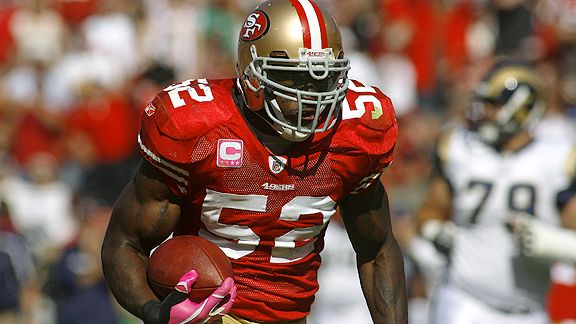 Cary Edmondson/US PresswirePatrick Willis is one of the most feared hitters in "Madden" (and real life).
Patrick Willis thrashes opponents like a locomotive striking a stuffed bunny. Sometimes they get up. Sometimes they don't. But Willis' Incredible Hulk-ish combination of freakish speed and car-wreck power always reminds me of one thing -- the "Madden" Hit Stick. That feeling of exhilaration you get when you line up the running back just right and then unload a fierce shot that knocks the ball loose is one of the greatest "Madden" moments, especially if the gamer you just lit up is sitting next to you on the couch and his favorite player has just been put to sleep on the polygonal turf.
"I'm not the type of guy just to push square and go for a regular tackle," Willis says with a smirk while talking video games at EA's corporate headquarters in the San Francisco Bay Area. "I always like to be on top coming down with that Hit Stick and see what happens."
As in, smack them as hard as you can and sort out the pieces later.
And it's that type of ferocious hitting, that type of swagger, that has led Willis to the height of the "Madden NFL 11" ratings heap. This season, the 49ers' superstar linebacker is one of only six players in the league with the coveted 99 overall rating (Chris Johnson, Darrelle Revis, Jared Allen, Drew Brees, and Peyton Manning are the others) -- a number he doesn't take lightly.
"It's truly an honor just to be in the game because when I was a kid, I used to create myself in 'Madden' and give myself all 99s," Willis says. "I feel like I should be a 99 in everything ... I didn't just want to be an 80 in this or an 80 in that. I was striving for that 99 in real life. So now to be in 'Madden' and see my character improve throughout the years to the point where now I'm a 99, it's really a blessing."
But just because Willis is now starring in the game doesn't mean he stopped playing it.
"This whole offseason, all I did was work out then go home and play games online," Willis says, challenging my skills almost immediately. "Give me your gamertag. I don't mind beating you either."
Gamertags exchanged. Game pending.
And I know I have my work cut out for me; Willis was a finalist in the 2010 Madden Bowl competition, losing only to Maurice Jones-Drew in the championship game.
And in "Madden NFL 11," Willis is playing with even more firepower as the 49ers have shown improvement to the point where most in the Bay Area are expecting a return to the playoffs for the once-dominant franchise.
"I think we're the complete package this year," Willis says about his team. "We have one of the best defenses in the NFL and it's up to us to go out and prove it. We also have a dynamic offense, and again, it's up to us to go out and prove it to everyone who doesn't believe."
Then again, Willis admits to not always sticking to the 49ers as his team of choice in "Madden." "I don't like to jinx myself," he says. "I don't want to see myself get hurt or one of my other teammates get hurt in the game. So I like to play as other teams. If they get hurt, I don't want to see it, but whatever.
"As long as I'm finishing plays off with that Hit Stick, it's all good."
ESPN ARCADE
The sequel to our most popular game is here. How's your return?

Run timed routes, beat DB's to the end zone and score.

Hit your receivers, dodge defenders and rack up TDs.