August, 10, 2010
08/10/10
6:11
PM ET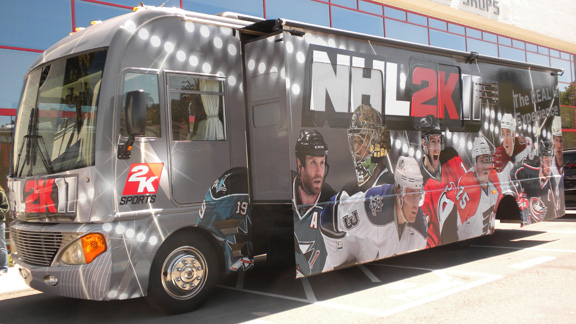 Jon Robinson/ESPNCatch the "NHL 2K11" RV when it heads to a city near you.
Ben Bishop has to be one of the busiest men in all of sports gaming. Jumping from his work on "MLB 2K10" into his main gig on the "NHL 2K" series, Bishop is also working heavily on "NBA 2K11 " for the Wii.
Talk about dedication to his craft.
I recently had the chance to sit down with Bishop after an extremely bumpy ride in the "NHL 2K11" RV that 2K Sports is currently sending on tour throughout the country complete with flat-screen monitors and gaming stations in order to let fans get their hands on early builds of the game.
And while we all figured out the hard way that motion controls and motion sickness don't mix (especially when there are beers involved, not to mention fires on the side of the freeway), once the RV stopped and we hit our destination, I got my hands on the game and was pleasantly surprised.
I'm not much for sports sims on the Wii, but this game had me hooked, especially when playing four players. From broken sticks to signature plays on the breakaway, this might be one of the few sports games I would actually buy for the Wii ("Tiger" and "NBA Jam" also come to mind).
So what should gamers expect from the Wii-exclusive title this year? Here's what Bishop had to say.
Jon Robinson: Why is "NHL 2K11" Wii-only?
Ben Bishop: With "NHL 2K10," the Wii version was surprisingly successful. It was by far our best-selling version of the game, so we felt like it was a good opportunity for us to step back a little bit and see where we can take the series, while at the same time, continue the surprise we had last year on the Wii. This gives us the chance to see where we are and where we need to go moving forward.
Jon Robinson: A few years ago, the "NHL 2K" series was the best hockey game across all systems, but then EA really stepped up and now owns the market. How was EA able to surpass you guys?
Ben Bishop: That's a good question, I just wish I had a great answer. EA has done a good job and was able to put out a really good game the last couple of years. If I had a better answer, we'd probably be in a better situation ourselves right now, but I think at this point, we're just doing what we can where we've had the most success -- on the Wii -- as we try to figure out how we can change things with the franchise moving forward. Not anything I can get into specifically.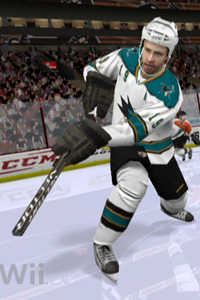 2K SportsBroken sticks are in the game this year.
Jon Robinson: So for people who bought the Wii version last year, what's the main differences they can expect when they fire up "NHL 2K11"?
Ben Bishop: There are the Wii Motion Plus controls, but it's not just that, I think the controls changed a lot in general. You have a lot more options, and with the Wii Motion Plus control, you have direct one-to-one control over everything from stick lifts to actually lifting the puck up, juggling it, and performing trick shots. And if you're a fan of the game from the 360 or PS3, you can actually play the game using classic controls and play the game the way you're accustomed to. So you have a lot of options to really treat this as a simulation game if you want to. We think there is plenty of room on the Wii to have a good simulation sport, so you can play the game on the Wii as you would on the other consoles.
On the flip side of the coin is our Road to the Cup mode and how we let you bring your Mii characters into the game and let them play through some mini-games that are all hockey-based. This is something that is popular on the Wii, and it's a great thing to do when you have some buddies over. It's something you can play through pretty quick and you don't have to be great at the sport of hockey or at the simulation aspect to have a good time with it.
Jon Robinson: What are some of the mini-games that made the game this year?
Ben Bishop: There are actually six different mini-games. There's Hot Streak where you basically have a trail behind you as you skate around the ice and you're trying to trip up the other Miis with this trail. One of my favorites is called Capture Points where you get the puck and then you try to skate to different parts of the ice and stand there for as long as you can as the other players try to take the puck away from you and do the same thing. It's all just one-, two-, or three-minute games that are all hockey-based, but a lot of fun for anybody to jump in and play. The ultimate goal is to play these mini-games and earn one thousand fans through your play. Once you earn that many fans, you're able to compete for the Stanley Cup. It takes about a half-hour to play through the whole event.
Jon Robinson: Has there been any additions to the game's franchise mode?
Ben Bishop: Franchise wasn't a huge focus for us this year. We felt like the biggest things this year were the controls and the Road to the Cup mode. You definitely still have Season, Franchise, and full online play with online leagues. It's all still there, but it's just not an area we focused on this year as much as the controls and Road to the Cup.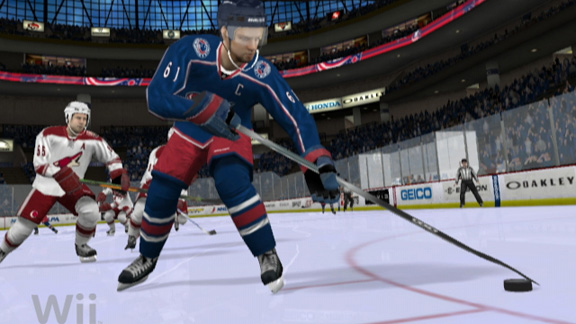 2K SportsOne-to-one stick control gives the game a much more natural feel.
Jon Robinson: Ryan Kesler isn't just your cover athlete, he's in the game as a Mii in Road to the Cup. How did that come about?
Ben Bishop: He's been one of those guys who has been really great to work with. With our cover athletes, we want guys like Marty Turco and Rick Nash who are really big into playing games and will come in and talk to us and answer questions about hockey strategy. Kesler is another guy like that who we can talk to about making the game better and he did some mo-cap for us last year. And then with Road to the Cup mode, it's more of a multiplayer mode, but we still wanted to offer it as a single-player experience so now we put you up against Ryan Kesler. So if you go into the mode single-player, you're going up against a Mii-looking Ryan Kesler. He has the Mii body with kind of a bobble head, and he's your competition in the game.
Jon Robinson: I know you just finished doing the player ratings for the game. Who is the highest-rated player in "NHL 2K11"?
Ben Bishop: We did just finish the ratings, and we made Crosby, Ovechkin, and Malkin all right up there in the 97-98 range. We basically tried to make them all equal. They all have different skill sets, but they are the three best players in the league so they are the best players in our game as well.
ESPN ARCADE
The sequel to our most popular game is here. How's your return?

Run timed routes, beat DB's to the end zone and score.

Hit your receivers, dodge defenders and rack up TDs.