August, 20, 2010
08/20/10
2:59
PM ET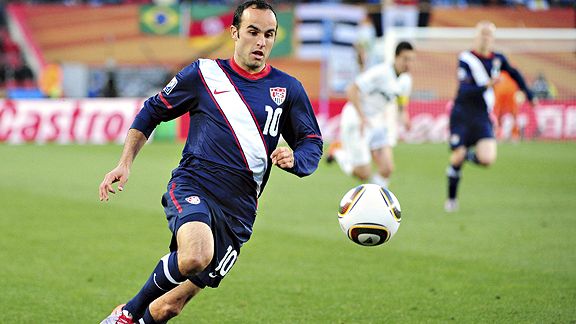 Stephane Mantey/US PresswireLandon Donovan appears on the cover of "FIFA" for the third time in his career.
Landon Donovan isn't just the face of soccer in the United States, he's the face of soccer video games. In fact, "FIFA 11" marks the third time Donovan appears on the box cover of EA Sports' popular franchise.
And "FIFA" is a game that has not only grown to the point where it is now the best-selling sports video game across the world, it has also become so popular in the United States that EA expects the North American market for "FIFA 11" to be the largest in series history.
"When you consider how big soccer is around the world and how much people love playing 'FIFA' around the world, then you consider that North America is going to be the place where they sell the most copies, that's pretty cool," Donovan told me over the phone from New York as he spent the day helping promote the game. "This is my third [cover] now, but it feels a little more special because of everything that has gone on [with the World Cup].
"Out of the country now, we [the U.S. team] have immediate respect from all the teams around world and that's great. But what was most special to us is that people who don't even watch sports, don't even watch soccer were watching and paying attention and were inspired by it. And when you can transcend sport in that way, it's really special. We're in a pretty small niche here with what we do. There are some hard-core soccer fans and some sports fans who like soccer, but when you get past all of that and you get into the average person's home and heart and inspire them, that's really cool."
ESPN ARCADE
The sequel to our most popular game is here. How's your return?

Run timed routes, beat DB's to the end zone and score.

Hit your receivers, dodge defenders and rack up TDs.