August, 20, 2010
08/20/10
2:59
PM ET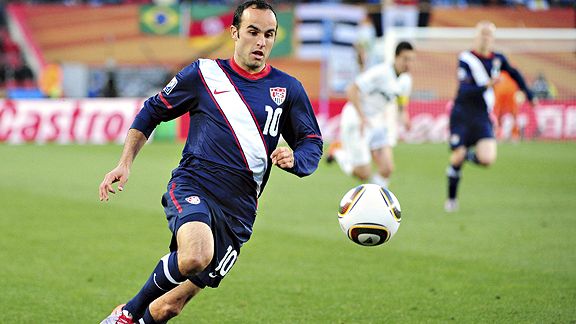 Stephane Mantey/US PresswireLandon Donovan appears on the cover of "FIFA" for the third time in his career.
Landon Donovan isn't just the face of soccer in the United States, he's the face of soccer video games. In fact, "FIFA 11" marks the third time Donovan appears on the box cover of EA Sports' popular franchise.
And "FIFA" is a game that has not only grown to the point where it is now the best-selling sports video game across the world, it has also become so popular in the United States that EA expects the North American market for "FIFA 11" to be the largest in series history.
"When you consider how big soccer is around the world and how much people love playing 'FIFA' around the world, then you consider that North America is going to be the place where they sell the most copies, that's pretty cool," Donovan told me over the phone from New York as he spent the day helping promote the game. "This is my third [cover] now, but it feels a little more special because of everything that has gone on [with the World Cup].
"Out of the country now, we [the U.S. team] have immediate respect from all the teams around world and that's great. But what was most special to us is that people who don't even watch sports, don't even watch soccer were watching and paying attention and were inspired by it. And when you can transcend sport in that way, it's really special. We're in a pretty small niche here with what we do. There are some hard-core soccer fans and some sports fans who like soccer, but when you get past all of that and you get into the average person's home and heart and inspire them, that's really cool."
Jon Robinson: "FIFA 11" has a new feature called personality-plus where the game differentiates between players by their personalities on the pitch. How would you describe your personality and what should gamers expect from your character?
Landon Donovan: I would hope that at a minimum, I'm a creative, attacking player. EA has always done a good job making me that way in the game. The great thing about EA is that they spend so much time with the athletes to determine how they move, what they look like, what kind of special moves they have, how they shoot the ball, how they pass the ball, and that just makes it so much more authentic. And for us, the average kid watches us play on TV and sees how we play, but for us, when we play we want it to be real. We want it to be us out there in the game and they do such a great job of that. It's a lot of fun.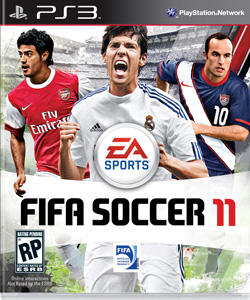 EA SportsDonovan shares the cover with Kaka and Carlos Vela.
Jon Robinson: The game also delivers new 360-degree jostling this year. What are some things defenders do to you in real life to try and get the ball that I can expect to see in the game?
Landon Donovan: Unfortunately, they do a lot of things that aren't legal. They pull, they grab, they use their bodies to their advantage if they can, and "FIFA 11" depicts that. It's so realistic. When we play the game, we're able to give feedback that's realistic and they're able to take that into account and they continually put it into the game each year. This is one of those things that as players, we've said we wanted. These are things that happen in the game and we asked if there was any way they could incorporate it into the video game, and they did.
Jon Robinson: You talk about pulling and grabbing. What's the dirtiest thing anyone did to you during a game?
Landon Donovan: I've had a lot. Generally it happens when you're away from the ball, but defenders nowadays are so clever. They can find a way to use their body without getting called for a foul. They're almost manipulating the ref a little bit, too, but you just have to be smarter. The game is continuously evolving. The game is faster, players are more intelligent than they ever have been, and you have to stay on top of that if you're going to be successful.
Jon Robinson: Are you still a big gamer in your free time?
Landon Donovan: Oh yeah. When I'm home and I have time to myself, I play a lot. Obviously, this year I haven't had much time to just chill out, but it will start to slow down now. When we're on the road we like to play a lot. It's generally whatever sports game is in season, and now that "FIFA 11" is out in September, we'll have a lot of time to play out on the road in the last part of the MLS season.
Jon Robinson: "Madden 11" just came out. I know you're a big Raiders fan, are you going to play as them in the new game?
Landon Donovan; Yes I am. [laughs] I'll definitely be the Raiders. I didn't get my copy of the game yet because I've been on the road, but as soon as I get home I'm going to get it. I think a lot will depend on how Jason Campbell does, but for the first time in a long time, I actually like the direction the team is going. It seems like we're getting somewhere. I think defensively we -- I like how I say "we" [laughs] -- but I think we're a very good team defensively and if Jason Campbell can just be solid and not turn the ball over, I think we have a chance to be pretty good.
Jon Robinson: They're a good "Madden" team, at least. They have so much speed in the game.
Landon Donovan: Good. I can't wait to play as them.
Jon Robinson: How about your character in "FIFA 11"? Have you seen him yet? EA always seems to take care of you in the ratings.
Landon Donovan: I haven't had the chance to play as me yet. Hopefully the World Cup will give me a boost. [laughs]
Jon Robinson: Actually, Team USA has usually been pretty bad in the game. Will they get a boost this year as well?
Landon Donovan: Maybe if they had inspiration points we'd get a few more of those.
Jon Robinson: Another cool thing about the game are all the trademark celebrations. During the World Cup you scored the biggest goal of your career. How did you know how to celebrate? Did you have anything pre-planned?
Landon Donovan: I think that's one of the coolest things about the game now. They give you the opportunity after scoring a goal to celebrate if you want. That's fun for people who play the game. Kids love that stuff. But I think for me in that moment with the Algeria goal, honestly I didn't know what to do. I scored the goal and there was so much relief and excitement and joy and pure bliss in one moment that you just kind of take the moment for what it is and go with it. The good thing for me is that when I looked down to the bench, our entire bench was running down to the corner flag so it was natural to just slide and just meet everyone there.
Jon Robinson: How about if you score in "FIFA 11" and I'm sitting next to you on the couch. What's the celebration like? Are you a big trash talker?
Landon Donovan: Oh yeah, especially if I'm winning. If I'm losing, I'll keep quiet. [laughs]
ESPN ARCADE
The sequel to our most popular game is here. How's your return?

Run timed routes, beat DB's to the end zone and score.

Hit your receivers, dodge defenders and rack up TDs.