August, 20, 2010
08/20/10
2:58
PM ET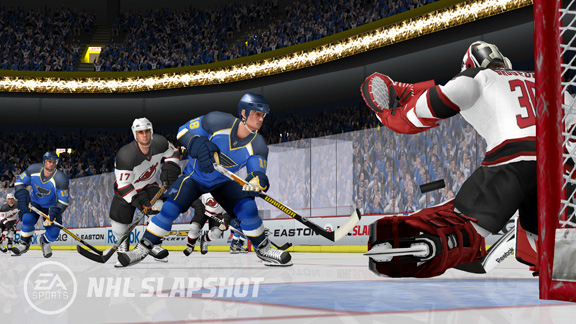 EA Sports"NHL Slapshot" is about to take the Wii by storm.
Head to any video game store and you'll see the Wii wall, or as I like to call it, the wall of shame. I'm not talking about Nintendo's system here, but the countless peripherals that clutter valuable shelf space. From Nerf guns to fishing rods to boxing gloves, if you can jam the Wii-remote into anything related to your product, chances are, it's on that wall just tempting unsuspecting grandma into buying it for little Jimmy.
So when I heard that EA Sports was making an "NHL Slapshot" game for the Wii complete with mini-hockey stick, before I even heard the pitch, I already started shaking my head (while at the same time imagining where it would fit between the plunger gun and the lightsaber).
But then I started playing the game and was shocked by how much fun I was having swinging the little stick to perform one-timers, lifts, and checks. Where other peripherals have failed to find that balance of enhancing the gameplay experience while at the same time looking cool, the "Slapshot" stick actually manages to do both, and do both quite well. Throw in the fact that the game also features Wayne Gretzky and the ability to play as "The Great One" from his first pee wee game all the way through to the NHL, and, well, now I have a game that I never could've imagined myself wanting right up there on my wishlist for the start of hockey season.
After playing a few games, I had the chance to sit down with "NHL Slapshot" producer Joe Nickolls to get all the latest info on his upcoming title, including why fighting was taken out of the product.
Jon Robinson: Why go the peripheral direction with Slapshot? Why not just release "NHL 11" on the Wii instead of making a whole new game?
Joe Nickolls: We haven't done a Wii hockey game before and wanted to do something a little bit different. So basically, David Littman, who is one of our producers, was in a meeting and said: "I want to make a hockey stick for the game so you can swing it around." Next thing you know, we're taking a $300 stick into the back and we're sawing it down, then we took a Wii-remote and a nunchuk and we duct taped them to the stick. Long story short, we thought it was really cool and then we went through nine different prototypes before finding the stick we liked.
And the reason the stick is a game-changing experience is that when you have the Wii-remote and the nunchuk housed inside the hockey stick, they're a certain distance apart and it's exactly the same level, so it triangulates the signal and is really accurate. Plus, if you're playing Wii hockey, wouldn't you just rather play it with a stick in your hands? Our game is more than just random shaking. When you shake the controllers, you can do that for any game. What does that mean?
ESPN ARCADE
The sequel to our most popular game is here. How's your return?

Run timed routes, beat DB's to the end zone and score.

Hit your receivers, dodge defenders and rack up TDs.