August, 20, 2010
08/20/10
2:58
PM ET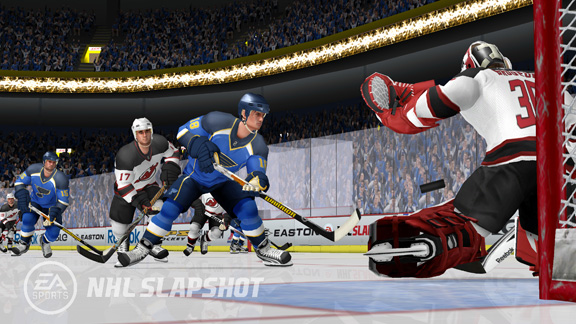 EA Sports"NHL Slapshot" is about to take the Wii by storm.
Head to any video game store and you'll see the Wii wall, or as I like to call it, the wall of shame. I'm not talking about Nintendo's system here, but the countless peripherals that clutter valuable shelf space. From Nerf guns to fishing rods to boxing gloves, if you can jam the Wii-remote into anything related to your product, chances are, it's on that wall just tempting unsuspecting grandma into buying it for little Jimmy.
So when I heard that EA Sports was making an "NHL Slapshot" game for the Wii complete with mini-hockey stick, before I even heard the pitch, I already started shaking my head (while at the same time imagining where it would fit between the plunger gun and the lightsaber).
But then I started playing the game and was shocked by how much fun I was having swinging the little stick to perform one-timers, lifts, and checks. Where other peripherals have failed to find that balance of enhancing the gameplay experience while at the same time looking cool, the "Slapshot" stick actually manages to do both, and do both quite well. Throw in the fact that the game also features Wayne Gretzky and the ability to play as "The Great One" from his first pee wee game all the way through to the NHL, and, well, now I have a game that I never could've imagined myself wanting right up there on my wishlist for the start of hockey season.
After playing a few games, I had the chance to sit down with "NHL Slapshot" producer Joe Nickolls to get all the latest info on his upcoming title, including why fighting was taken out of the product.
Jon Robinson: Why go the peripheral direction with Slapshot? Why not just release "NHL 11" on the Wii instead of making a whole new game?
Joe Nickolls: We haven't done a Wii hockey game before and wanted to do something a little bit different. So basically, David Littman, who is one of our producers, was in a meeting and said: "I want to make a hockey stick for the game so you can swing it around." Next thing you know, we're taking a $300 stick into the back and we're sawing it down, then we took a Wii-remote and a nunchuk and we duct taped them to the stick. Long story short, we thought it was really cool and then we went through nine different prototypes before finding the stick we liked.
And the reason the stick is a game-changing experience is that when you have the Wii-remote and the nunchuk housed inside the hockey stick, they're a certain distance apart and it's exactly the same level, so it triangulates the signal and is really accurate. Plus, if you're playing Wii hockey, wouldn't you just rather play it with a stick in your hands? Our game is more than just random shaking. When you shake the controllers, you can do that for any game. What does that mean?
Then once we got our control system down, we started thinking about the Wii audience and the Wii audience is a lot broader of an audience and there are a lot more little kids into the Wii while at the same time, it also appeals to an older audience. So we wanted to offer something the whole family could play. That's why we start you out as a pee wee. You're a ten-year-old in a three-on-three backyard-type rink game. Then you work your way up to the Bantams, the CHL, and NHL. You start out, you can get traded, you get a coach, you can even play as Wayne Gretzky in the game which is cool. You can play as a little Wayne Gretzky when he's ten or you can start him out as an adult and drop him in anywhere. If you decide to make your own player, then Wayne becomes your coach.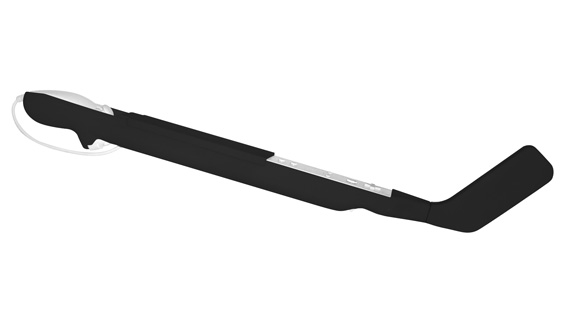 EA SportsAfter nine prototypes, here is a picture of the final stick.
Jon Robinson: There are so many bad peripherals for the Wii. Are you scared the hockey stick might turn some people off before they even play?
Joe Nickolls: It's one of those things that when people first see it, they go, "Oh, that's really cute, it has a hockey stick. It must be for little guys playing hockey." They think we're just another Nintendo game, but we're EA Sports and we wouldn't release something unless it has a lot of depth. There are 150 teams you can play with, and that doesn't even include all of the custom created pee wee teams. It's pretty fun.
Jon Robinson: You mentioned Gretzky being in the game. Can I put him on any team or is he only available in Pee Wee to Pro mode?
Joe Nickolls: He's in career mode and if you're playing as Wayne, you can get drafted to any team, but you can't just insert him into any team in other modes. That's a problem with the NHL Player's Association. They were very gracious to let us use him in the game because he is not a member of the PA anymore, but he was such a natural choice for us to be in the game because he has done so much for hockey and the community and kids. He's a hero to most hockey kids. Sidney Crosby is a big deal, but Wayne Gretzky is still a big deal and everybody knows who he is. So we really wanted Wayne to be in the game, and when he accepted, we were really excited.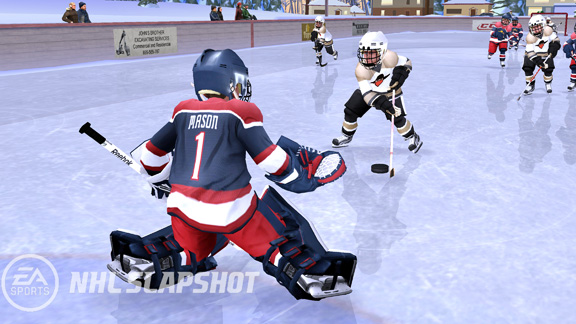 EA SportsA look at the pee wees in the game.
Jon Robinson: I hear that the movie "Swingers" helped influence the game. How so?
Joe Nickolls: I was trying to get through to the guys what I wanted the "Slapshot" experience to be, and I always remembered the movie and how Vince Vaughn and the guys were sitting there playing the old "NHL" game. They were sitting on a couch just talking trash, and we actually have a crappy old couch at EA that we sit on when we play the game, so I was looking around one day and realized that wow, this was "Swingers". So I got the video clip of that scene and made everyone watch it because that's exactly the kind of attitude we need when we make this game. I want "Slapshot" to be really visceral. I want people to be doing the body checking and laughing and trash talking and you can do that. I just showed the game to this guy from UCLA and he was like, "Oh man, this is going to be the best game ever in college." That's the appeal.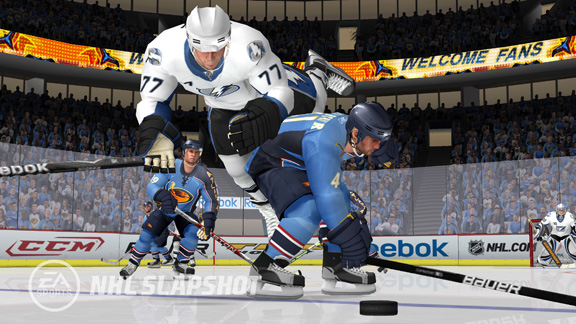 EA SportsWith hits like this, expect "Slapshot" to be a big hit in the dorms.
Jon Robinson: What are some of the mini-games hockey fans can expect?
Joe Nickolls: We have this one game where one guy is playing as the goalie and the other guy is playing as the shooter. If you're playing as the goalie, you take the controller out of the stick and you're basically doing glove saves as you move left and right and move it around. That's pretty cool. We also have a free-for-all where we have four players all playing together. It's four guys on the ice against the goalie all hitting each other trying to get the puck.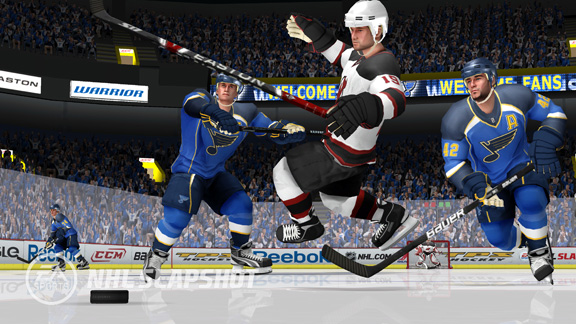 EA SportsMotion the stick for a cross-check and watch your opponent fly.
Jon Robinson: I've been playing the game but didn't see a fight break out. Is there fighting in the game?
Joe Nickolls: No fighting. When you're making a game that has a very broad appeal with kids, the ESRB really looks down on the whole fighting thing, as does Nintendo. The real reason we didn't include it, though, is that when you have a plastic stick in your hand and you get into fighting mode, all of a sudden it goes from a hockey game to a William Shatner battle with sticks. The stick is pretty safe, so if you clobbered someone with the end by accident, they would still be okay, but with something like the Wii, it's not a button mash, it's a stick shake, so we decided to take fighting out.
ESPN ARCADE
The sequel to our most popular game is here. How's your return?

Run timed routes, beat DB's to the end zone and score.

Hit your receivers, dodge defenders and rack up TDs.