August, 26, 2010
08/26/10
2:46
PM ET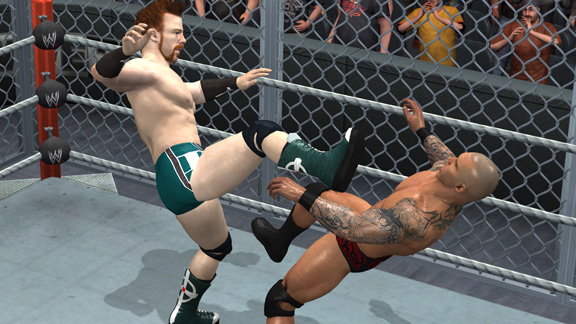 THQSheamus looks to be one of the most dominant characters in "WWE Smackdown vs. Raw 2011".
When WWE champion Sheamus is stalking somebody on "Monday Night Raw," the night usually ends with a foot to the face, a steel chair to the back or a slam through the announce table. So when I tell the wrestler whose mesmerizing whiteness has drawn comparisons to everything from mayonnaise to the Stay-Puft Marshmallow Man that he's rated a 92 overall in "WWE Smackdown vs. Raw 2011" but only has a 70 charisma rating, and he then asks where he could find the producers of the game, I wasn't sure what to expect.
"No one has more charisma than me in WWE," he tells me. "Seventy percent? I've got to talk to these THQ people. You know where I can find them?"
But a few minutes later Sheamus gets his hands on the game (not on the producers), and as his character beats the polygonal pulp out of a digital Randy Orton, the champ forgets all about charisma, concentrating instead on catapulting the Viper face first into the steel cage.
Then what's supposed to be a quick photo op of the champ playing the game at THQ's premiere event before SummerSlam turns into another virtual match, then another.
The champ doesn't want to leave.
"This is fantastic," Sheamus tells me, championship belt hanging from his shoulder as he plays the game.
Not only does "WWE Smackdown vs. Raw 2011" mark Sheamus' debut in a video game, but he also appears on the European cover of the product, and as a gamer himself, he couldn't be happier (even with 70 charisma).
"I've been playing video games since the Commodore 64 when I was about 5 years old," he says as we sit down to talk about his character. "Throughout the years I've had PlayStations and Nintendos, and right now I have a PlayStation 3 at home, so I can't wait to get my hands on a copy of this game. I grew up playing games like 'War Zone' and the old 'Smackdown,' so I'm very excited to see myself in a game."
Jon Robinson: You grew up playing video games with characters like Triple H featured prominently. What's it like for you now to share the same ring with him for real?
Sheamus: It's really, really cool because I was into playing the wrestling games as a teenager, and I was really into all of the characters. Then to go to WrestleMania and take on Triple H, it was special for me. It's cool to think that all these people will now get the chance to play as me in "Smackdown vs. Raw 2011" and they can use me to kick Triple H around.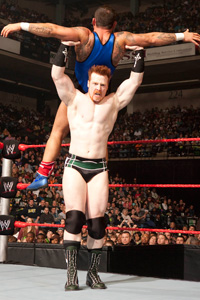 WWEWould tanning ruin Sheamus' gimmick at this point?
Jon Robinson: How influential has Triple H been on your career?
Sheamus: Even before I got to WWE, I studied Triple H. He was one of my favorite superstars; his wrestling was ruthless, and I think a lot of his style you can see in me a little bit. He was one of the guys who influenced me to take the steps where I wanted to go and it was a great honor to hook up at Mania with him and a great honor to put him out at Extreme Rules one month later. He's definitely one of the biggest influences of my career.
Jon Robinson: It seems like you came out of nowhere to become the champ, and now you're also on the cover of the European game. What do you attribute your fast rise in WWE to? I can't remember a guy who has jumped so far so quick.
Sheamus: I don't think anybody has, as far as I'm concerned, moved up to get the spot I have so fast. Sometimes you kind of forget where you come from, but walking into this THQ event, I see the big poster on the wall of me after winning the title for the first time and I just want to pinch myself.
Jon Robinson: I was just playing a match and hit Miz with a steel chair and a ladder. What's it like to get hit with that stuff during a match for real?
Sheamus: What we do is very, very physical, no matter what. People like to say that it's all predetermined, but that doesn't mean it doesn't get physical out there. It really takes a toll on our bodies, and that's why we're always telling kids not to try this at home. We're highly trained, skilled athletes in what we do, and trust me, the safest place to wrestle is in the video game. What we do in the ring is dangerous and really takes its toll … and we know what we're doing.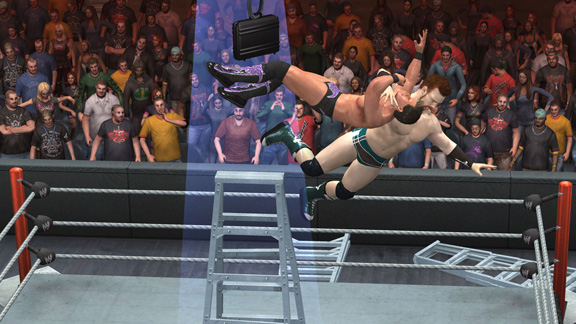 THQDon't try these moves at home, fella.
Jon Robinson: First time I saw you walk out to the ring, you were so white I thought the color was off on my TV. Your look is so much a part of who you are; do you fear tanning would destroy part of your gimmick?
Sheamus: I can't get a tan, to be honest with you. I get bright red, then I get white again. [laughs] I can't actually get a tan, but what's funny is it has definitely helped me stand out from day one. Just being different -- not being tan, not having the short hair or the long hair like everybody else, my Irish accent -- there are a lot of different things that put me in the right place at the right time, and I knew if I got the opportunity, I'd take it. That's what I've done from day one. You give me an opportunity, I'll run a mile.
Jon Robinson: Your character is built around Celtic mythology and is a warrior from the days of old. What made you want to go that direction?
Sheamus: I'm just sick and tired of the typical Irish stereotypes. All you see are leprechauns and drunken Irish parties with green beer, but I wanted to bring a more positive look at the Irish. Back in the day, the Celts were some of the most feared warriors in the entire civilized world. People were afraid of the Celts, they were vicious warriors, so I wanted to bring that strong warrior to WWE, and it has worked so far.
Jon Robinson: How would you describe the crowd difference from what you were used to in Europe and what you see in the U.S.?
Sheamus: There is a difference everywhere we go, whether it's New Zealand, Australia, France, Germany … even within the United States, the crowds are different on the East Coast than they are on the West Coast, and they're also different down South. People react to certain things and certain people differently. The crowds just react different everywhere we go, and it's up to us to recognize that and feed off of it. It keeps it interesting for us as well.
Jon Robinson: You might get booed one night and cheered the next.
Sheamus: I never get cheered. The only difference is how many jars of mayonnaise signs I see in the crowd. [laughs]
Jon Robinson: I hear you did some security work for Bono before heading to WWE. What was that like? Did you ever have to get physical defending him from a crazy fan?
Sheamus: When he'd come to Dublin, he liked to come to this nightclub. He'd come in, sit down and have a few pints, so we'd do security for him. I'm a bigger star than Bono is now, so he's the one looking for my autograph. [laughs]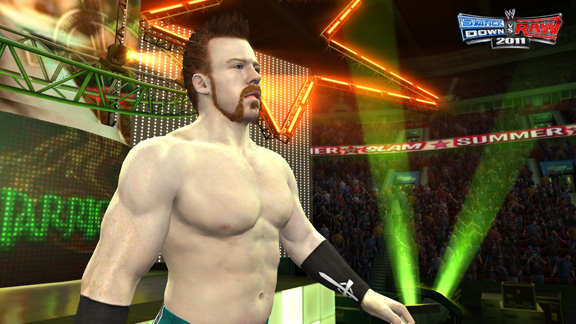 THQWill Sheamus be the one to end The Undertaker's streak at Wrestlemania?
Jon Robinson: What's it like going through airport security with the belt? Do you have to take it out of the suitcase for inspection?
Sheamus: Every time I go through security there are like seven TSA guys standing around and holding it up like 4-year-old kids. I think it's a security threat every time I go in because everyone in TSA seems to move to my conveyor belt. It's funny. I always give myself an extra half-hour to get through security now because of the belt.
Jon Robinson: Where do you see yourself headed for Wrestlemania 2011? Do you have a dream match?
Sheamus: I'd like another crack at Triple H, only I want to beat him this time. John Cena, Randy Orton or even the Undertaker. What the heck, I'd like to take the streak. Just because I'm WWE champion doesn't mean I'm going to sit back and take my foot off the gas.
ESPN ARCADE
The sequel to our most popular game is here. How's your return?

Run timed routes, beat DB's to the end zone and score.

Hit your receivers, dodge defenders and rack up TDs.