August, 31, 2010
08/31/10
2:54
PM ET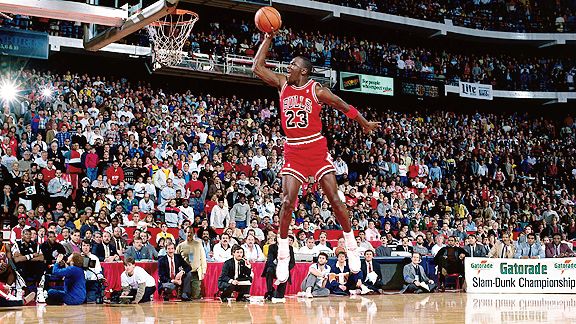 Andrew D. Bernstein/NBAE/Getty ImagesPlaying as Michael Jordan in "NBA 2K11" brings the fun back to virtual dunking.
Has dunking the ball in a video game lost its luster? We've all probably done it millions of times by now. Just another move. But when I dunk the ball as Michael Jordan in "NBA 2K11", tongue out as he throws down a tomahawk jam over Patrick Ewing, knocking the Knicks star to the ground as I watch MJ swing on the rim, I can't wipe the smile off my face. The shine is back.
Next time down the floor, I pass the ball to Michael and as I pump fake, he holds the ball up with one hand in John Starks' face. Starks takes a swipe at the rock then is left looking like a fool as MJ drives baseline for the reverse. Magic.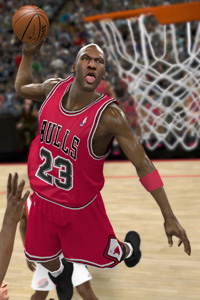 2K Sports2K Sports has done an awesome job capturing MJ's moves.
Playing as the old-school Bulls, I battled everyone from the Bad Boys in Detroit to Bird, Ainge, McHale, and Parish on the Celtics. I got dunked on by Shawn Kemp, swatted Isiah's jumper, and was roughed up by the Pistons D.
As a basketball fan (or more accurately, a self-diagnosed hoops nut), these moments are amazing and really make "NBA 2K11" a must-own. I played the game for a couple of hours, first playing the classic match-ups in The Jordan Challenge, then drafting Michael to the Heat in MJ: Creating a Legend mode (MJ, LeBron, and Wade ... oh my!), and I have to say, I haven't had this much fun playing a basketball game in years.
Highlights of my virtual time with Mike include:
Went up for a right-handed dunk and switched mid-air to the left-handed layup that MJ made famous against the Lakers.
Scottie Pippen actually helps MJ off the court after his famous flu game.
Patrick Ewing threw down some nasty dunks for the Knicks, and Starks caught fire for four three-pointers in a row (where's Reggie Miller when you need him?).
The roster of historic players is deeper than I initially thought as 2K went out and got just about every big-name player (and the not-so-big names) into the game.
Disappointing that the Bulls/Suns match-up isn't in the Jordan Challenge, but Barkley is one of the few players that didn't want to be in the game (what, is he still bitter about "Shut Up and Jam"?).
ESPN ARCADE
The sequel to our most popular game is here. How's your return?

Run timed routes, beat DB's to the end zone and score.

Hit your receivers, dodge defenders and rack up TDs.