September, 16, 2010
09/16/10
12:17
PM ET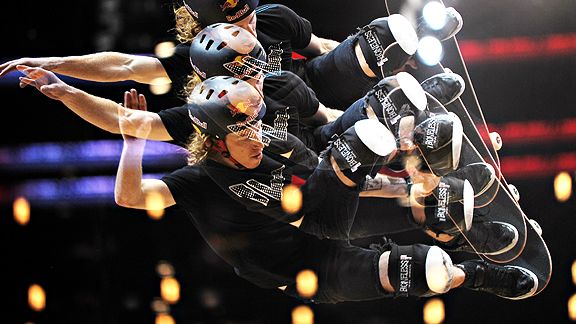 Robyn Beck/Getty Images"Shaun White Skateboarding" ships to stores Oct. 24 for the Xbox 360, PS3 and Wii.
Shaun White says his dream was always to be a professional snowboarder and skateboarder. So it should come as no surprise that after helping with the design of a popular snowboarding game for publisher Ubisoft, his next area of focus for virtual action would be to design his own skateboarding game.
Then again, the surprise might be the design of the game itself. "Shaun White Skateboarding" drops gamers into a story-driven, colorless world in which skateboarding has been banned along with any type of emotion. As you skate, you literally add color to the world while helping shape the environment around you. Hop on a rail and you can actually extend it in any direction for a seemingly endless grind as you go. See an object on a roof, and use the rail to reach it, then morph the rooftop into a ramp and try to make it to an even higher platform. The creation is all performed on the fly and is entirely up to you.
"I still can't believe Ubisoft pays me to make video games," Shaun White told me with a laugh when we met in his suite at the swank Standard Hotel in downtown Los Angeles. "It's bizarre, because I never understood what went on behind the scenes with the programmers and the sections of programmers where this one group just focuses on the colors while this other group works on the physics of the characters and how everything looks. It's amazing to see how much work actually goes into it.
"When I was younger, I was in a video game as a character ['Cool Boarders 4'], but it was awful. My character didn't look anything like me, and it was just lame. I never had something where I was pleased with the outcome. So then it dawned on me that I had no input. I was just like, 'Cool, you put my character in the game and you do the voice for me.' But this time around it has been awesome. My first game with Ubisoft came out around 2008 and we were able to start over. It's my voice, it's my music and this is the stuff I want to see and hear in the game. And the game is amazing. Then we did a special Wii version of the game last time around the Olympics that added some new tricks with the Wii Motion-Plus, and this time around it's awesome because we're skating," White said.
"Snowboarding games are tough because you're in the mountains and there are trees. But when you see a game like this where you're skateboarding, there is just so much more to it. You're in cities and schools and parks and you can definitely be more creative with the people you run into. It's not like Joe was just sitting here on the mountain and you run into him then he gives you a quest. I didn't want to just do another snowboarding game just to do it. We're doing something really different and next time it will be something different again. If you're ever-changing like that, you don't ever hit that dry spell."
ESPN ARCADE
The sequel to our most popular game is here. How's your return?

Run timed routes, beat DB's to the end zone and score.

Hit your receivers, dodge defenders and rack up TDs.