September, 8, 2010
09/08/10
12:20
PM ET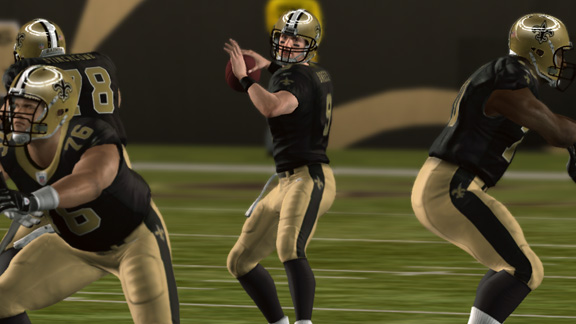 EA SportsPlay as Drew Brees and the Saints in five free new "Madden" Moments.
EA Sports introduced a substantial online upgrade to "Madden NFL 11" Tuesday, not only including a host of fixes to the game, but the addition of "Madden" Moments Live.
With "Madden" Moments Live, gamers can cash in the "Madden" coins they earn through playing the game to recreate some of the best moments in the NFL on a week to week basis.
In fact, each week over the course of the season, the mode will be updated with two-to-four new moments that were the talk of the previous weekend.
To kick things off, EA Sports is offering five free moments to start the season entitled March of the Saints.
Moments include:
Saints vs. Dolphins: After spending the first half of their matchup against the Dolphins being victimized by the Wildcat and the Dolphins' power running game, the Saints needed to toughen up on defense and open up on offense. Take over as New Orleans and turn the game in your favor.
Saints vs. Redskins: Avoid an upset at the hands of the Redskins by putting the game away in overtime. You lost the coin toss, so you'll need to defy probability and keep them off the scoreboard. Find a way to score quickly for maximum points.
Saints vs. Cowboys: The Saints lost their chance for an undefeated season in week 15 against the Cowboys. Down 24-3 at the start of the 4th quarter, Drew Brees and Co. almost mounted the comeback of a lifetime. Take over the Saints and finish the comeback.
NFC Championship: One of the most exciting games in recent memory ended with an overtime victory for the Saints. Take control of the Saints with the score tied at 28 and find your own way to punch a ticket to the Super Bowl.
Super Bowl XLIV: At the start of the 4th quarter, the Colts led the Saints 17-16 and the ball was in Peyton Manning's hands. To most teams in 2009, that meant a certain loss, but the drive eventually stalled and Matt Stover missed a 51 yard field goal. Take over as the Saints at the start of the 4th and stop the Colts.
Other improvements found in the update include:
Pre-Play Functionality: A new menu option called, "Strategy Pad Shortcuts" is available. When turned on, you will see the hot routes, coverage audible, and shifts menus using the same buttons as Madden NFL 10.
Ultimate Team Improvements: You can now view your opponent's lineup in Ultimate Team. New card tiers added.
ESPN ARCADE
The sequel to our most popular game is here. How's your return?

Run timed routes, beat DB's to the end zone and score.

Hit your receivers, dodge defenders and rack up TDs.