September, 24, 2010
09/24/10
2:12
PM ET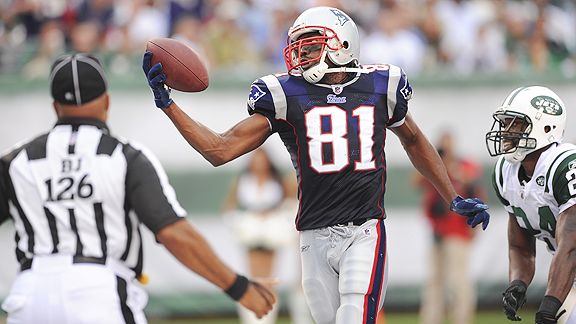 AP Photo/Evan PinkusRandy Moss' spectacular catch rating has been elevated to a perfect 100 in "Madden NFL 11."
Thanks to his jaw-dropping one-handed grab over Darrelle Revis of the Jets, EA Sports is going to boost Randy Moss' spectacular catch rating to a perfect score of 100 in the next "Madden NFL 11" online update scheduled for Friday.
This is the first 100 rating given out this season, and according to "Madden" ratings czar Donny Moore, it couldn't be more well-deserved for Moss, a player who has consistently been one of the most feared polygonal weapons in the game.
"Randy Moss was 99 in spectacular catch, so he was already the best in the game," explains Moore. "He was tied with Braylon Edwards to start the season, but we knocked Braylon down a point or two because he's not performing like that in the game for real. If you're rated a 99, the way we look at it, you have to perform at that 99 level the entire time or you're going to lose it; 99 is perceived as the greatest of all time.
"The Sports Science segment [on ESPN] helped a lot, because the ball was traveling at, like, 45 miles per hour and [Moss] had to catch it at the perfect angle just to slow the ball down. He literally just one-handed it. He didn't even try to raise his left hand in any way. I think he's the best spectacular catcher ever, even passing Cris Carter in my mind. He has such beautiful body control, not to mention his hands are just amazing. On top of it, the play happened over Revis, so that even adds to it. It's just one of those plays that everyone saw, and it's the very definition of spectacular catch, so we thought it warranted the perfect rating."
ESPN ARCADE
The sequel to our most popular game is here. How's your return?

Run timed routes, beat DB's to the end zone and score.

Hit your receivers, dodge defenders and rack up TDs.