October, 6, 2010
10/06/10
4:10
PM ET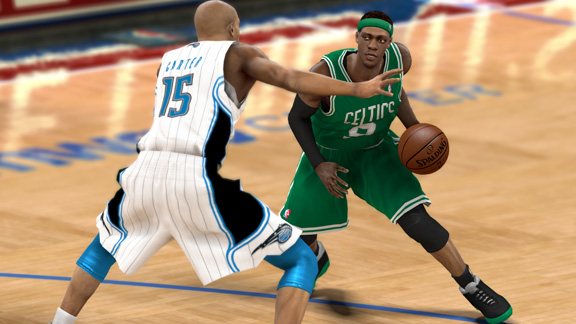 2K SportsRajon Rondo says he's learning about NBA history by playing "NBA 2K11."
First time I played "NBA 2K11," I passed the ball to Michael Jordan, crossed-over Danny Ainge, then threw down a tomahawk jam on the Celtic legend/current President of Basketball Operations' head.
"Are you going to dunk on your boss?" I ask Rajon Rondo, the electrifying point guard who emerged as the Celtics leader last season.
"Not unless he trades me in the next ten days," Rondo replies with a laugh. "I actually wasn't a big NBA fan growing up so to me, this game is cool because it helps me learn about some of these older players. I can play as the Celtics with Danny and Bird, I can play as Jordan and the Bulls and learn about some of their teammates, some of these older players. I've been learning a lot about some of these players back in the day right now just by playing this game.
"This is probably the most realistic basketball game ever," Rondo continues. "I play the series from time to time, but this year you can play as Jordan, you can draft him to any team, play as a bunch of old teams, and re-live the Jordan days in a video game. It's great."
Other than "2K," Rondo tells me he also loves games like "Halo" and "Call of Duty." "If it's not 2K, I'm playing fighting games, shooting games," he says. "We have a lot of gamers on our team. Nate Robinson is always playing video games. Kevin (Garnett) plays a lot, Big Baby plays a lot. We have a lot of guys who play."
Rondo, along with NBA stars Josh Smith, Andre Iguodala, Russell Westbrook, and Derrick Rose, recently shot a series of online ads for "NBA 2K11" that have become huge Web hits thanks to some hilarious one-liners, Rose's knack for cooking, and Rondo silencing the room by showing off his championship ring.
"I've known all the guys for a few years playing against them, so it was fun getting to see another side to them away from the court," says Rondo.
Especially when each guy is now linked to a game that is feverishly played by everyone in the league from LeBron James to Tyreke Evans. It's also a game, that like "Madden," has now become a talking point amongst players when it comes to their ratings.
"I'm pretty pleased with my character throughout the years in "2K," but I hope to see a little increase this year because I've been upping my game a little bit," Rondo explains. "I'm trying to get my rating to 99. I'm working on my real game, working on getting better at '2K11.'"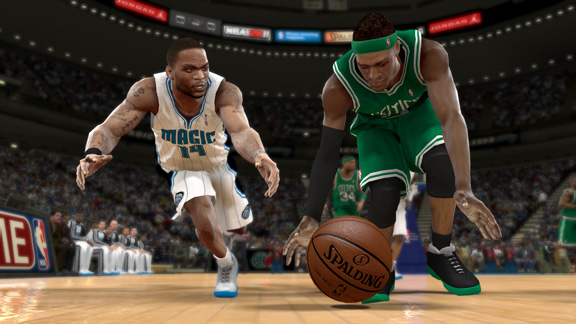 2K SportsRondo has established himself as one of the top point guards in the NBA.
But even in wanting a 99 overall rating in the game, when I talk about Rondo's game in real life and how the Celtics have changed from the Big Three of Kevin Garnett, Ray Allen, and Paul Pierce to becoming his team, Rondo disagrees, displaying a side of modesty and team-first mentality rarely encountered in the NBA.
"It's still the Big Three," he says. "Shaq is four. Shaq is an enforcer. I know that from experience. He knocks guards like myself down, but he can't hit me no more, so I'm excited about that."
"But if it's still the Big Three, and now Shaq is four, where does that leave you?" I ask.
"I'm just one of the guys," he says. "I'm not saying I'm not important, but this is a team game. The Big Three still get a lot of attention, and I'm just really excited to start the season with them and be a part of this team. I'm excited."
As for Rondo's playoff mentality and how he able to excel during crunch time, Rondo says it comes down to one thing: "I just love pressure," he says. "I love to rise to the occasion, especially when it's against the odds.
"Now if I can just get my '2K' skills up where I can hit the buttons under pressure the same way, I'll be good."
ESPN ARCADE
The sequel to our most popular game is here. How's your return?

Run timed routes, beat DB's to the end zone and score.

Hit your receivers, dodge defenders and rack up TDs.