October, 25, 2010
10/25/10
11:23
AM ET FIFA 11
Steve Nash is kicking back in a stretch Hummer playing "FIFA 11" ... oh, and did I mention he's in a hot tub?
"How do you think I get to practice?" Nash tells me with a laugh when I ask whether this is an everyday occurrence.
And although Nash is living the good life of an NBA superstar, it's not video-games-in-a-hot-tub-riding-around-Hollywood good, and Nash seems to prefer it that way. "I live a pretty normal life when I'm home," he says.
Instead, Nash is playing to the stereotypes and misconceptions of the megarich, NBA poster boy in a series of viral videos he shot recently for EA Sports and "FIFA 11." Nash brought in Landon Donovan to co-star in the ads, which will show Nash desperately trying to play LD at "FIFA" and prove once and for all that he's the best soccer video-game player in the world.
Even if that means playing video games in a hot tub.
"I try to make fun of myself and the stereotypes of our lifestyle," Nash says. "It's low-hanging fruit for me, and I think the fans will get a kick out of it.
"The most common thread in each video is me making a complete fool of myself."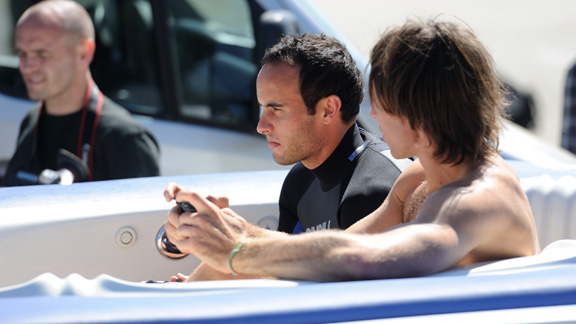 EA SportsJust your average day playing video games in a hot tub.
Nash and his cousin, Ezra Holland, formed their own filmmaking company three years ago and already have shot spots for Nike, Vitamin Water and CBS. They also filmed a "30 for 30" documentary for ESPN about Nash's childhood idol, Terry Fox -- an athlete who set out to run across Canada to raise money and awareness to fight cancer despite having his right leg amputated.
"Things have really started to take off for us recently," Nash explains, talking about his company, Meathawk. "My cousin and I write, produce and direct material, and EA approached us to see what we thought about doing something for 'FIFA.' They knew I love soccer, and we thought it would be a good fit. So we got together and shot some stuff with Landon Donovan and just tried to have fun with it."
And in this case, having fun includes kicking soccer balls at Donovan's car, challenging all comers to a test of Xbox skills while getting a massage and, of course, cruising Hollywood in a hot tub.
Seems as if he'll do anything these days to play a game of "FIFA 11."
"I'm not the biggest video-game player," Nash admits, "but after doing this and sitting down and playing more and more of 'FIFA 11,' I can tell you how amazing this game is. The graphics of the game are so lifelike, I love it. I'm hooked on 'FIFA 11,' that's for sure."
ESPN ARCADE
The sequel to our most popular game is here. How's your return?

Run timed routes, beat DB's to the end zone and score.

Hit your receivers, dodge defenders and rack up TDs.