November, 24, 2010
11/24/10
10:10
AM ET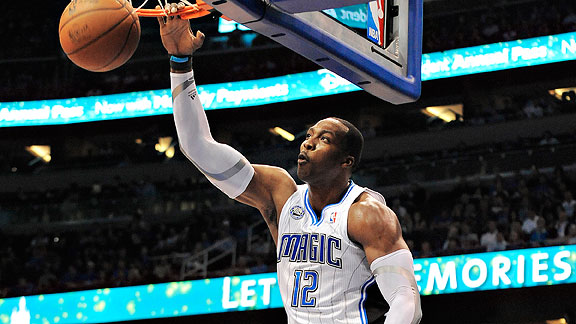 Scott A. Miller/US PresswireLook for Dwight Howard to have a perfect dunk rating when "NBA Jam" ships for the 360 and PS3.
Dwight Howard is the single most dominant shot blocker in the history of video games. Don't believe me? Try EA Sports' "NBA Jam" revival on the Wii, take the ball into the paint and see what happens. Go soft against "Superman" and he might bat it back in your face so hard it's a wonder the ball doesn't pop.
And while the real Howard appreciates his swatting skills in the new game, he's almost too distracted by one of his other ratings to even crack a smile.
"They gave me an eight for dunking (out of ten) ... an eight! They did me kind of dirty on that," Howard says in disgust when I get him on the phone to talk about the new game. "I won the dunk championship and I get an eight? I like the way they have me blocking shots, but they have me so slow in the game the way I run up court (three out of ten for speed), and I can't believe the dunks."
Turns out, Howard has been voicing his complaints rather loudly to EA since he found out about the number, and EA has promised to increase his dunk rating when the PlayStation 3 and Xbox 360 versions of "Jam" hit stores November 16. "I'll see if they keep their promise," Howard says, "but they told me they were going to switch it up."
An EA Sports representative then confirmed that Howard's dunk rating will be increased to ten.
Looks like when Dwight Howard talks, EA listens.
It's the least they can do for their former "NBA Live" cover star.
As I talk to Howard, though, I can tell he's distracted by more than the number eight as between responses there are intermittent screams in the background. Turns out that I called in the third quarter of a tight "Madden 11" battle he was having against one of his friends.
"I always play as the Bengals," Howard tells me as he groans about a missed block. "I like to pound the ball. I'll run all day with Cedric Benson."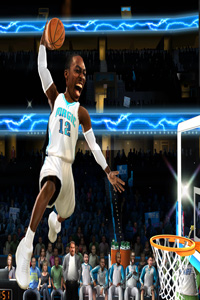 EA SportsDwight Howard is bringing the "Jam" to the 360 and PS3.
When I ask about playing "Jam," Howard says he likes to run the court as the Magic and team himself with Vince Carter. "He's a video game dunker," Howard says as he runs for a touchdown with Benson. "It's crazy just to see myself in this game because I still have the old 'NBA Jam' at my house right now on the Super Nintendo. I like to play as Vernon Maxwell and Hakeem (Olajuwon).
"The thing about this game, they always had the dunks that you wished you could do. Everyone grew up wanting to jump that high and shouting boom-shackalacka. I just made my character catch on fire for the first time today, so that was fun to see. I did it so many times throughout the years to other characters, but when it's you out there, it's crazy to see. This is still one of the best old school games you can play, so I love that they brought it back. If only they'd do something about my dunks."
Don't worry, Dwight, you only need to wait a couple more weeks.
Ten for dunks and ten for blocks ... Howard could become the most dominant "NBA Jam" character of all time when the new game ships.
Now, if only EA would do something about his speed.
ESPN ARCADE
The sequel to our most popular game is here. How's your return?

Run timed routes, beat DB's to the end zone and score.

Hit your receivers, dodge defenders and rack up TDs.