November, 4, 2010
11/04/10
12:36
PM ET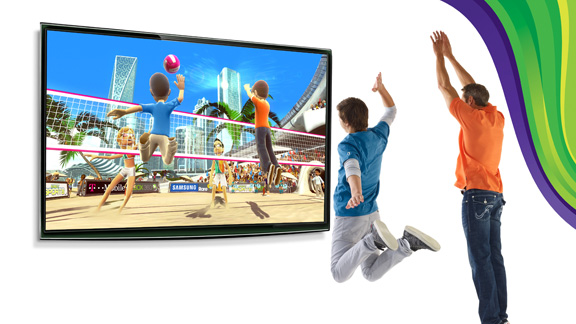 MicrosoftGamers will work up a good sweat playing "Kinect Sports."
Before Microsoft's Kudo Tsunoda looked to redefine video games with Kinect, he redefined sports gaming with the innovative controls introduced in EA Sports' "Fight Night" franchise.
"There's a great boxing game in 'Kinect Sports,' and I think you see a lot of the stuff we tried to do in 'Fight Night' actually coming much more into play now with Kinect," Tsunoda told me as I sat down with him at a recent Microsoft event in San Francisco. "What we did with 'Fight Night' was have you hit your analog stick out to the side and arc it forward so it looked like a hook. Now if you want to throw a hook in 'Kinect Sports,' you're throwing a punch, you're throwing a hook like you do in real life.
"I wish when I was working on 'Fight Night' that we had the Kinect technology. The stuff that we were doing in that game is now possible with Kinect. Before, you had to take that idea of fully-immersive, gesture-based controls, but you had to force it into that controller. I think people really enjoyed it, but if I had go back and creatively think how we should make a boxing game, having the Kinect technology would just be the real fulfillment of the original creative vision of those games. Anybody who likes existing sports games, anybody who loves great multi-player and trash talking, that's exactly what we have with 'Kinect Sports.' Soccer, boxing, beach volleyball, table tennis, bowling, track and field ... games that are fun to play by yourself, but are incredibly fun multi-player as well. It's super-fun, competitive sports action."
And after playing Kinect for over a week straight now, I can say that Tsunoda is exactly right. If you thought the Sony Move looked like Wii 2.0, then Kinect is the Wii killer. I've been playing games like "Kinect Sports," "Kinect Adventures," and "Dance Central," with my wife and two kids virtually non-stop since the preview hardware arrived, and I have to say, it's been the most fun we've ever had gaming together as a family, and there isn't even a close second.
I mean, who can't help but laugh when your nine-year old son who has never danced a day in his life busts a move to Bell Biv DeVoe and now knows to never "trust a big butt and a smile"?
And Tsunoda thought the only thing Kinect would teach the kids was how to throw a better left hook.
Anyway, here's what else the creative director for what should end up being the hottest video game hardware this holiday season had to say about Kinect, the future of sports gaming on the system, and what it would be like scan the field in "Madden" by simply turning your head.
Jon Robinson: For sports gamers out there who might only go out and buy "Madden," "FIFA," and "NBA 2K" every year, what is it about Kinect that will help shape the future of sports gaming?
Kudo Tsunoda: There's the game side of Kinect, and then also the entertainment side of Kinect. And the game side, certainly, if you like playing sports, now you can actually go in and play the sports yourself. It's not using a controller anymore, so if you're playing a soccer game, you're actually kicking the ball yourself, or if it's a boxing game, you're punching with your own fists. I think it makes the sports a lot more engrossing and a lot more immersive to play.
The interesting thing about Kinect is that video games are starting to teach you now how to do things, not just in the game, but in real life as well. That's the stuff I think about with Kinect sports titles. They actually teach you how to play the sports that you're playing in the video game. So instead of just playing an existing video game where you might learn about the sport, with Kinect, you can actually learn how to play the sport better.
Then, as you already know, there's ESPN on Kinect that you can interact with, all with no controller. If you're watching ESPN on TV, you still have to mess around with a remote. But this is all stuff now that you can control with voice recognition and using gestures. It makes enjoying things like ESPN a whole new experience.
Jon Robinson: When you're playing each game, the system is capturing video at certain times. If I play you at boxing online, can I trash talk and send a video at the end of the match?
Kudo Tsunoda: The great thing is, totally, you can play multi-player over Xbox Live, but the great thing is, you can get your trash talking in right through the Kinect sensor without having to wear a headset. We have a microphone in there as well as the camera, so instead of having a headset on, you're able to talk with your friends right through the Kinect sensor. The cool thing is, the camera will take pictures and video of you as you're playing, so not only can you do the trash talking, but right when you go for the big knockout punch in boxing, you can take that video clip of you knocking him out and send it to your friend, you can post it on Facebook, and it really takes competitive trash talking to a whole new level.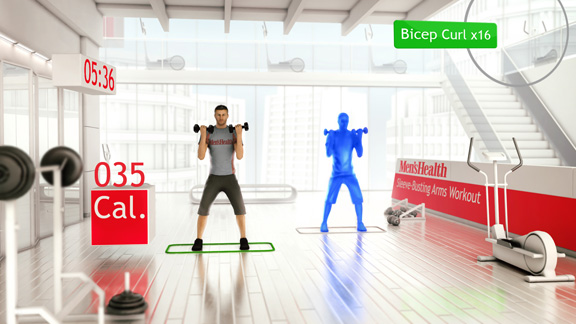 MicrosoftGet a workout while having fun at the same time.
Jon Robinson: When I think of sports game, obviously, a game like boxing is a natural fit, but do you think a game like "Madden" will incorporate the technology?
Kudo Tsunoda: I think with the Kinect technology, you can really build whatever type of gamer experience you want. So whether it's a sim game or whether it's a more casual sports game, Kinect is going to work equally well. I can totally see a football game where you're the quarterback, and instead of pushing a certain button to throw to a certain receiver, you can scan the field by simply looking around, identifying your receiver and throwing the ball. I think that's a much more natural way to play than having to select your receiver by pushing buttons. All of those sim games can work really well with Kinect, it's just about getting the developers to build these experiences around the Kinect technology rather than taking existing controller-based games and porting them over to Kinect.
Jon Robinson: Is there a sport that we haven't seen yet in Kinect Sports that lends itself most naturally to the product? Maybe a sport that didn't quite make the cut in the first version.
Kudo Tsunoda: I think the sports that they chose are just super fun and they are great, active games to play. But seeing football, seeing basketball, seeing baseball -- there are so many things in these sports that you can naturally do in Kinect. Those are some of my favorite sports and I would love to get those going so I can play them in my living room as well.
Jon Robinson: Besides "Kinect Sports," what other games can people expect around launch?
Kudo Tsunoda: We actually have 17 games at launch. "Kinect Adventures" is a really fun cooperative game, and I think there's something in there for everybody. "Joy Ride" is super awesome how you control the car with your body. It's not just steering the wheel with your hands, but being able to do tricks with your car using your entire body. "Dance Central" is another awesome game I think people will love. "Your Shape Fitness Evolved" is a game that might also surprise people. I don't like working out, but this game makes working out fun and you're actually getting in good shape.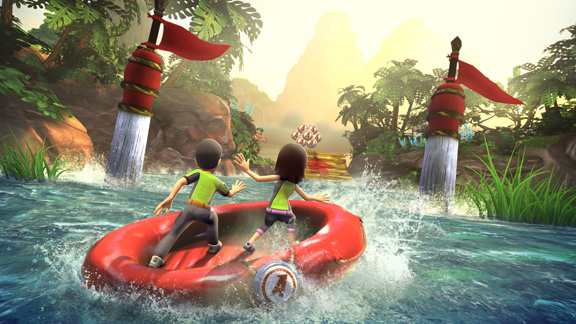 Microsoft"Kinect Adventures" sends you on a wild ride down the rapids.
Jon Robinson: When Kinect was first announced, there were a lot of skeptics out there who didn't think gaming without a controller would be any fun. How have you seen people's perceptions about Kinect change now that more and more people have been able to try the technology for themselves?
Kudo Tsunoda: I think people, before they play, they have different expectations of what Kinect can deliver. People don't understand the concept of playing without the controller, and until you try it, it's hard to grasp how immersive it can be and how it draws you into experience. One of the hardest things in video games is getting an emotional connection between the person playing and the character inside the game. I think this is something Kinect does really well. It makes you feel like you are that character. It makes you feel like you are inside the experience. So whether you're driving or going on an adventure or fighting your friend, it feels like you're inside that digital world. It isn't so much a separation between you and what's going on in your TV anymore, and that's something you just can't get from watching videos on the Internet. Kinect really sucks you in and makes you feel like you're actually there.
Jon Robinson: So if I have a buddy come over, what's the game you recommend most for some good trash talking?
Kudo Tsunoda: Try the 200 meter hurdles in track and field ("Kinect Sports"). You're running and jumping over the hurdles and it's a great competitive experience. All of the sports are great, but when I want to do some serious trash talking, I throw down at the 200 meter hurdles. I'll beat anybody in the world at the 200 meter hurdles right now.
Jon Robinson: Have you ever pushed an opponent out of the way so the camera doesn't pick them up and their character stops running?
Kudo Tsunoda: You can push people if you want, but to me, all that's doing is slowing me down.
ESPN ARCADE
The sequel to our most popular game is here. How's your return?

Run timed routes, beat DB's to the end zone and score.

Hit your receivers, dodge defenders and rack up TDs.